It's one thing to play apparently endless cat-and-mouse with coronavirus by curbing its spread through draconian restrictive lockdowns (only to see it flare up again) but it's quite another to burst into people's homes and arrest them in front of the their children merely for expressing doubt that this may be the right way to go about fixing this global catastrophe.
And yet that's exactly what happened to an Australian woman, who was in September arrested for allegedly organizing an anti-lockdown protest in Ballarat, Victoria. 28-year-old Zoe Buhler, who has young children and is currently pregnant, was detained by the police and taken away from her own living room over a Facebook post that was seen as incitement to what you might call "coronavirus sedition."
Buehler has since been released on bail but under strict conditions – and on Friday, her legal representative managed to convince the court to drop five of the seven conditions.
However, she is still forbidden from posting on social media, for fear she may influence others in questioning the drastic lockdowns (really – the government). Like a hardened criminal, she also still has to report to the police if she decides to move.
The original Facebook post called for a peaceful protest and urged participants to wear masks and follow all distancing rules. But it also accused authorities of implementing scare tactics via the media to prevent the protest that was to take place in Melbourne.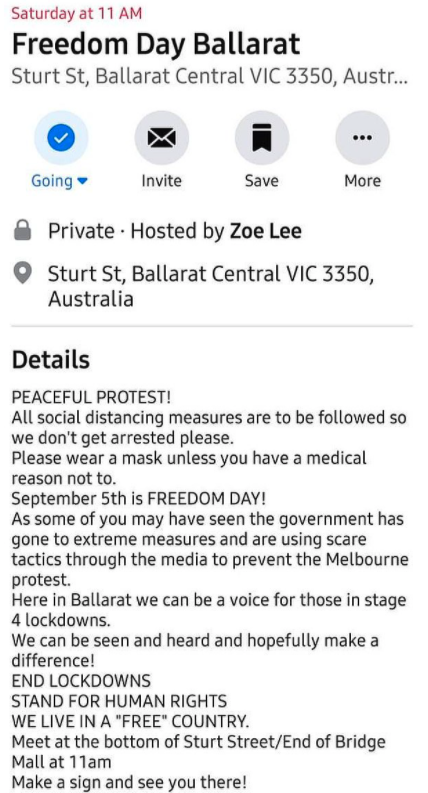 Buehler also called for an end to lockdowns, respect of human rights, and reminded everyone that Australian are supposed to live in a free country.
Her partner filmed the arrest taking place in their home, which showed the woman confused as to what "incitement" she was guilty of – unable to comprehend that peaceful assembly was now tantamount to breaking the law in her country.
Like a viral video that might have been taken somewhere in China, of police unmoved by any reasoning or plea, the footage showed the Australian officers say the fact "Freedom Day" never took place made no difference.
"You've already committed the offense," the police told her, referring to the Facebook post.