It has been many years since Facebook co-founder and CEO Mark Zuckerberg's infamous Instant Messenger chat log surfaced, showing him express utter disdain for users of his nascent platform (it was that time in 2004 when he called them "dumb fucks" for trusting him with their data).
His messaging style has changed over the past 16 years, at least publicly – to include claims of empathy, but also still exhibit evidence of hypocrisy.
It all started with Zuckerberg's post on Wednesday complaining that a New York Times article falsely represented him as being seen in a video "riding an electric surfboard" – when he was in fact riding a hydrofoil, that he was "pumping with his own legs."
"It's one thing for the media to say false things about by work," he wrote, adding, apparently sarcastically, that the mention of an electric surfboard was what "crosses the line."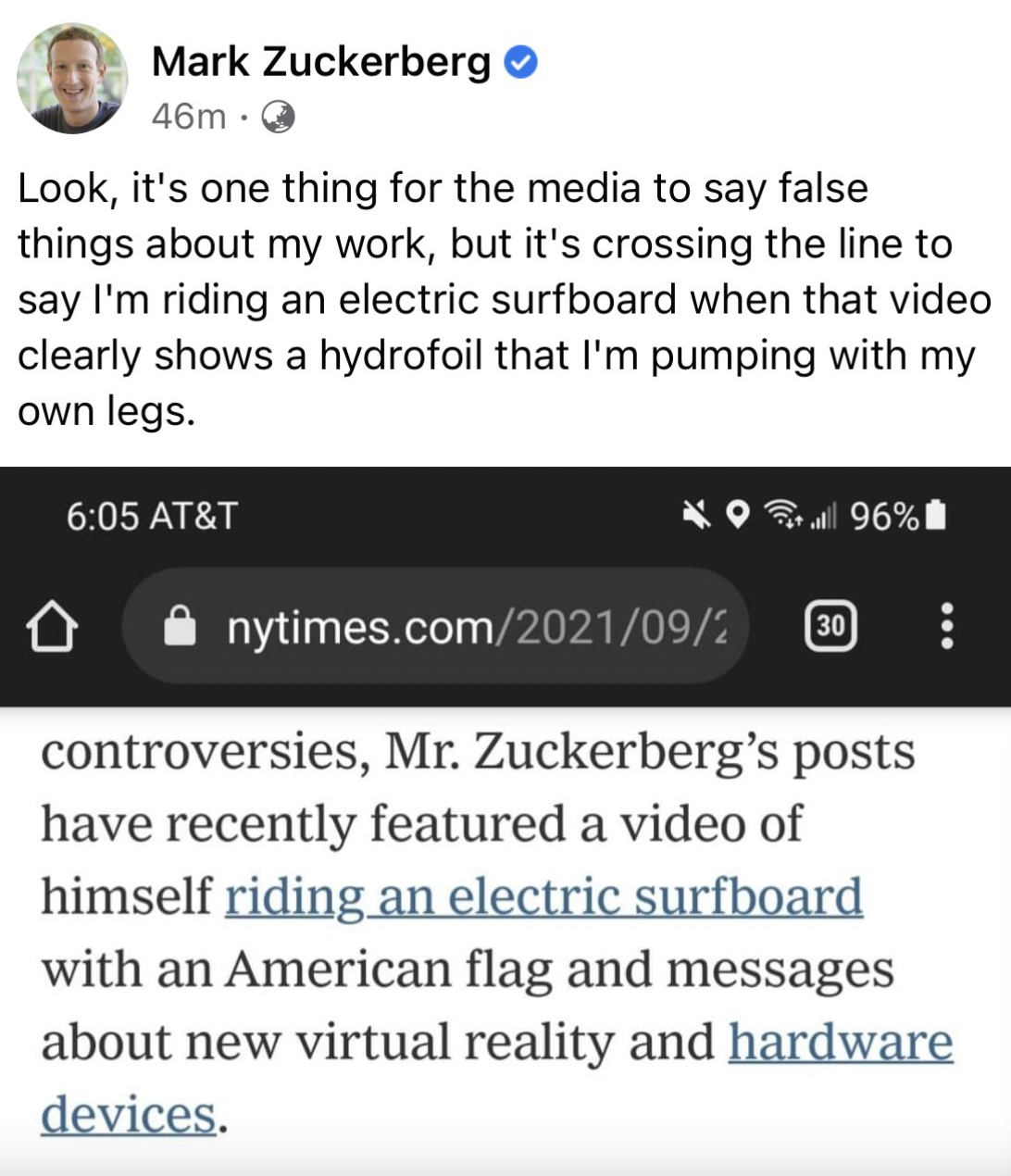 We then took screenshots of a Facebook exchange Zuckerberg then had, that at one point touched on users affected by censorship brought on by the giant platform's notorious third-party "fact checkers."
In response to a user saying that he now hopefully knows what it's like for others to be falsely accused by the media, and even shut down by his own "fact checkers," Zuckerberg professes to having "a lot of empathy" for such users.
"I have a lot of empathy for what you're describing," he wrote, replying to Pamela Whipp, who brought up the stifling of debates around ideas, concepts and beliefs on Facebook, as well as the lack of journalistic integrity evident in many media outlets.
"I don't normally point out everything the media gets wrong, but it happens every single day," he wrote.
However, Zuckerberg didn't seem to address the other part of the comment, that referring to what many say his hired-gun "fact-checkers" also get wrong every single day.
In fact, on Tuesday, Facebook looked to respond to a new onslaught of criticism coming from mainstream media, accusing it of being a platform to spread misinformation and so-called hate speech, by providing some figures to prove it is investing heavily in what it calls moderation, and what others call censorship.
Since 2016, Facebook spent over $13 billion on technology and teams "devoted to fighting abuses" – while the giant now hires 40,000 people who "work on safety and security – quadruple the number in the year 2016," the company said in a blog post.
There is also a new tool in use the goal of which is to "detect organized, malicious efforts that are a threat but fall short of Facebook's rules against hate groups," according to security policy head Nathaniel Gleicher.
Facebook has responded to the accusations, citing a large amount of money it has spent on fighting abuse and the significant increase in staff dedicated to ensuring safety and security on the platform, with much of that being censorship.
In the blog post published on Tuesday, Facebook said it had spent over $13 billion in the past half-decade on technology and teams to combat "abuse." Additionally, it now has 40,000 people in its safety and security department, four times the number in 2016.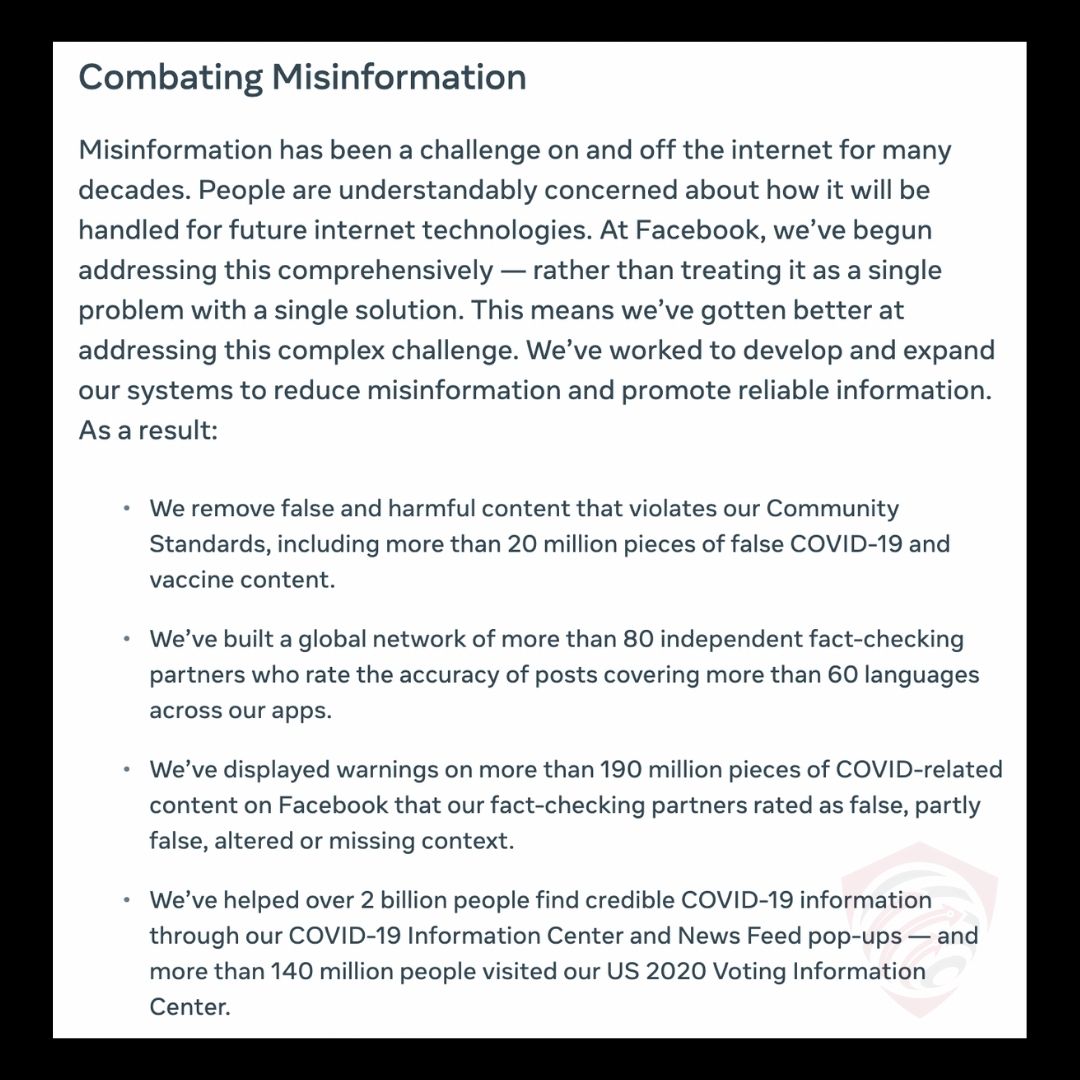 "How technology companies grapple with complex issues is being heavily scrutinized, and often, without important context," Facebook contended in a blog post.
The company has launched a website to show what it is doing to combat abuse.
Separately, Nick Clegg, a Facebook executive, penned a blog post on Saturday addressing the recent articles by the WSJ.
"At the heart of this series is an allegation that is just plain false: that Facebook conducts research and then systematically and willfully ignores it if the findings are inconvenient for the company," he wrote.
The WSJ articles cited Facebook's own studies. One of the studies stated: "We make body image issues worse for one in three teen girls."
Clegg said that the Journal cherry-picked quotes from the studies that did not provide the whole picture on what the company has done to fight abuse.
"We will continue to ask ourselves the hard questions. And we will continue to improve our products and services as a result," he wrote.
It doesn't sound like Facebook will be slowing down its censorship anytime soon and has actually committed to censoring more "misinformation."