The top five private Google search engine alternatives are unique in their own way. However, they share a commonality. The commonality is that they prioritize and protect user privacy.

They protect user privacy in various ways but the most important way these search engines protect user privacy is in their refusal to collect the personal data of its users. Google is very much a culprit in collecting our personal data and using it to make a profit.
1. DuckDuckGo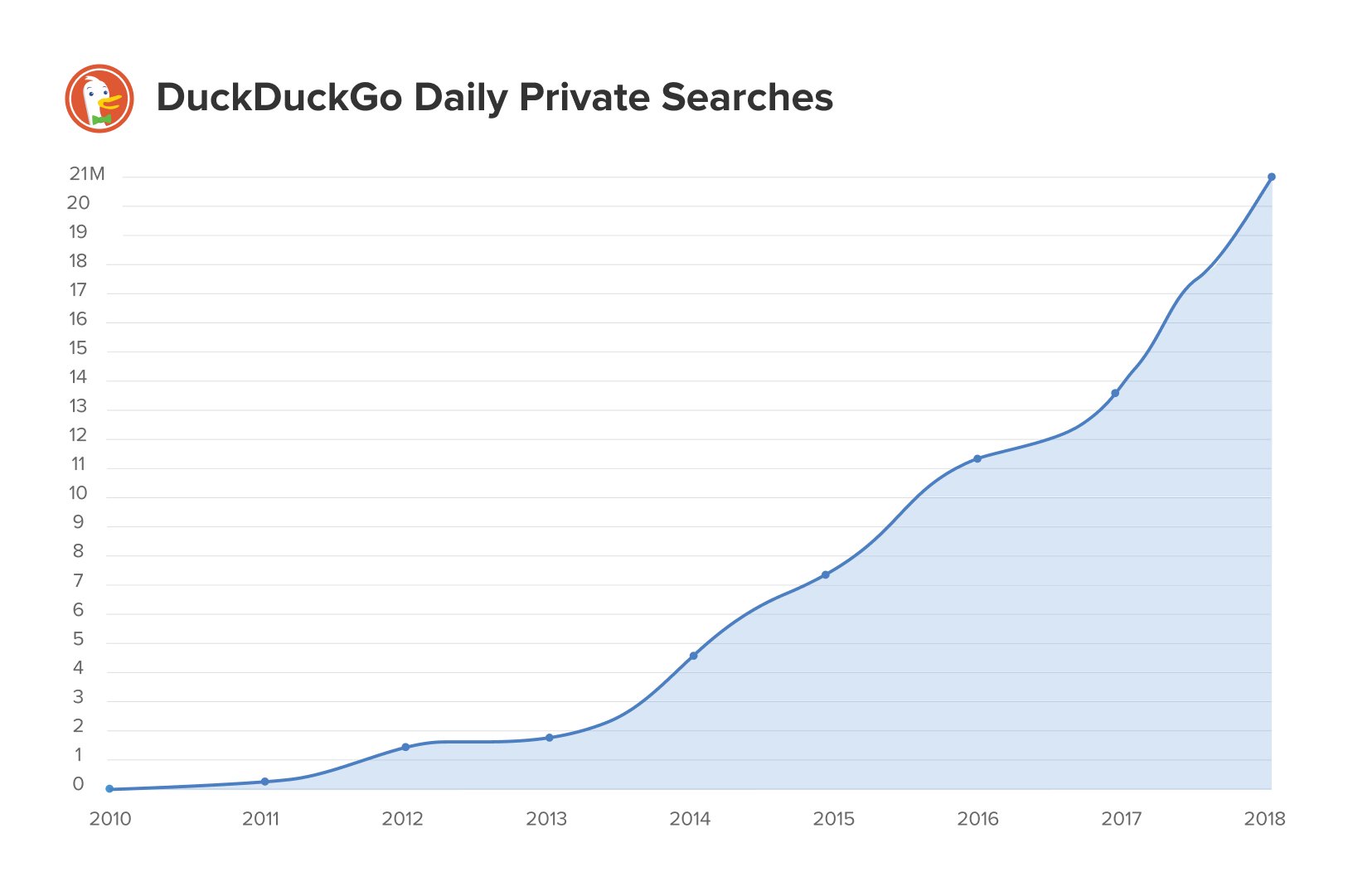 The DuckDuckGo search engine is different from Google because it does not collect data from its users to create personalized search results. Instead, every user sees the same search results for any given searched term. The engine is arguably the most popular and well-known search engine when it comes to user privacy and not having personalized search results.
DuckDuckGo's rise to prominence is an incredible story. Entrepreneur Gabriel Weinberg established the engine in February 2008. Almost one year later in January 2009, the search engine took a risk and decided to become a search engine that didn't track any user history. Famously a billboard by the search engine was erected in 2011 on a San Francisco highway with the message "Google tracks you. We don't." It cost the search engine $7000 for four weeks. Later that year Weinberg hired the search engine's first employee and moved into to new headquarters in Paoli, Pennsylvania. By February 2012, DuckDuckGo reached a million searches a day.
This doubled in June 2013 with 2 million searches per day. Then it increased again to three million a day just one week later due to the release of the ground shattering NSA file leaks.
In 2014, the engine employed its tenth employee, Apple included it in Safari along with the launch of iOS8 and Mozilla added it as a built-in search option in their browser Firefox. About a year later in June 2015, DuckDuckGo amassed 10 million searches in one day. Since then and in recent times the popularity of the engine has only increased, and it now takes on over 20 million searches a day. Earlier this year, DuckDuckGo launched their new mobile application and browser extension for all major platforms.
> Search with DuckDuckGo
2. Searx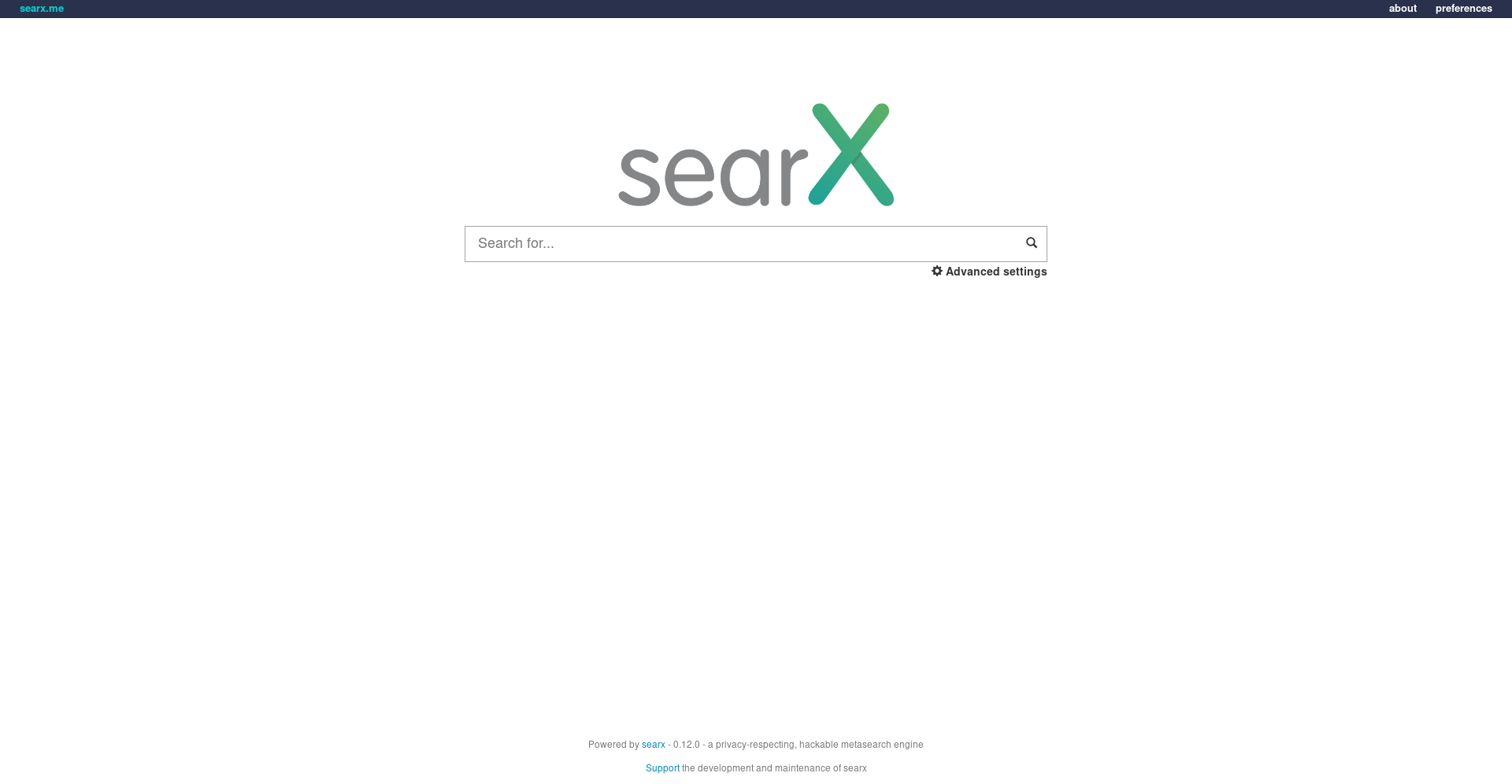 Searx is what is known as a "metasearch" engine. This is basically a search engine that uses data from other search engines such as Google or Yahoo! to produce its own search results. To put it in a simple way, when a user searches for a term (or query) on Searx, it is sent out to multiple third-party search engines for results.
A whole lot of data is accumulated which includes all the results from all the third-party search engines. The data is then formatted and ranked by Searx. Then it is presented to users as results in less than a second.
Searx, like DuckDuckGo, does not store information about its users. Therefore, it offers a private way to browse the web. This means it also does not present users with personalized results as Google does.
In every case, Searx can gather search results from around 70 different search engines. This encompasses all major mainstream search engines like Google, Yahoo, Yandex, and Bing. It also contains site-specific-searches from sites such as Reddit and Wikipedia.
There is a preferences interface where a user can set what search engines or site-searches are used when making a query (or search). These preference settings will be saved as a cookie in the web browser of the user. The preferences are not set on the server's side deliberately, so it can be private.
The engine also features tabs that allow you to search within specific domains (categories and types) such as files, news, music, and videos. Additionally, more advanced users can modify the engine's used for each query that they search for by specifying textual search operators.
> Search With Searx
3. Qwant

Qwant is a search engine that characterizes itself on four things: Putting privacy first, producing unbiased search results, offering a panoramic search and being a search engine that is based in Europe. It is reasonable to say that these four characteristics make this search engine the exact opposite of Google. Google does not put privacy first, produces biased search results, offers a narrow search interface and is a search engine based in Silicon Valley.
Qwant's headquarters reside in Paris and was founded in February 2013. The engine processes more than 10 million search requests every day and has over 50 million users every month worldwide.
Qwant like DuckDuckGo, delivers the best available results as possible to a search query without collecting data on the user who made it. The engine never collects past searches and personal data for making money or advertising. Qwant also focuses on allowing the user to browse the whole web without discrimination or bias.
The platform does this by equally applying their sorting algorithms everywhere and for each user. Qwant does this purposefully because it wants to be viewed as impartial. It does not want to highlight or hide content for political, moral or commercial interests. Unlike Google which has been caught manipulating search results to push political agendas.
Qwant also differs from Google as all its results are delivered on a single page instead of multiple pages. Websites, social networks, music, videos, pictures, and shopping are easily accessed through one single search on the platform. Being based in Europe, the platform also prides itself on respecting European laws and its cultures. The search engine also commits to contributing where it can to developing the European digital economy on both the continental and national levels.
> Search With Qwant
4. StartPage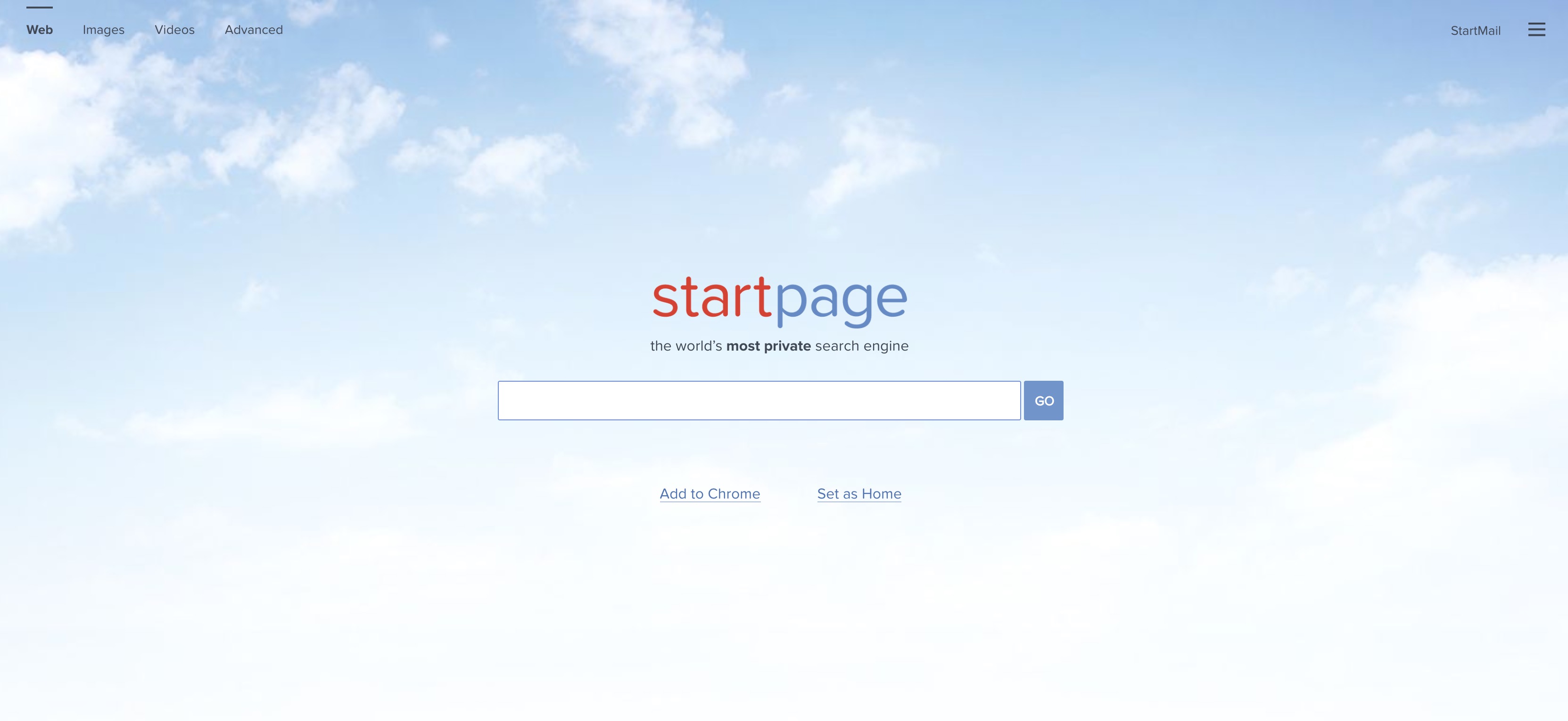 StartPage is a search engine that provides the search results of Google and combines it with the strong privacy features of Ixquick. Ixquick was the previous name of StartPage before 2009. Ixquick, since its launch in the late 1990's was known as the world's most private search engine.
In 2000, Ixquick was acquired by Dutch firm Surfboard Holding B.V. This firm's sole activity since the purchase is operating Ixquick and then StartPage when it was established in 2009. StartPage was released firstly in the United States as a replacement name for Ixquick, as the name Ixquick was difficult to remember, spell and many users asked for the name to be changed.
StartPage's main selling point is privacy and is proud of having what is arguably the search engine industry's top Privacy Policy. This Privacy Policy, written at the establishment of StartPage, arguably laid out what can be roughly considered as the main principles for all future private search engine alternatives to Google and other mainstream search engines.
The main principles set up by this policy include:
• No recording of user IP addresses
• No identifying cookies
• No collection of a user's personal data
• No sharing of personal data with third parties
• Offer secure and encrypted
• Free proxy service, allowing users to browse the world wide web anonymously
In February 2015, 5.7 million queries were searched for on StartPage. The engine can search the web in 18 different languages including Chinese, Italian, German, French, Norwegian, Japanese, Korean, Polish, Portuguese, Spanish, Swedish, Danish, Dutch and a few others.
> Search With StartPage
5. Search Encrypt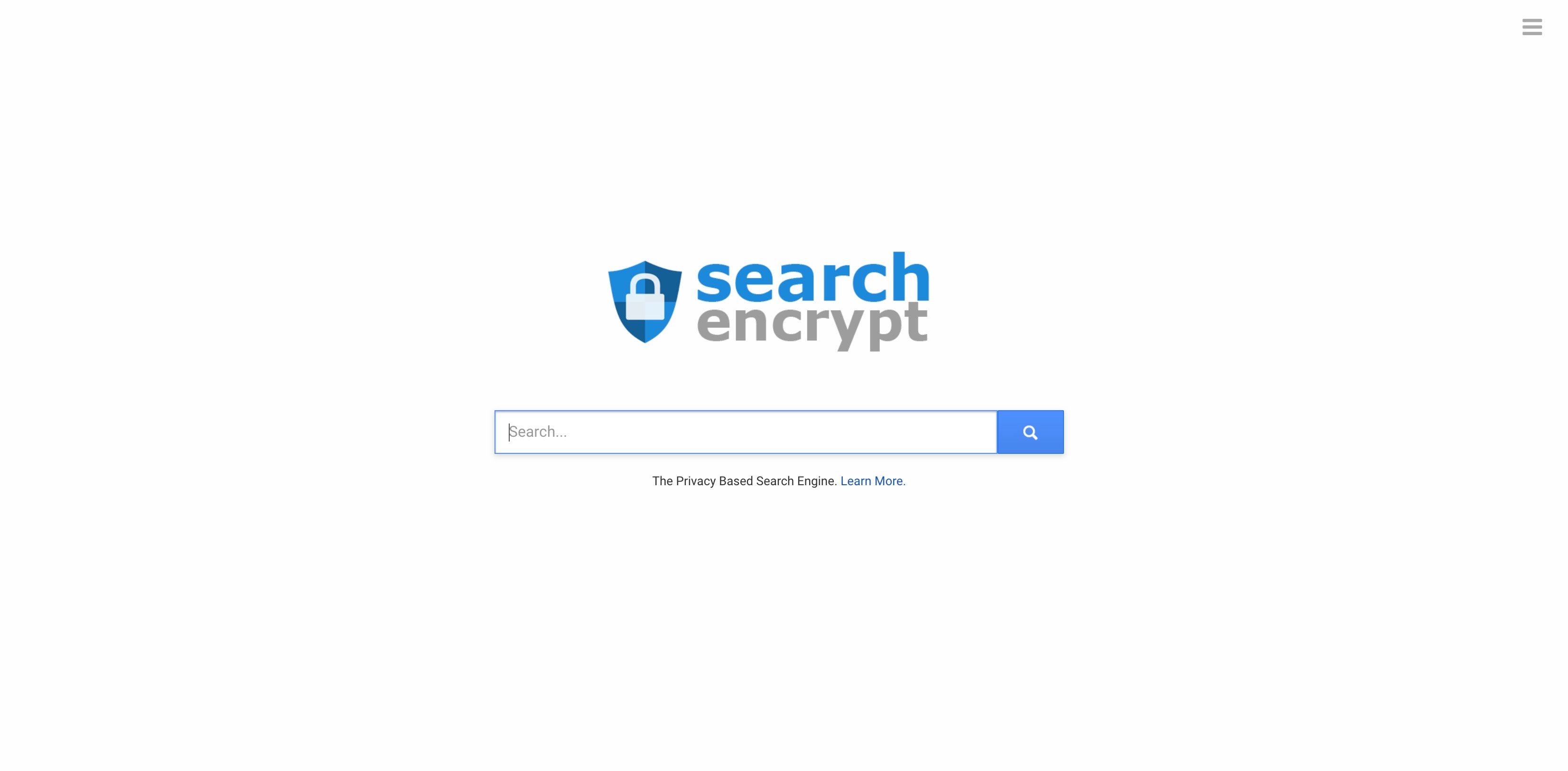 Just like the other four search engines, Search Encrypt prioritizes user privacy and does not offer personalized search results. It's quite a simple search engine with a general web search, an image search, a video search and added in this year a news search function.
There has been some criticism of Search Encrypt within the private search engine user community. Its privacy policy enables it to sell off user data to marketers. The engine earns its revenue from advertising that appears above the search results.
It has also come under fire for what can be argued as automatic installation without the user's knowledge or consent, making it a "browser hijacker."
It's also difficult to uninstall after installation. Despite these criticisms, many agree that Search Encrypt is a good browser that protects user privacy. It also clearly states on its FAQ page that "Search Encrypt does not capture or store any personally identifiable information. We strongly believe that your searches should be private."
Search Encrypt was established in 2016 by a group of web developers. Its headquarters reside in Limassol, Cyprus and has a total of 10 employees. About a year after its launch, the site amassed 22.74 million visitors. Recently it became available as a browser extension on Google Chrome and is listed on the Chrome Web store.
> Search with Search Encrypt