Back in April 2018, President Trump signed the controversial FOSTA (Fight Online Sex Trafficking Act), which was intended to end sex trafficking by targeting online "marketplaces" like Backpage, Reddit, and Craigslist where ads for prostitution and consensual sex are posted, with the argument that they are often involved, knowingly or not, in sex trafficking rings.
The bill was overwhelmingly supported by the House and Senate, because who wouldn't want to legislate sex trafficking out of existence?
Unfortunately, that's not how the real world works.
At the end of 2019, a new bill titled "SAFE SEX Workers Study Act", aimed to merely study the effects of FOSTA on sex workers, as it is largely believed to have had zero effect on sex trafficking.
If anything, it's made it more difficult for law enforcement to catch pimps and traffickers by ridding them of their greatest investigative asset: Backpage, which cooperated with law enforcement leading to arrests.
Rep. Alexandria Ocasio-Cortez announced her full support to repeal FOSTA to Politico reporter Cristiano Lima.
On February 7th, Lima tweeted the article with a quote from AOC: "FOSTA has driven sex workers into the streets into an enormously dangerous situation, creating far more harm and danger."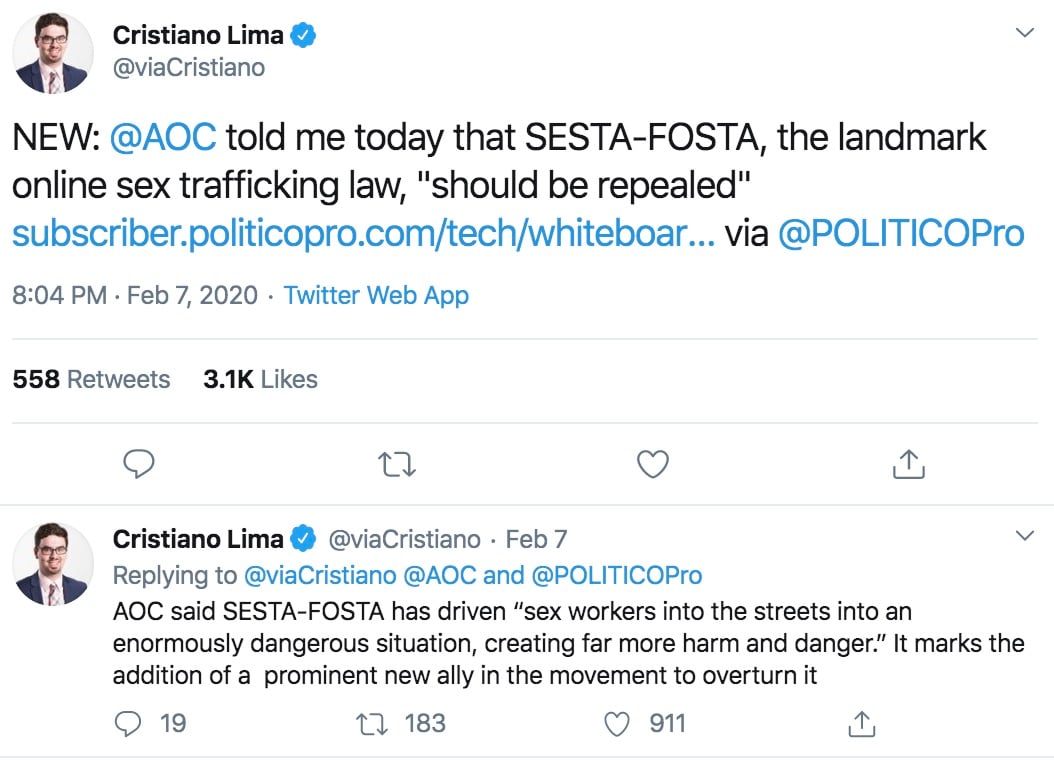 One of the responses to that tweet stated "Most folks have never heard of it. But [the legislation] reshaped the internet. The impact of that law on SWers was terrible. The impact on the whole US internet was pretty bad."
Due to AOC's highly polarizing public figure, it's understandable that many have taken her statement to mean she's in favor of sex trafficking.
It also doesn't help that most people don't read laws and simply go with whatever the title says and whatever their party's "thinkers" say.
And without looking at the details of the bill and foreseeing or even studying its effects, it's natural to assume it's a positive bill since it targets sex trafficking which everyone would universally agree is objectively bad.