As part of its Prime Day promotions, Amazon is offering US shoppers $10 off their first order if they install the Amazon Assistant browser extension. However, there's one big catch – this extension allows Amazon to automatically collect information about the websites users visit. And if users interact with the extension, this information is also connected with their Amazon account.
Amazon already has a huge amount of data on people's purchasing habits. With this new promotion, the company can start building more detailed profiles of people's browsing habits and combine that data with the extensive amount of purchasing data it already has.
The deal was posted in the run-up to Prime Day and is being offered to all new Amazon Assistant customers on their first order of $50 or more.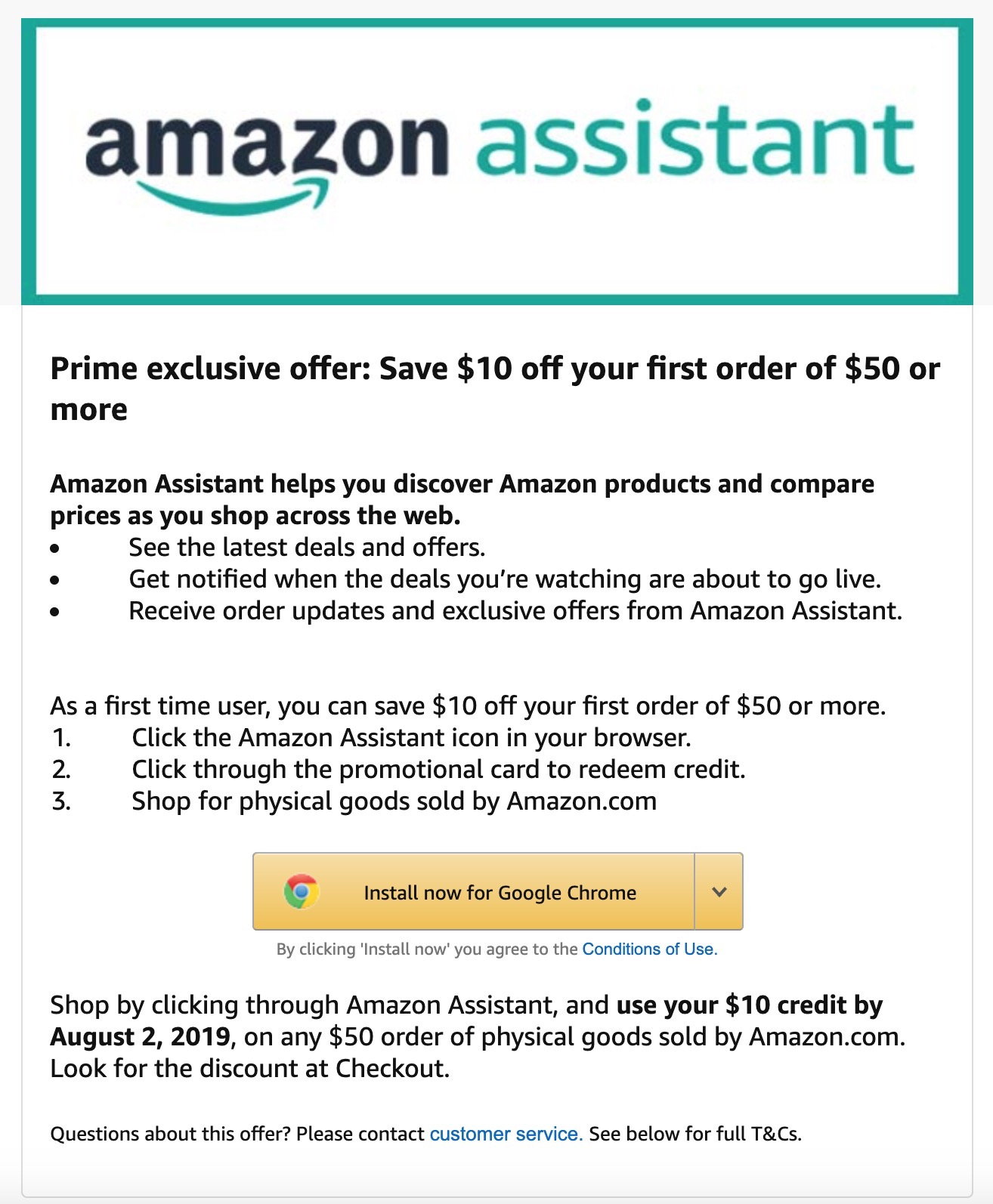 The Amazon Assistant extension described as a handy way for users to get "helpful product information" while they shop. They can also use the Amazon Assistant extension to compare products, watch deals, add products to lists, get order updates, and perform visual product searches.
However, the Amazon Assistant Privacy page shows that users are giving Amazon a huge amount of data for this added convenience.
According to this page, the extension collects the following information automatically after it's installed:
Information about the websites users view where Amazon may have relevant product or service recommendations (this includes the URL, page metadata, and limited page content of the websites users visit)
General information about a user's browser
General information about a user's operating system
When users interact with the Amazon Assistant extension, this information is then connected with the user's Amazon account and the extension also collects additional information which includes:
The product or services being compared
Search queries performed through the Amazon assistant extension
The Amazon Assistant privacy page states that this information is used to operate, provide, and improve:
Amazon Assistant's comparison features
Amazon's marketing, products, and services which includes business analytics
Based on this privacy page, users who install the extension and use it regularly will give Amazon a huge amount of data on how their browsing habits outside of Amazon influence their activities on Amazon and also give Amazon significant insights into their browsing habits as a whole. From this, Amazon can potentially determine which other online outlets extension users buy products from and get a deeper understanding of its customer's interests by seeing what types of website they visit.
This Amazon Assistant promotion isn't the only privacy-invasive deal that's being offered during Prime Day. As we reported previously, many devices that are known for their privacy risks are also being heavily discounted as part of Amazon's Prime Day promotions.