In the latest example of someone losing a job or job opportunity due to intolerance of their social media posts, Former British Royal Marine and presenter on the UK's Channel 4, Anthony Middleton, has been excluded from the annual charity match between the Soccer Aid Foundation and the England team after a tweet that was critical of Black Lives Matter-related riots.
Middleton is known for his honorable performance in the military and his multiple roles on television. Currently, it is possible to see him as the main presenter of SAS: Who Dares Wins. However, lately, he has been the target of a strong backlash over a tweet and has been forced to apologize.
During June, Black Lives Matter called for protests in the city of London, which ended in vandalism and violence after protests were overshadowed by extremist wings of the movement.
Faced with this situation, Middleton decided to tweet a message, referring to the more violent protesters as "absolute scum".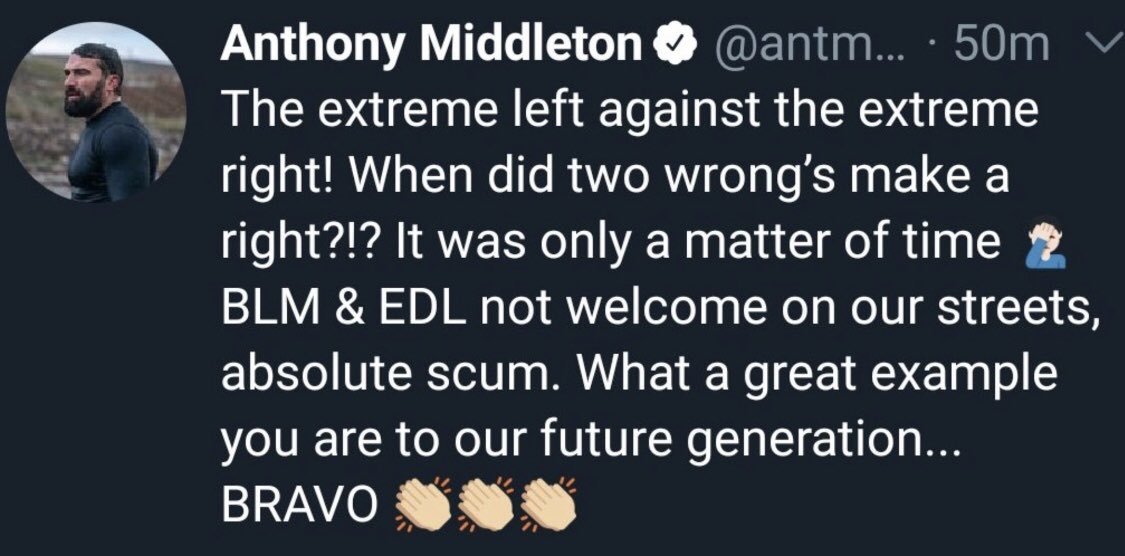 After online backlash, Middleton decided to delete the tweet and even later apologized clarifying that he was not referring directly to the anti-racist protesters, but to those who are taking advantage of the protests to get violent and cause havoc.
However, this wasn't quite enough to quell the backlash.
According to reports in a UK Sunday newspaper, The Royal Navy admitted that it intended to remove Mr. Middleton's honorary rank in the Volunteer Cadet Corps as Chief Cadet.
A Volunteer Cadet Corps policy document obtained by the Mail said, "The views [Middleton] expressed are not in keeping with the values that the VCC aspire to."
Moreover, as if this were not enough of a punishment for the tweet, he has also been dropped from a charity match that would take place in September, for fear that minorities would be offended to see him on the field.
Founded by singer Robbie Williams in 2006, Soccer Aid is an annual soccer game held to raise funds for Unicef. Since its founding, it is estimated that more than £38 million has been raised.
The participating teams are the official national team against a series of personalities from sports and the media. The Soccer Aid team this year is set to include Usain Bolt and former defender Patrick Evra.
Last year, Mr. Middleton appeared during the second half of the match as a substitute and due to his increasing popularity it was expected that he would participate this year from the start; but it seems that isn't as likely to happen.
However, there is still some chance that he could play in the game. We're hearing that Royal Navy bosses have received strong complaints from the British public, who accuse them of censoring Middleton's opinion and suppressing free speech.
The lineup for the team has not yet been announced, so we'll have to wait and see whether he ends up being allowed to play again or whether the critics win.