Online ammunition manufacturer and seller Fenix Ammunition has revealed that the tech giant Apple is actively scanning online stores that are hosted by the ecommerce service provider Shopify and instructing it to disable the Apple Pay Gateway on certain products and types of business.
Fenix Ammunition supplied a screenshot of an email from a Shopify representative explaining that it had disabled the Apple Pay Gateway on Fenix Ammunition's store after Apple had flagged the store because it sells "Weapons":
"Our partners at Apple are constantly monitoring the products and types of businesses we are supporting on Shopify. Apple has identified that you may be selling a product that can't be support on the Apple Pay Gateway. Due to the terms of our agreement with Apple, we are unfortunately unable to accept payments for Weapons.

Regrettably, this means we'll need to disable Apple Pay on your account."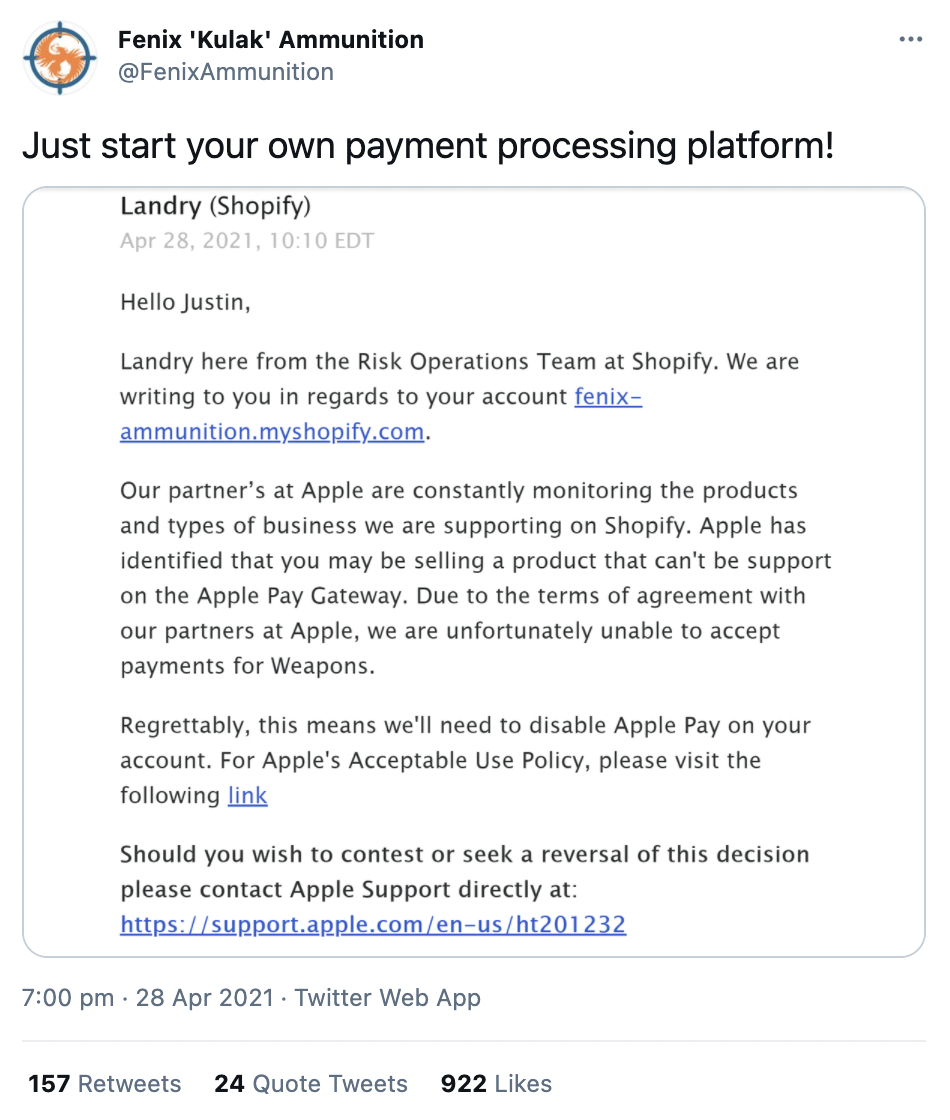 Apple Pay isn't a payment processor but it does streamline the payments process by allowing customers on Apple devices to add their existing cards to a digital Apple Pay wallet and then use this wallet to pay in a single step via Apple's biometric recognition systems – Face ID and Touch ID.
According to Shopify, this streamlined Apple Pay checkout process can boost merchant conversion rates.
Financial censorship has been escalating recently with the payment processors Visa, Mastercard, Discover, PayPal, Stripe, and several banks blacklisting and banning multiple creators and platforms over the last year.
Apple also polices what users can buy with its Apple Card and bans purchases of cryptocurrencies, travelers checks, foreign currency, money orders, lottery tickets, casino gaming chips, and more.
But in this instance, Fenix Ammunition hasn't been flagged by a card provider, payment processor, or its merchant (Shopify). Customers could likely use the same cards that they've added to Apple Pay to purchase products from the Fenix Ammunition store via the traditional checkout process.
Instead, Apple is stepping in with a different form of financial censorship and dictating which merchants are allowed to integrate with its mobile Apple Pay wallet and access the more streamlined checkout process that this mobile wallet provides.
Related: ? The Mastercard and Visa duopoly is fast becoming the biggest threat to alternative tech
Mobile wallets are one of the fastest growing payment infrastructure layers. The value of mobile wallets is estimated to reach a $2.4 trillion value by the end of 2021 and $3.5 trillion value by the end of 2023.
Apple Pay is the clear leader in this space with 507 million estimated users and an estimated 55% of US and UK businesses using Apple Pay. It's believed to account for 5% of all global card transactions and this figures is expected to grow to 10% by 2025.
And this dominance gives Apple the power to act as a gatekeeper and decide which merchants and products are allowed to use the most popular US mobile wallet in this rapidly growing layer of payment infrastructure.