Dr. Kerry Chant, the Chief Health Officer of New South Wales, sparked alarm on social media after saying, "We will be looking at what contact tracing looks like in the New World Order," in response to a question about contact tracing during a press conference.
The phrase "New World Order" is commonly used to refer to the idea of replacing national sovereignty with a totalitarian global government. Concerns over the use of this phrase by public officials have heightened amid the coronavirus pandemic due to the way many governments have unilaterally introduced vaccine passports, contact tracing, and other restrictive COVID measures, despite mass protests from their citizens.
Australia has been a focal point for those concerned about global governments using COVID measures to strip away civil liberties because it has introduced some of the world's strictest COVID measures. These measures include using geolocation and face recognition to police quarantine, building COVID quarantine camps, and using CCTV surveillance and shop purchase data to enforce contact tracing and quarantine.
"Imagine being a country that built relocation camps for people deemed sick or suspected of being sick and then having an official use the phrase New World Order," journalist and podcaster Tim Pool tweeted in response to Chant's New World Order comment.
"Is the Australian government trying to rile everyone up or do they just want everyone to know that they no longer care about keeping their ambitions secret?" former Nevada GOP Chairwoman Amy Tarkanian tweeted, "This is insanity."
Social media user's concerns about Chant's use of the phrase New World Order propelled it on to the Twitter trending tab. But Twitter quickly stepped in and attempted to downplay these trending discussions by framing them as "unfounded claims about the 'New World Order' conspiracy theory."

YouTube also slapped videos of Chant discussing contact tracing and the New World Order with a label that describes the New World order as a conspiracy theory.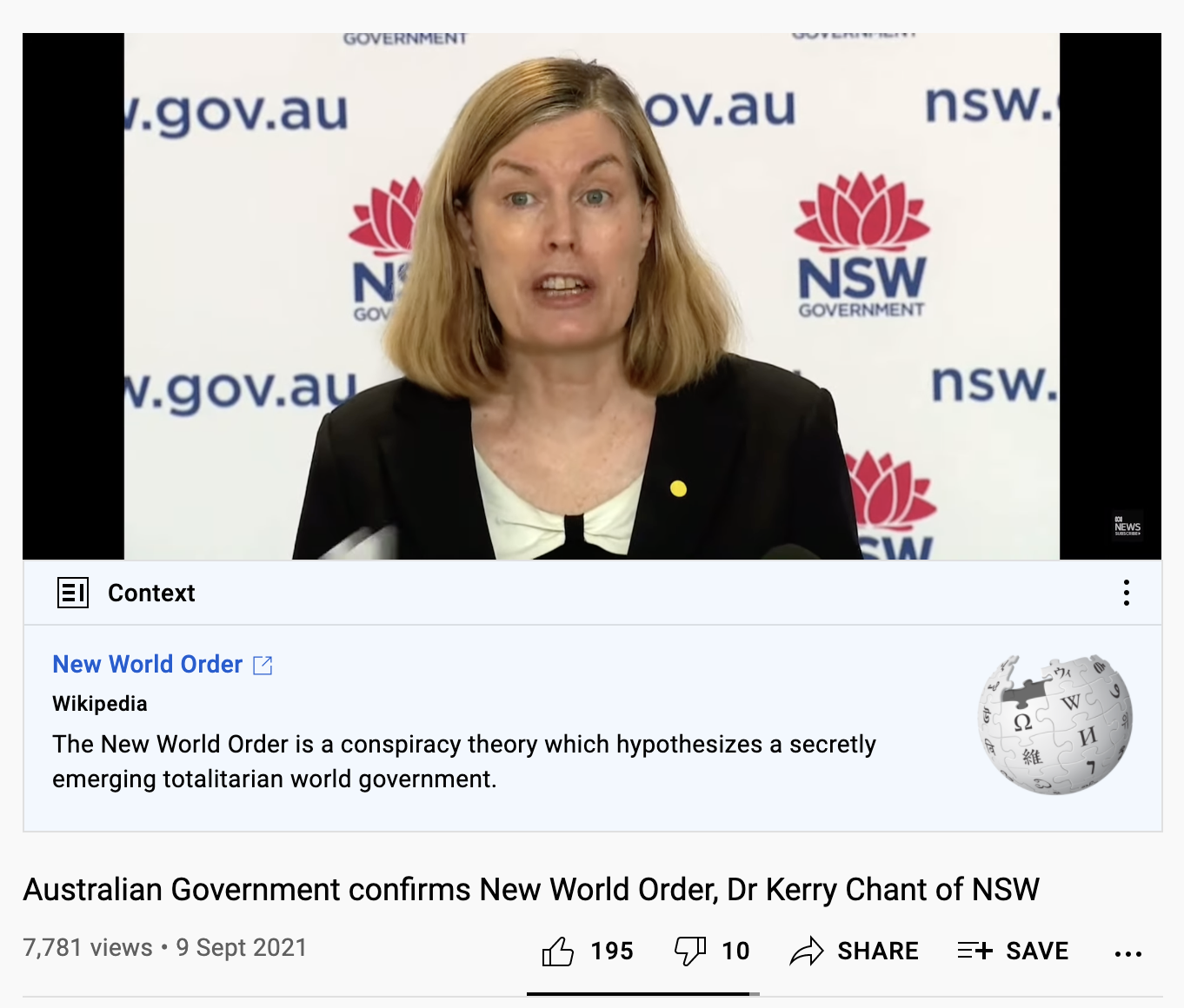 And the media jumped in to associate Chant's use of the phrase with "conspiracy theorists."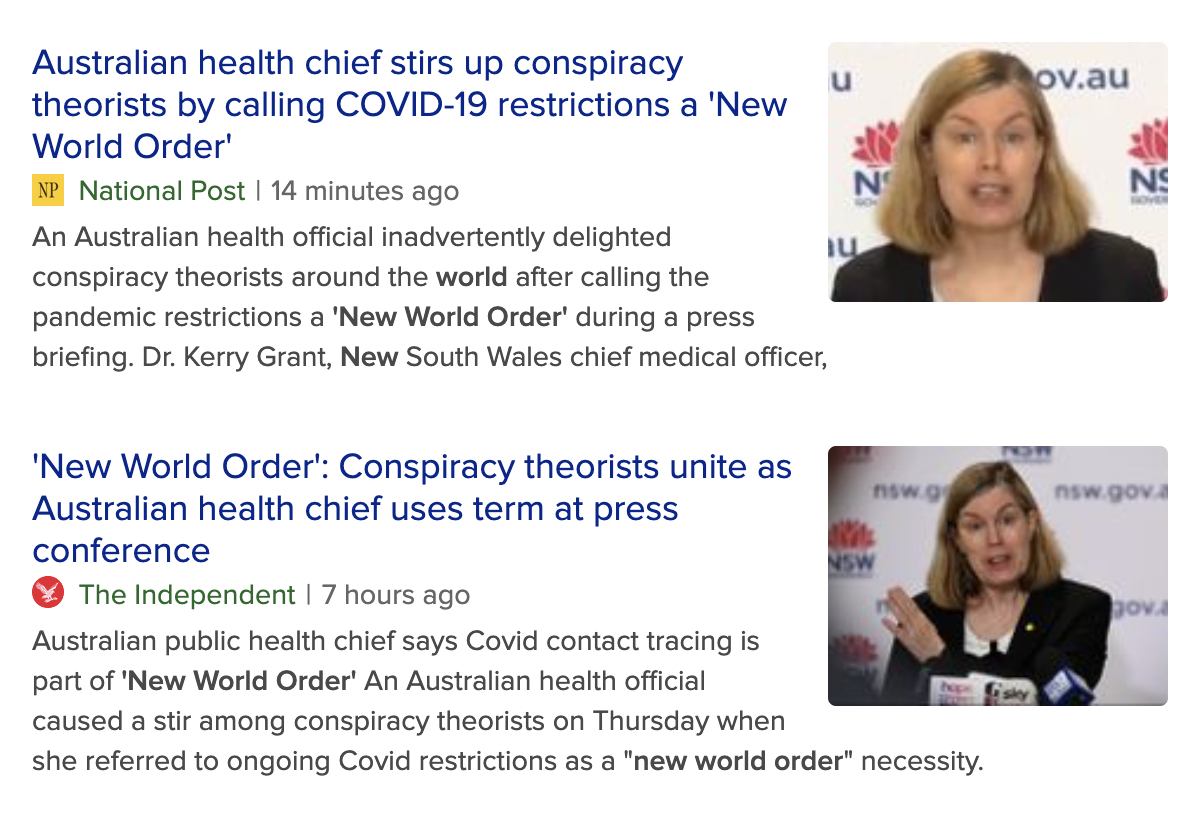 While Big Tech and the mainstream media are attempting to dismiss concerns about the phrase New World Order as a conspiracy, this isn't the first time the phrase the New World Order has been used to describe Australia's implementation of authoritarian COVID measures.
In a previous report on the sweeping restrictions on outdoor gatherings, exercise, visiting shops, and attending funerals that were being introduced as part of Australia's COVID measures, media outlet 10 News First said: "Today is the first day of the New World Order."
Brad Hazzard, New South Wales Minister for Health and Medical Research, has also used the phrase the New World Order several times when discussing COVID measures.
"That's just the way it is. We've gotta accept that this is the New World Order," Hazzard said during one press conference.
In another press conference, where Hazzard was discussing someone contracting the coronavirus in a "home situation," Hazzard said: "We must treat this New World Order, this new world of COVID, even in our own homes, with a high level of care and caution."
https://rumble.com/embed/va9759/?pub=d8tek
Outside of Australia, several other public officials and public figures, including Chicago Mayor Lori Lightfoot and Pope Francis, have faced scrutiny after expressing support for the New World Order.
In the case of Lightfoot, Facebook fact-checker the Associated Press stepped in, claimed the video was "edited," and marked it as "false."