Amnesty International has called on Bangladesh to stop the crackdown on people's freedom of expression on online platforms. The government and powerful individuals have been using a draconian law introduced in October 2018 to criminalize free speech and as a tool for repression.
"Bangladeshi authorities must end the crackdown on people's right to freedom of expression online and urgently repeal the draconian Digital Security Act (DSA) unless it can be amended in compliance with international human rights law and standards," reads a statement released on Monday by Amnesty International.
In the briefing, titled "No Space for Dissent," Amnesty International highlighted its findings after examining freedom of expression in the Asian country. The organization particularly focused on the Digital Security Act (DSA), which it described as "a law that contains overboard and vague provisions granting authorities powers to police the online space."
As of July 2021, at least 433 people had been imprisoned under the DSA, mostly on charges of publishing offensive or false information on online platforms. Amnesty International examined 10 of the cases, involving individuals "who have been subjected to a wide range of human rights violations including enforced disappearance, arbitrary detention and torture, simply for criticizing powerful people on social media."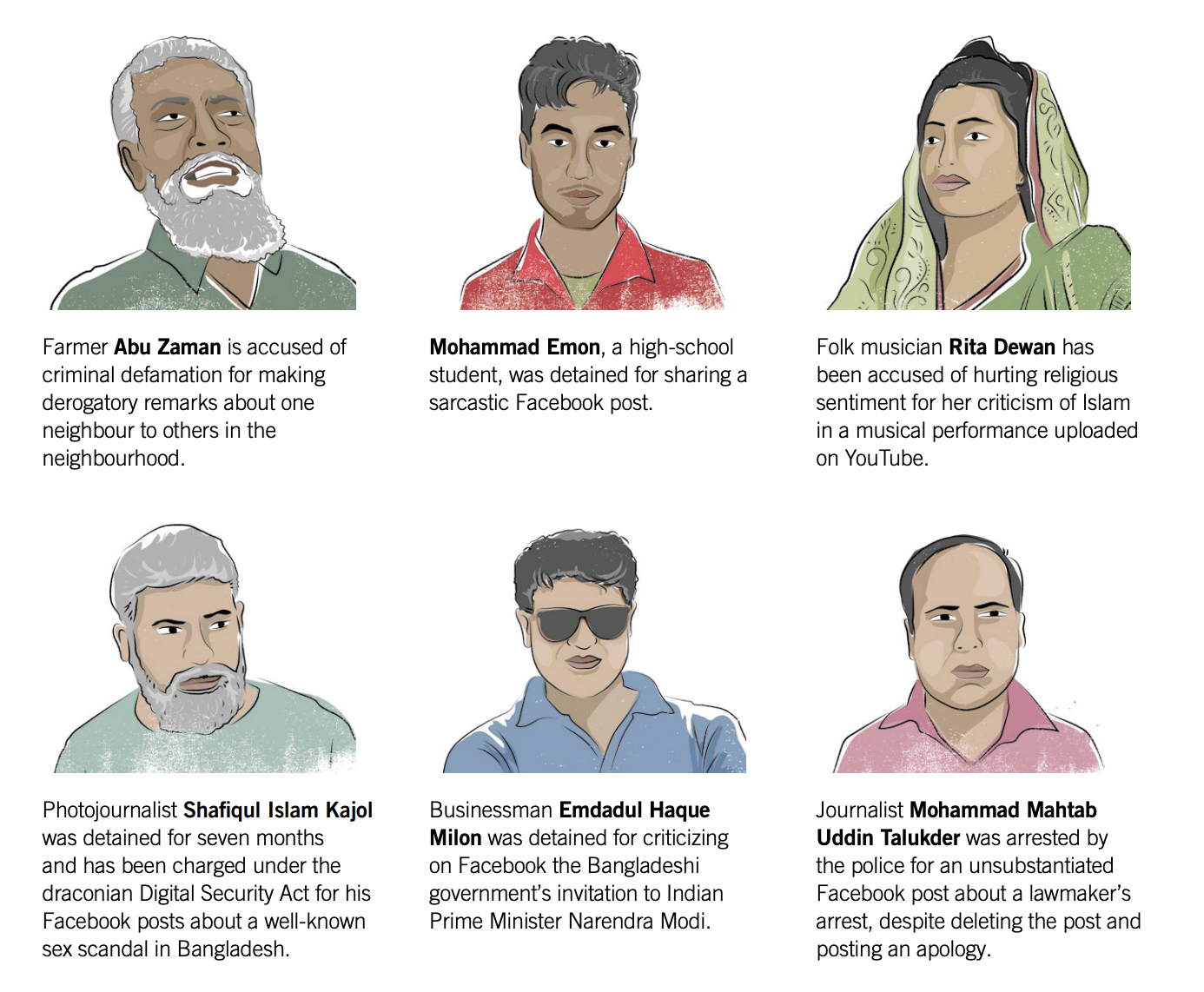 "The actions taken by the authorities under the purview of the DSA demonstrate just how dangerous it has become to speak out and voice dissenting views in Bangladesh today. These undue restrictions on different forms of expression have sent a chilling effect across Bangladeshi society and have severely curbed the space for independent media and civil society organizations.
Bangladeshi authorities must release all prisoners held solely for exercising their right to freedom of expression," said Saad Hammadi, Amnesty International's South Asia Campaigner.
One of the cases involved Mushtaq Ahmed, a writer who died in prison in February 2021, after 10 months of detention without trial. Ahmed was arrested in May 2020 for criticizing the government's response to the pandemic.
"Mushtaq Ahmed should not have spent a single minute in prison, let alone his final ones. Many provisions in the DSA are criminalizing conduct that should not constitute an offence in the first place. We urge the authorities to break away from this practice of using the law as a weapon against dissent," said Saad Hammadi.
DSA was introduced in October 2018, and has since been used and abused to suppress dissent on online platforms (including social media, websites, and other forms of digital platforms). Authorities have used the law to target government critics, under the guise that they have made defamatory, derogatory, offensive, or false statements. Punishment under the law can be up to life imprisonment.
Even before its adoption, the UN Special Rapporteurs on free speech human rights raised their concerns over the draconian law.
In the last Universal Periodic Review in 2018, several UN member states recommended the amendment of the law "to ensure online freedom of expression."
The Bangladeshi government accepted the recommendations, but is yet to implement them. It continues to enforce the DSA, a law that is "in violation of the right to freedom of expression enshrined under the International Covenant on Civil and Political Rights (ICCPR) to which Bangladesh is a party."
"We remind the Bangladeshi authorities about the recommendations they accepted from several UN member states during the country's last Universal Periodic Review in May 2018, with regards to taking concrete measures to bring all legislations including the DSA in conformity with the ICCPR," said Saad Hammadi.