The recent trend of online activity costing people their job continues. However, in Belgium, a practicing psychologist lost more than her job – she lost her license.
A psychologist and media personality Kaat Bollen has lost her psychologist license due to the revealing pictures of herself she posted on Instagram. The Belgian Commission of Psychologists has reprimanded Bollen for her "indiscreet" photographs.
Bollen is a popular figure in the Benelux media where she discusses issues surrounding aspects such as sex and relationships. She also directed a porn film for women titled "A Girls' Getaway," as well as writing three books.
Back in early 2020, someone anonymously reported Bollen to the Belgian Commission of Psychologists – the organization that looks after practicing licenses in Belgium. Then a special disciplinary committee heard Bollen's case and decided against her, issuing her an initial warning.
Bollen naturally disagreed with the decision and appealed it. The committee, after reviewing the case in January 2021, ended up temporarily suspending her license. As of now, the final judgement is confidential and not known.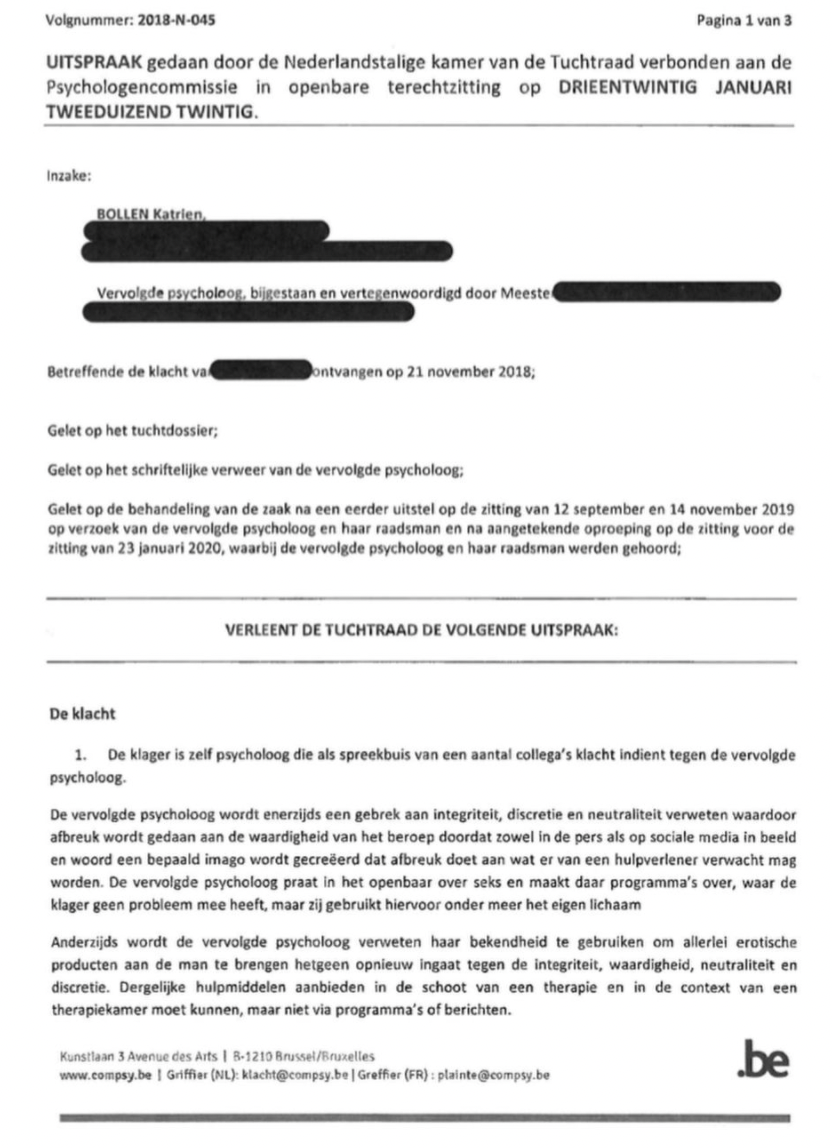 That being said, based on what a national broadcaster reports, it is revealed that the judgement cited a passage from the official code of ethics which states that a psychologist's behavior cannot negatively impact or damage the reputation of the profession.
The excerpts from the verdict have also revealed that Bollen was asked to be "aware of her profile and dignity" and that "the dignity of their profession is being affected and their image damaged."
The committee seemed to express concern about aspects such as her stint in erotica, revealing pictures on Instagram, and her online shop.
Frustrated with the whole fiasco, Bollen ended up announcing that she would give up her license completely. "Why is sexy and/or feminine not worthy? And since when do we psychologists judge the dignity of others? Shouldn't we have an open mind and encourage authenticity? Since when should we as psychologists have to be more worthy than others? Aren't we just people trying to be there for other people? Is our strength as a psychologist not precisely in being human and the encounter between two real people?" questioned Bollen.
Needless to say, Bollen's public announcement about giving up the license sparked quite a stir with several women on social platforms posting their pictures and using the hashtag #istandwithkaat.
The Belgian Commission of Psychologists explained their disciplinary process and refused to comment about anything regarding Bollen's license.