Another retailer has banned a book critiquing aspects of transgender ideology. The book-burning started in February, when Amazon silently removed all traces of the book from its ecommerce platform.
Bookshop.org, a bookselling online shop, has banned "When Harry Became Sally: Responding to the Transgender Movement," because of multiple complaints.
On April 9, the author of the book, Ryan Anderson, tweeted that the bookshop.org removed the book because of "multiple complaints and concerns from customers, affiliates, and employees."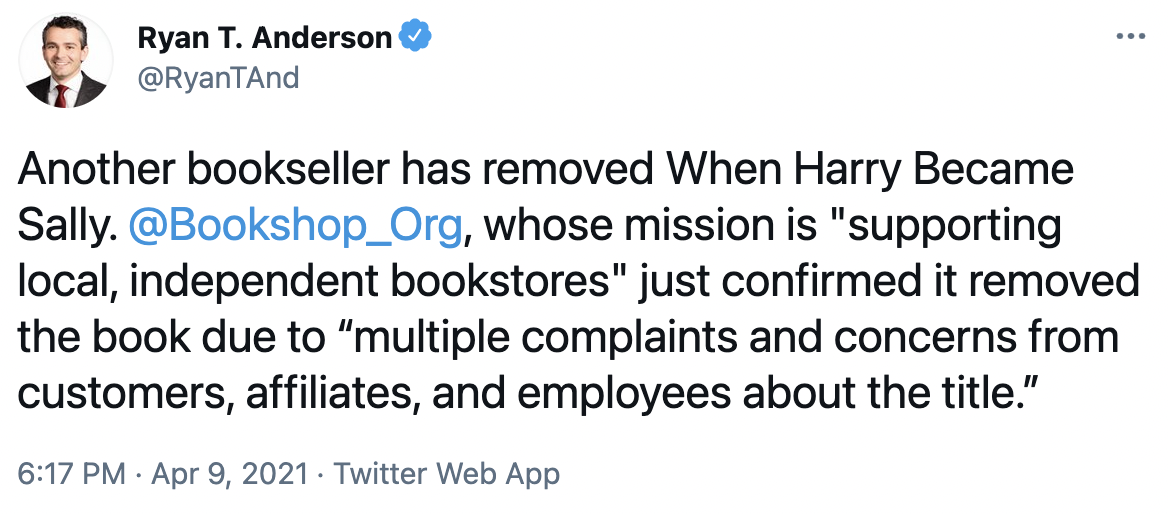 As previously reported, retail behemoth Amazon was first to remove the book in February.
Anderson puts into question the rationale of gender reassignment surgeries, giving multiple examples of people who have gone through the procedure only to regret their decision.
In a letter to GOP senators who requested an explanation on why the book was removed, Amazon said that while it provides "customers with access to a variety of viewpoints, including books that some customers may find objectionable," it has decided "not to sell books that frame LGBTQ+ identity as a mental illness."
Anderson denies the book does this.
The March letter, signed by the retailer's Vice President of Public Policy, Brian Huseman, further stated that "we reserve the right not to sell certain content."
Multiple experts in the medical field, including a former psychiatrist-in-chief at the Johns Hopkins Hospital, have applauded the book as well-researched.
Still, online retailers continue to cancel the book.