Over the last decade, Venezuela has fallen into one of the most severe economic crises of modern history, more severe than the Great Depression and even the collapse of the Soviet Union. It's been marked by increasing hyperinflation, starvation, and other tragedies.
As the country's currency loses value and prices go up, Venezuelans are starting to look to more stable alternatives. The value of the Venezuelan Bolivar dropped by 50% in 2013 and a further 30% in 2016. This lead to a boom in the adoption of cryptocurrencies in the country.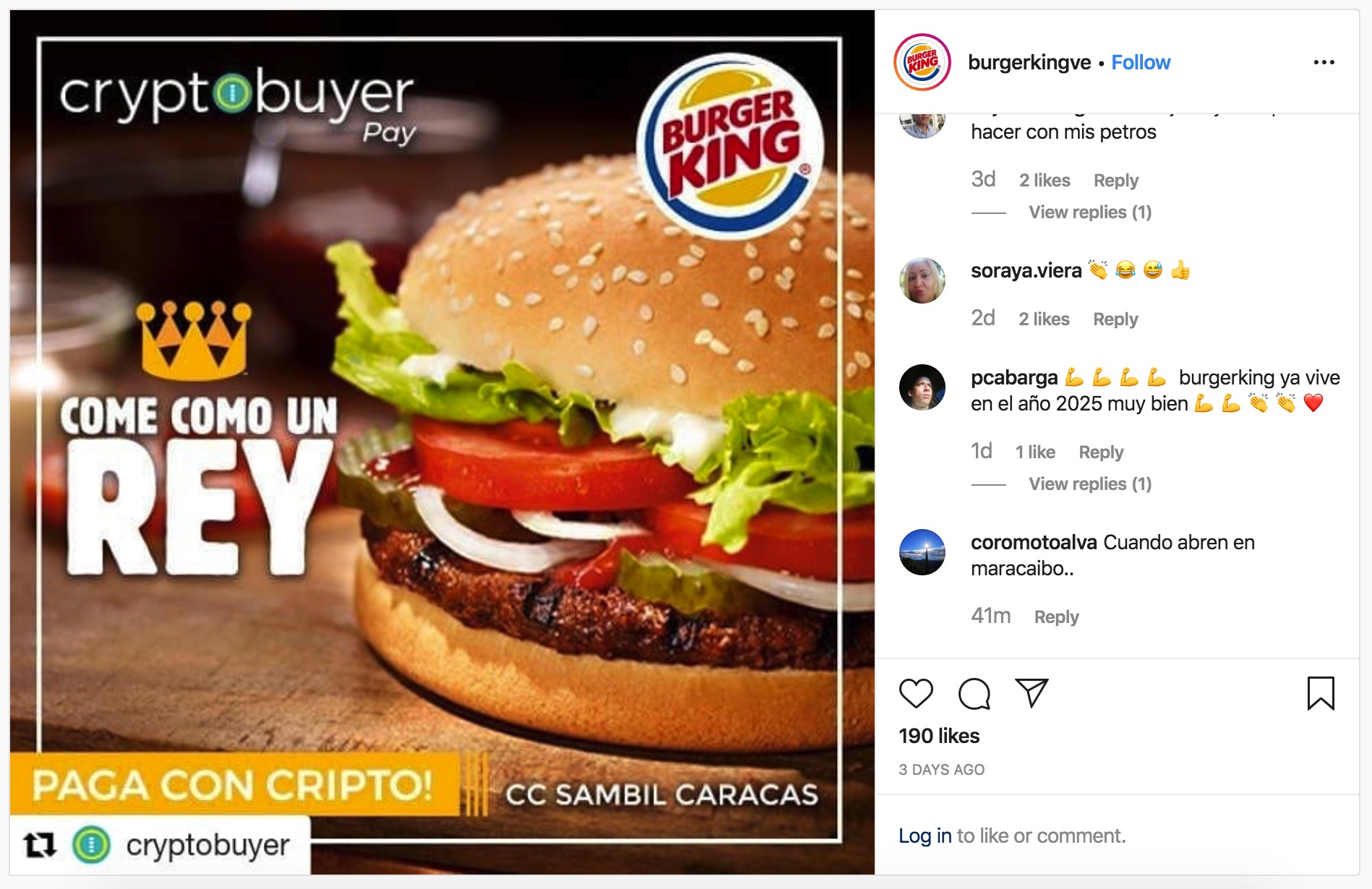 Burger King Venezuela took to Instagram on the last day of 2019 announcing a partnership with Cryptobuyer to roll out nation-wide crypto payment options including Bitcoin, Ethereum and Dash, among others. The rollout of the point of sale system will start at the Burger King location in Centro Sambil Caracas, the sixth-largest shopping mall in South America, with the intent of eventually reaching all 40 locations in Venezuela during 2020.
Jorge Farias, CEO of crypto exchange Cryptobuyer commented on the situation: "The growth of Cryptobuyer in South America, especially in Venezuela, is another example of how this region is ahead of the curve in adopting cryptocurrency as a real method of payment. Venezuela presents a mix of circumstances that make it a perfect place to deploy real-world cryptocurrency solutions – hyperinflation, cash shortages, deteriorated banking and communication infrastructure. Such factors, in conjunction with the government's initiative to use cryptocurrency as a payment method, will push use and adoption of these cutting-edge technologies, and we are really proud to lead this push."
Dash also announced the partnership on their blog, stating that "Burger King has been training its teams and stores during the past weeks and will slowly roll out Dash payments into all stores in Venezuela," with the claim that "around 1,000 verified merchants in Venezuela already accept Dash."
Dash was started in 2014 to address certain issues with Bitcoin, including privacy and long transaction times. They offer anonymous, instantaneous transactions, as opposed to Bitcoin's 10-60 minutes and pseudonymity that can be used to trace transactions back to users.