After having his subreddit quarantined and his political campaign account shut down on Twitter, UK political candidate Carl Benjamin has now had his popular Sargon of Akkad YouTube channel with over 958,000 subscribers demonetized.
YouTube hasn't said why the channel was demonetized but according to one of Benjamin's Discord moderators, Lord Scrumpington, the channel has been totally demonetized with ads, super chats (donations during live streams), and YouTube memberships (monthly donations) all removed.
Lord Scrumpington also says that the channel has been de-boosted and no longer appears in the recommended section on YouTube. This means that not only will Benjamin earn no revenue from his videos but they're also likely to get fewer views and impressions on YouTube.
Benjamin says that he believes the channel demonetization is a result of malicious actors mass reporting his videos which has been spurred on by dishonest reporting about his political candidacy in the mainstream media. He added that he and his team are speaking to YouTube and confident that his channel demonetization situation will be rectified soon.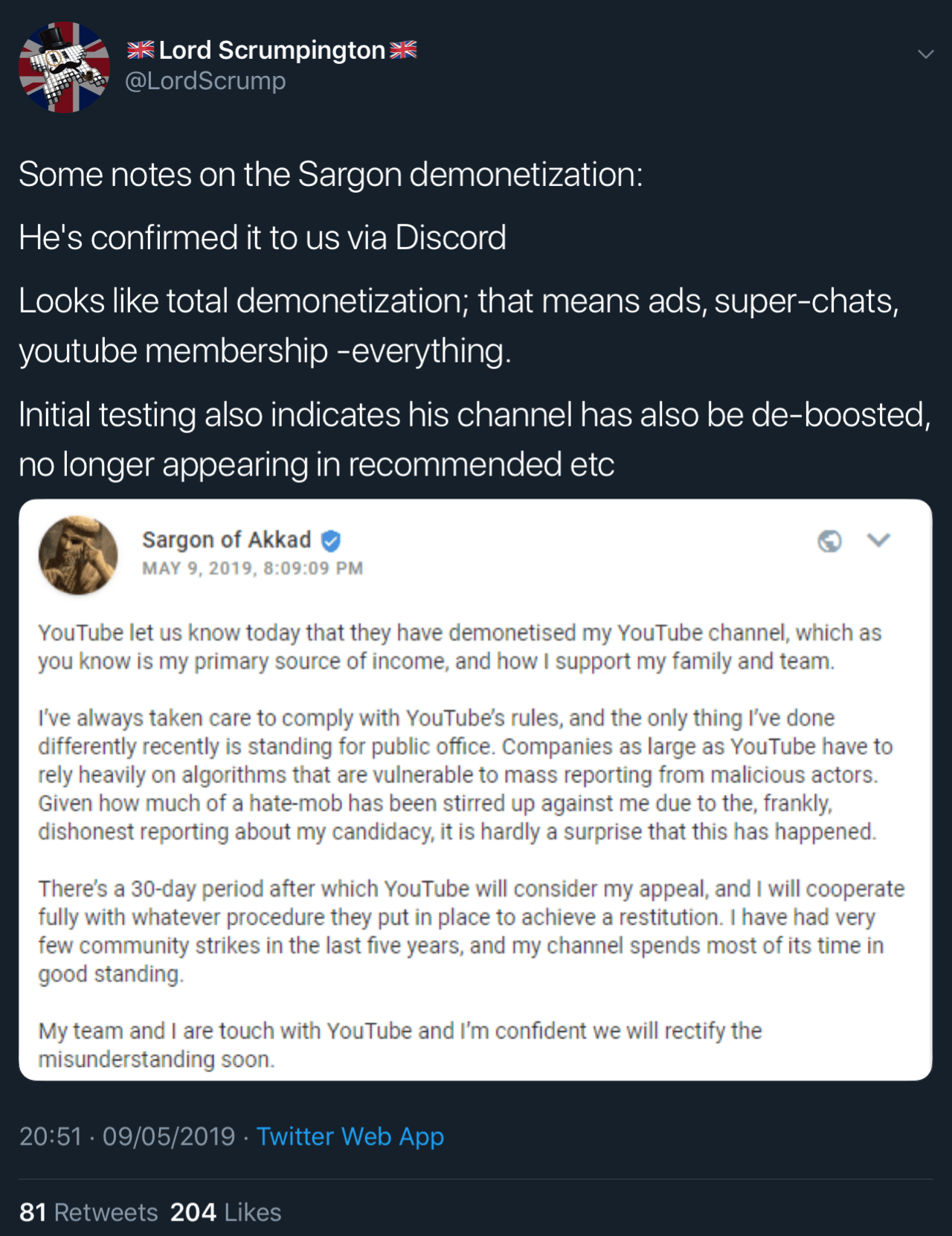 Here's Benjamin's full statement on his YouTube channel demonetization:
"YouTube let us know today that they have demonetised my YouTube channel, which as you know is my primary source of income, and how I support my family and team.

I've always taken care to comply with YouTube's rules, and the only thing I've done differently recently is standing for public office. Companies as large as YouTube have to rely heavily on algorithms that are vulnerable to mass reporting from malicious actors. Given how much of a hate-mob has been stirred up against me due to the, frankly, dishonest reporting about my candidacy, it is hardly a surprise that this has happened.

There's a 30-day period after which YouTube will consider my appeal, and I will cooperate fully with whatever procedure they put in place to achieve a restitution. I have had very few community guidelines strikes in the last five years, and my channel spends most of its time in good standing.

My team and I are touch [sic] with YouTube and I'm confident we will rectify the misunderstanding soon."
This is the third major move the social media giants have made against Benjamin since announcing his political campaign, with his subreddit and Twitter account also targeted previously.
Benjamin has also faced a stream of negative coverage in the mainstream media which has largely been focused on a three-year-old tweet which he sent years before becoming a political candidate.