On Tuesday, Chicago's Mayor Lori Lightfoot announced new Covid restrictions with the introductions of vaccine passports.
Mayor Lightfoot announced vaccine mandates for bars, coffee shops, restaurants, gyms, and other entertainment venues for everyone aged five and above.
Related: How vaccine passports are crushing freedom, privacy, and civil liberties
"To put it simply, if you have been living vaccine-free, your time is up. If you wish to live life as w/the ease to do the things you love, you must be vax'd," Lightfoot tweeted. "This health order may pose an inconvenience to the unvaccinated, and in fact, it is inconvenient by design."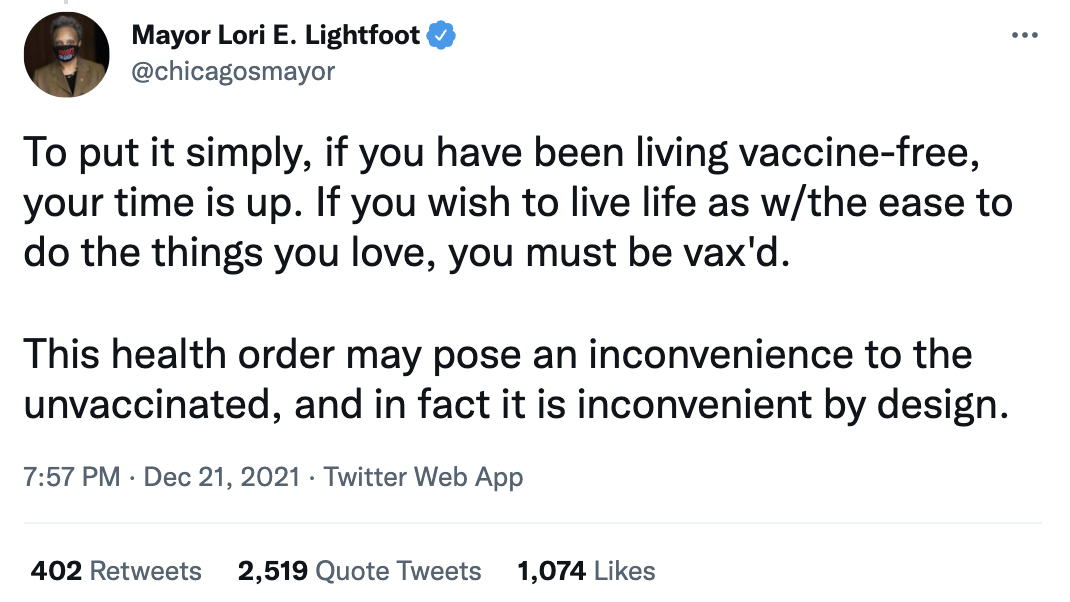 Lightfoot added: "We didn't want to get to this point, but given the situation we find ourselves in, we simply have no choice."
"So, beginning on Jan. 3, you must show proof that you are fully vaccinated to enter bars, restaurants, fitness centers and entertainment and recreational venues where food and drink are served," she announced in a press conference.
"Despite our diligent and equitable vaccine distribution efforts throughout this year, unfortunately, our city continues to see a surge of COVID-19 Delta and now Omicron cases," Lightfoot said. "New steps must be taken to protect the health and wellbeing of our residents. This public health order requiring proof of vaccination to visit certain indoor public places is a necessary measure to ensure we can continue to enjoy our city's many amenities as we enter the new year."
Lightfoot clarified that people will not need to show proof of vaccine to pick up coffee. But they'll need vaccine passports to dine at the coffee shop.
"If you're going into that coffee shop to pick up and go, you don't need to show proof," Lightfoot said. "But if you're gonna linger, you're gonna eat that muffin, you're gonna sit down with your laptop, you gotta show proof of vaccination."