The website of India's Prime Minister, Narendra Modi, is no longer accessible in China. However, the Chinese residents have access to the website of a Modi rival Rahul Gandhi, a Member of Parliament and former president of the Indian Congress Party.
China's authoritarian regime practices internet censorship on a massive scale. The different techniques the regime uses to regulate the internet are collectively called The Great Firewall of China. This "firewall" denies citizens access to websites providing information contradictory to the narrative the regime sells to its citizens.
The Great Firewall of China is the most effective internet censorship system on the globe. It blocks thousands of foreign and domestic websites. Mostly, these are news outlets, search engines, and social media sites including Facebook and Twitter.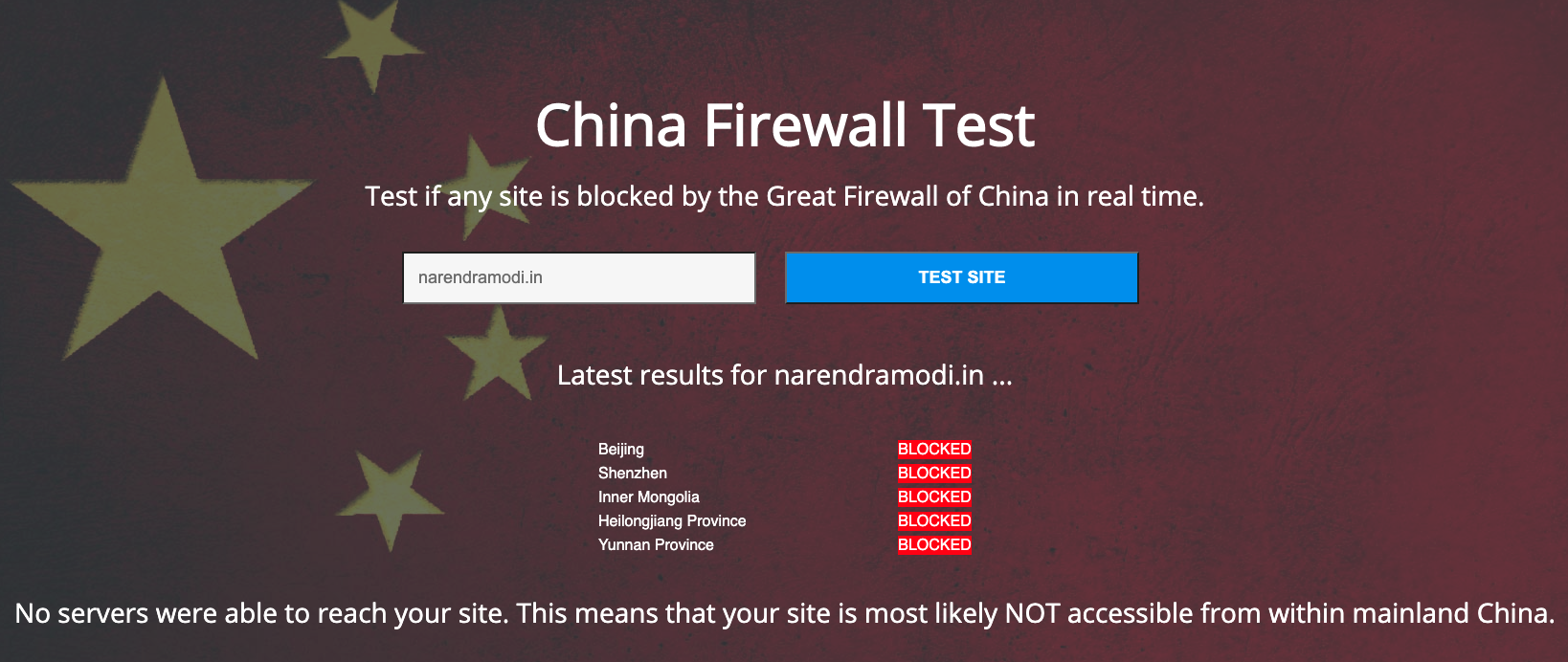 There are online services you can use to see if a specific site is blocked in China. It was discovered that the Indian PM's site was blocked by using two of the great firewall of China tests, chinafirewalltest.com and viewdns.info.
Both tools returned the same results; the PM's site is not accessible in all provinces in mainland China while the site of Modi's rival, Rahul Gandhi, site is not restricted.
The blockages were inspired by the growing tensions between the two countries at the border near Ladakh. On Tuesday, June 16, China ignored a prior agreement and the resulting clash caused the death of at least 20 Indian soldiers.
China has also blocked Indian sites and links with information about the conflict. The regime also deleted a speech Modi made to cabinet members on June 18 from the social media accounts of India's Embassy in China.
The fact that Rahul Gandhi is close to the Congress Party's top leadership (the current leader Sonia Gandhi is his mother) might be the reason China has not blocked his website. The Chinese Communist Party maintains a strong relationship with the Indian National Congress Party. For instance, there is a Memorandum of Understanding between the two parties signed in 2008 in Beijing. The agreement was cooperation and exchange of high-level intel. The cosigners of this deal were Rahul Gandhi and President Xi Jinping, who at that time was vice president of China, and is now the leader.