American conservative commentator and Fox News Radio host Todd Starnes documented censorship on Facebook where the social media giant denounced Christian quotes as hate speech.
Starnes said on his website that the quote in question concerned the subject of sin, and was penned by Augustine of Hippo, an early Christian theologian, and philosopher.
The quote that repeatedly couldn't make it past Facebook's censorship barrier? It's this:
"Let us never assume that if we live good lives we will be without sin; our lives should be praised only when we continue to beg for pardon. But men are hopeless creatures, and the less they concentrate on their own sins, the more interested they become in the sins of others. They seek to criticize, not to correct. Unable to excuse themselves, they are ready to accuse others."
After two priests originally posted the quote only to have it labeled as "hate speech" by the social media giant, Domenico Bettinelli – the CEO of a Catholic media company, Starquest Production Network – tried his luck, with the same result.
Facebook twice flagged his post containing the quoted as being against the company's community guidelines on hate speech.
Bettinelli took a screenshot of this message and posted it, along with the following quip: "Yep. That awful St. Augustine."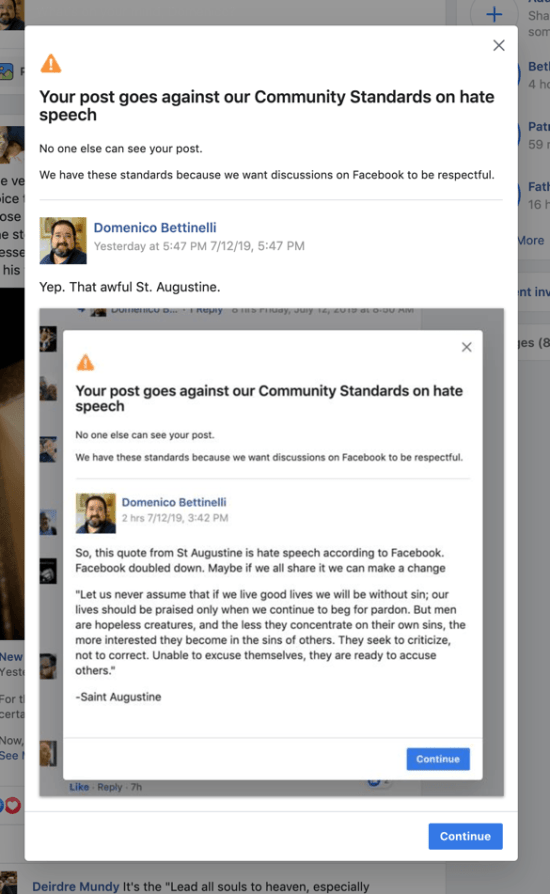 Given that Facebook was yet to comment on the case and explain its decision when Starnes wrote about it, one could only speculate about the reasons behind the persistent flagging of the quote; one possibility was, as ever, the tech behemoth's crude machine learning algorithms.
Another, more damning possibility that Starnes noted was that this might also be the work of human moderators.
But either way, he charged – a large majority of those on the receiving end of these decisions are conservatives and Christians. For that reason, whichever way the social media giant arrived at the conclusion that the quote was tantamount to hate speech – "this is not an accident and Facebook knows it," he writes.
Meanwhile, Bettinelli himself resolved the dilemma of who banished the quote from Facebook: it was both the algorithm and the human review.
In his response to Facebook's decision to reject his original appeal, Bettinelli asks for an explanation as to why the quote would be considered hate speech at all.
Earlier, Starnes reminded in his article that Facebook last year declared a painting of an ancient cross to be "shocking content" – and blocked a Franciscan University of Steubenville ad that contained the imagery.
Given the policies of social media platforms, the Fox News Radio host worries about the effects on free speech of conservatives and Christians as the United States moves toward another election.