Undeniably hitting a powerful chord in the hearts of American audiences, the documentary "Police State" has soared its way to compelling success this week. The brainchild of filmmaker Dinesh D'Souza, the film generated an impressive turnout within the nation, breaking boundaries as it effortlessly overtook the previous record held by another of D'Souza's undertakings, "2000 Mules."
Giving voice to the sentiments reverberating within the nation, "Police State" is striking a chord. Its success signifies that Americans are yearning for insightful content that speaks volumes about the pressing issues entrapping their present reality, primarily concerns of free speech and the erosion of civil liberties.
Online ticket sales for October 25th surpassed expectations. To extend the discourse, a virtual premiere is also slated for October 27th and exclusively available to stream on Rumble. This recent wave of immense popularity has resulted in sold-out screenings at several theaters – a token of the film's gripping reputation.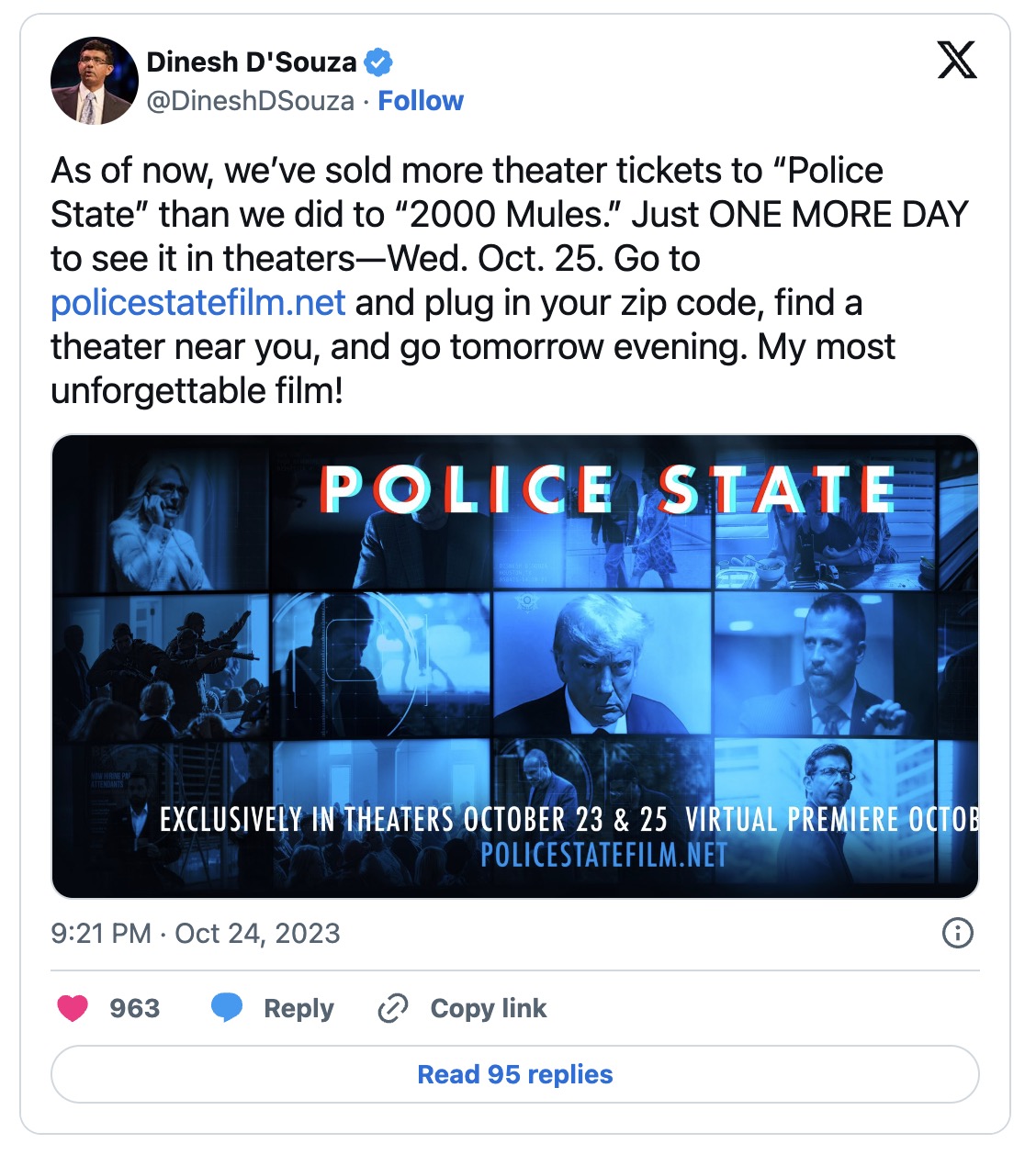 D'Souza took it to X/Twitter, proving the far-reaching success of the documentary by stating, "As of now, we've sold more theater tickets to 'Police State' than we did to '2000 Mules.'"
This documentary has indeed proven to be an eye-opener for many, revealing the intricate functionings within the government—a theme that is resonating with viewers across the nation.
Featuring detailed interviews with prominent conservative leaders like Rep. Jim Jordan, Sen. Rand Paul, and others such as commentator Dan Bongino, "Police State" drives home the alarming reality of the current politico-legal climate in America.