A 21-year-old climate change activist was arrested by Indian police in the city of Bangalore for helping create and spread a social media "toolkit" for the farmers' protest. Indian authorities are keen on suppressing the farmers' protest, which has been going on for over two months, and arresting those involved in the January 26 violent riot that resulted in one death and hundreds injured.
The Cyber Cell unit of the Delhi Police arrested Disha Ravi, a 21-year-old climate change activist. The police alleged that Ravi helped create and spread the "toolkit Google doc," about the farmers' riot.
"In connection with a case regarding the investigation into the criminal conspiracy related to the toolkit document, Disha Ravi has been arrested from Bangalore.
"She was one of the editors of the toolkit Google Doc and a key conspirator in the document's formulation and dissemination," Delhi Police said in a statement.
A toolkit is a document specifically created to explain an issue, and what people can do to address it. That could include information on protests, petitions, etc. The toolkit that led to Ravi's arrest hit the headlines on February 5 after it was accidentally shared by Greta Thunberg, a Swedish climate change activist who was secretly being prepped on how to respond and what to say about the protest. Thunberg was supposed to take cues from the toolkit and promote their message, not share the toolkit itself.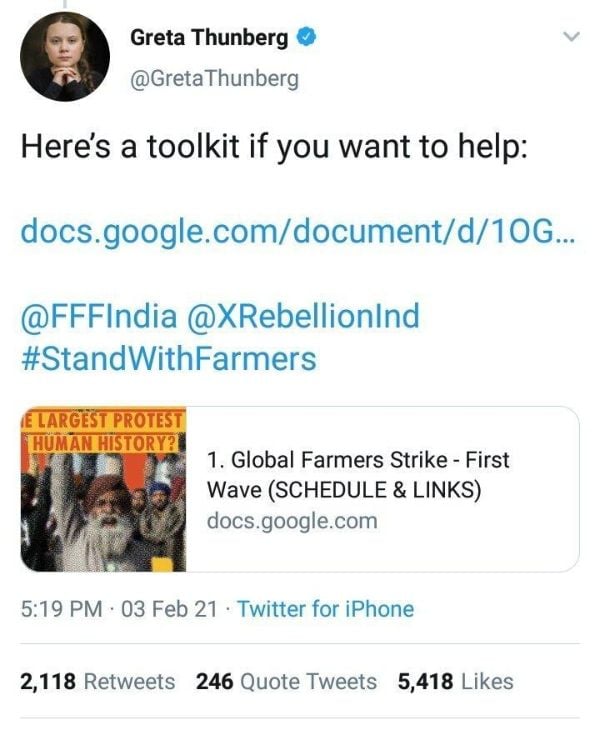 The toolkit explains the farmer's protests.
"This is a document meant to enable anyone unfamiliar with the ongoing farmers protests in India to better understand the situation and make decisions on how to support the farmers based on their own analysis," the authors of the toolkit wrote.
"Instead of being supported to become self-reliant and prosperous, a majority of farmers are increasingly being subjected to the control of large corporations and international institutions whose sole focus is profits, and necessarily involves increased exploitation of nature," the toolkit continues to explain.
After the toolkit hit the headlines, the Indian government asked Google and Twitter to provide the contact information of the people who created and shared the document. According to Indian authorities, the creators of the toolkit, a "pro-Khalistan" group called "Poetic Justice Foundation," waged a "social, cultural, and economic war against the Government of India."
The police claim that the document has a section that talks about "digital strike through hashtags on or before January 26, tweet storms on January 23 onwards, physical action on January 26 and watch-out or join farmers march into Delhi and back to borders."
On Sunday, Ravi was arraigned in a court in New Delhi. She is currently in police custody pending further investigation into the matter. The police also seized her laptop and mobile phone hoping to find others who might have been involved in creating the document.