Amid a flurry of calls for Google to apply even more censorship to a contentious topic, and threats of antitrust probes, some attention is finally being paid to the heart of the problem and the reason why Google is so important: the invasive, user-tracking business model that earns it vast amounts of money and amplifies its power.
Representative Andy Biggs of Arizona has brought this point up before a Maricopa County Court.
Biggs wants to allow Google users in Arizona to have access to documents that shows how exactly the tech giant is tracking them. And he makes a point of this tying directly with the ongoing investigations in Washington.
In his request for the court to release information that will reveal Google's process, the Republican congressman argues that it is the task of authorities at all levels to protect people's rights, including that of privacy.
We obtained a copy of the letter for you here.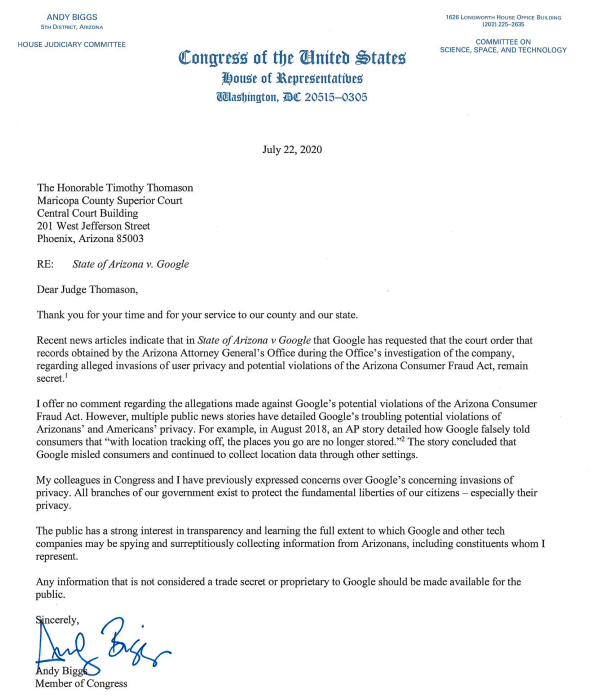 The long-standing accusation against Google but also other similarly-modeled companies is that they collect and retain unjustifiably large amounts of personal data in an nontransparent manner, to monetize it through the massive online ad business.
Another letter sent to the same judge by a number of researchers and academics from some of the leading US universities specifically mentions the issue of location tracking as being "of urgent public importance."
The signatories urge the court to allow public access to all information from a complaint gathered during a probe into Google by Arizona's attorney general – except that containing trade secrets.
But Judge Timothy Thomason dismissed both letters and said that he would give them no further consideration.
However, he will at least have to look into another request, this time coming from Arizona's assistant attorney general.
"Google's requested delay would unconstitutionally impair the right of public access that is guaranteed by both the First Amendment and the Arizona Constitution," Beau Roysden said, referring to Google's attempt to have the lawsuit stemming from the state-level investigation dismissed in its entirety.
Attorney General Mark Brnovich's probe accuses Google of violating the Arizona Consumer Fraud Act in the way it tracks users without giving them a chance to explicitly consent to it.
Google has managed to keep most of this complaint sealed so far, while the attorney general's office believes that the giant has not provided any good reason for the documents to remain inaccessible.