Over the last year, YouTube has made several sweeping changes to its algorithms to promote legacy media outlets at the expense of the independent creators.
Many of these changes involve classifying certain legacy media outlets as "authoritative sources" and then boosting them in search, Trending, and recommendations.
Now, a recently released browser extension, De-Mainstream YouTube, is allowing users to reverse some of this artificial boosting of mainstream media outlets and put the focus back on independent YouTube creators.
The extension works on desktop Chrome and Firefox by blocking certain mainstream media outlets from YouTube search results and recommendations while also giving users "a truly unbiased Youtube Trending section" which shows the most popular videos from the last 24 hours based on view counts.
The blocking feature works in a similar way to an ad blocker and allows users to choose specific mainstream media outlets they want to remove from their search results and recommendations or alternatively block all the mainstream media outlets on the list.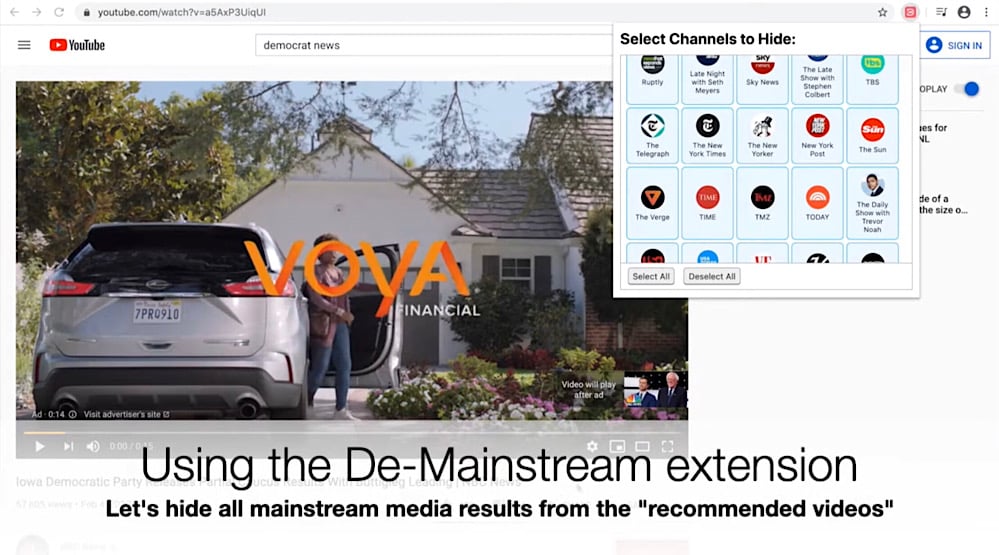 If users want to block a mainstream media outlet that's not currently on the list, they can request it be added to the block list via De-Mainstream's GitHub page.
Not only does this blocklist place more of an emphasis on creators but it also removes many of the artificially inserted authoritative sources from YouTube's search results and recommendations.
The unbiased Trending section also allows users to undo some of YouTube's algorithmic manipulation by listing videos based on their popularity rather than based on whether YouTube's human reviewers deciding whether it "makes sense" for a video to be on Trending.
The browser extension is open source and currently available for Chromium-based browsers and Firefox on desktop.
With YouTube recently pledging to continue boosting authoritative sources in the run-up to the 2020 election, the extension is a valuable tool for those who want to restore some semblance of meritocracy to their YouTube experience.