Two Democratic Congressmen have called on Twitter owner Elon Musk to address what they say is the rise in "hate speech" on the platform. But Musk claims that the stats are completely false.
Reps. Mark Takano (D-CA) and Adam Schiff (D-CA) sent a letter to Musk claiming that there has been an "extreme spike" in tweets containing slurs and an increase in engagement with such tweets since he took over.
We obtained a copy of the letter for you here.
The lawmakers cited data from the Center for Countering Digital Hate (CCDH) which alleged that hate speech has increased compared to the 2022 average since Musk took over.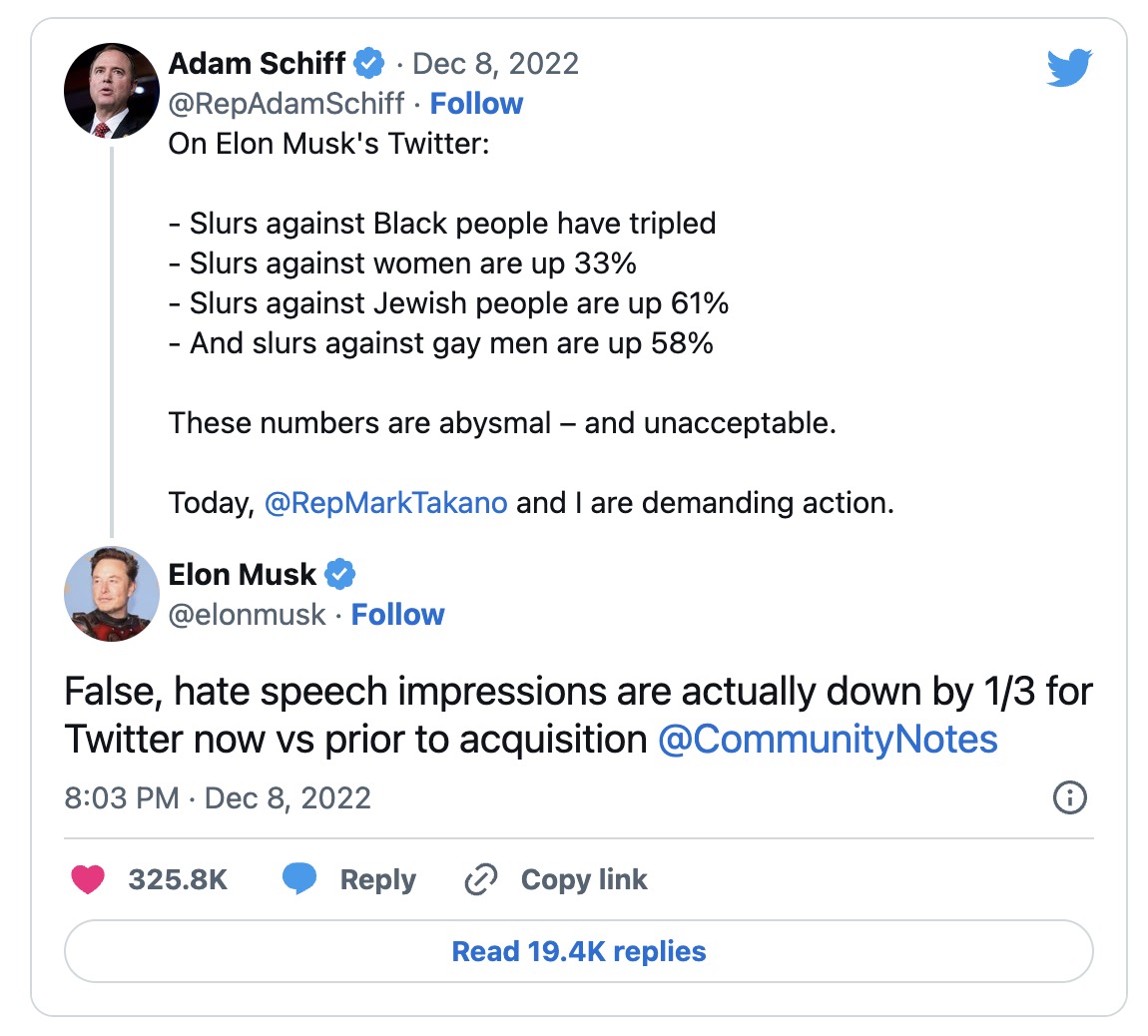 "Slurs against Black people have tripled in daily mentions. Slurs against women have increased 33 percent from the 2022 average mentions, and slurs against gay men have increased by 58 percent," the lawmakers wrote in the letter.
"Before you assumed the role of CEO, engagement with these tweets averaged 13.3 replies, retweets, or likes. Now, engagement with slurs has increased 273 percent, with the average number of replies, retweets, or likes averaging 49.5 on tweets containing hate speech."
"We find the rise of extremist actors and hate speech on Twitter demonstrably at odds with your company's statement that human safety is a top priority," the letter added.
The lawmakers asked Musk about his plans for content moderation and whether Twitter's current workforce can implement moderation policies.
Musk replied to the allegations, "False, hate speech impressions are actually down by 1/3 for Twitter now vs prior to acquisition."
Journalist Glenn Greenwald added more context to Schiff's demands: "Aside from these made-up numbers: do you see how — to Democratic Party politicians — dictating to social media companies what they can and can't platform, how they must censor, the role Democratic politicians play in all this, is just assumed as normal?"