After public-facing social media platforms have aggressively censored what they deem to be misinformation throughout 2020, community chat app Discord is now starting to follow in their footsteps and implementing similar crackdowns, even for private chat communities.
Ice Age Farmer, a community which its owner says was dedicated to "gardening, preps, seed saving, canning, alternative construction & greenhouses channels," has been purged from Discord "for the spread of misinformation."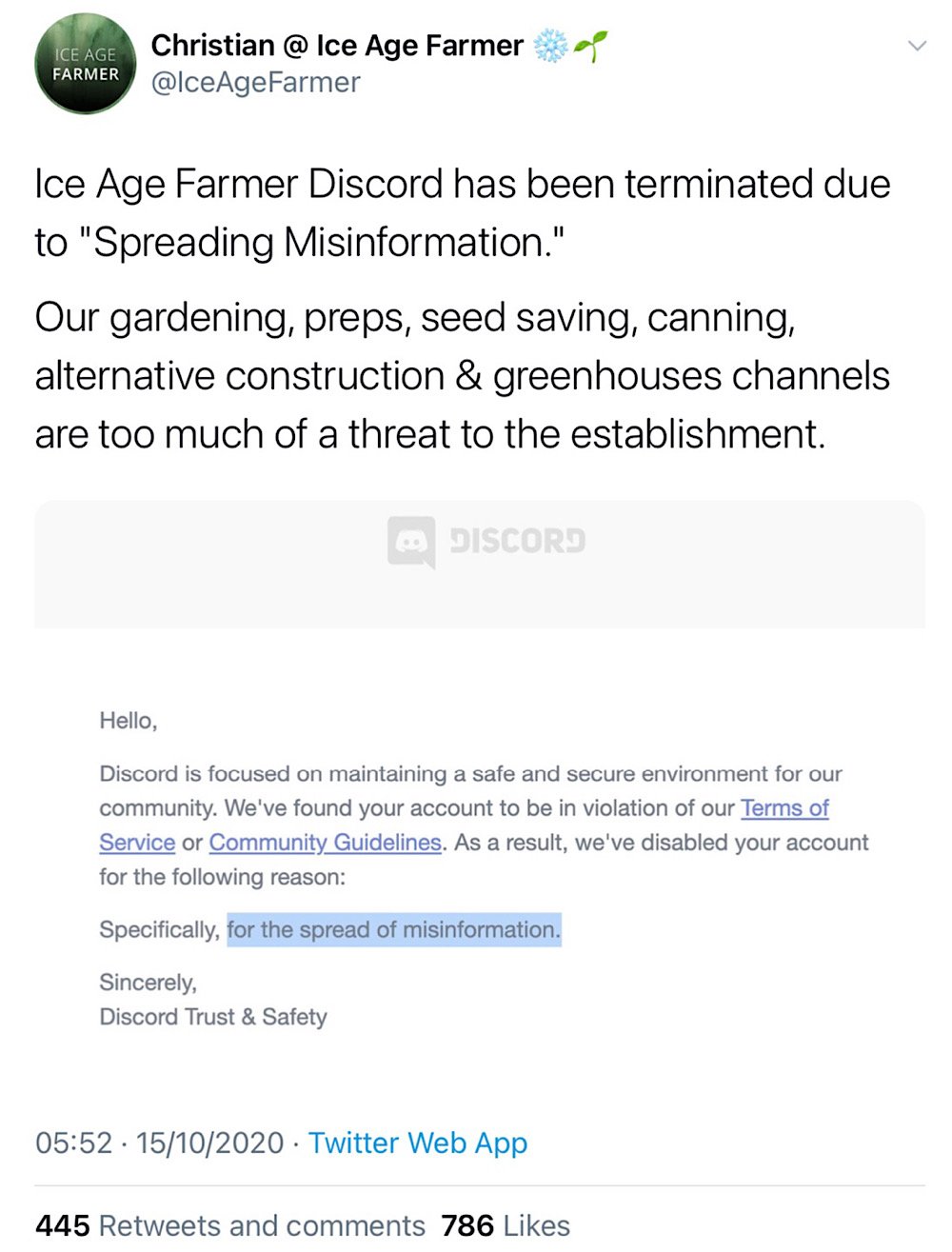 Unlike Facebook, Twitter, and other public-facing Big Tech platforms where the focus is on public posts that are broadcast to the world and have the potential to reach millions of users, Discord focuses on smaller invite-only conversations and describes itself as being "for anyone who could use a place to talk with their friends and communities."
While Discord doesn't explicitly brand itself as private and, as is evident by the termination of Ice Age Farmer's Discord, the company's moderators can review conversations, what people say on Discord servers isn't meant for wide public consumption and is similar to private conversations because they're intended to be between a small group of friends or people with similar interests.
But now even these invite-only, non-public conversations are being censored under similar misinformation rules that are deployed against public-facing posts on Big Tech platforms.
Discord's crackdown is reflective of the growing pressure from lawmakers, the mainstream media, and Big Tech companies to start moderating conversations that take place between friends, groups, and communities.
Related: ? How the term "misinformation" has been weaponized as an online censorship tool amid the coronavirus pandemic
Facebook has cracked down on these conversations by purging anti-lockdown groups and anti-mask groups, cutting recommendations to all health groups, and reducing the reach of groups that share misinformation.
Apple has also been ordering the messaging app Telegram to shut down channels and censor in-app content in order for its app to remain in the App Store.
And Sony recently revealed that its moderators will start listening to PlayStation chat recordings for "safety and moderation" with no way for users to opt-out.
Multiple governments also recently pushed for tech companies to break their end-to-end encryption so that governments can snoop on private conversations in messaging apps such as iMessage and WhatsApp.
The immunity social media platforms receive under Section 230 of the Communications Decency Act (CDA) has also been threatened by lawmakers with Senator Mazie Hirono proposing that this immunity be stripped if they fail to remove misinformation in private groups.