Classic texts are getting removed from syllabuses, denying kids access to literature because of claims of racism, sexism, and the other usuals. But how has political correctness become a reason to remove classic literature?
Using #DisruptTexts, school teachers, critical theory activists, and others have been promoting the removal of classic texts such as Homer. Apparently, kids should not read these texts because they promote "racism, sexism, ableism, anti-Semitism, and other forms of hate."
According to Padma Venkatraman, a young-adult novelist, even authors as revered as Shakespeare should not be spared.
"Absolving Shakespeare of responsibility by mentioning that he lived at a time when hate-ridden sentiments prevailed, risks sending a subliminal message that academic excellence outweighs hateful rhetoric," Venkatraman wrote in the School Library Journal.
In 2018, Evin Shinn, an English teacher in Seattle, tweeted that he would "rather die" than teach "The Scarlet Letter" unless Nathaniel Hawthorne's 19th-century classic was used to discourage misogyny and "slut-shaming."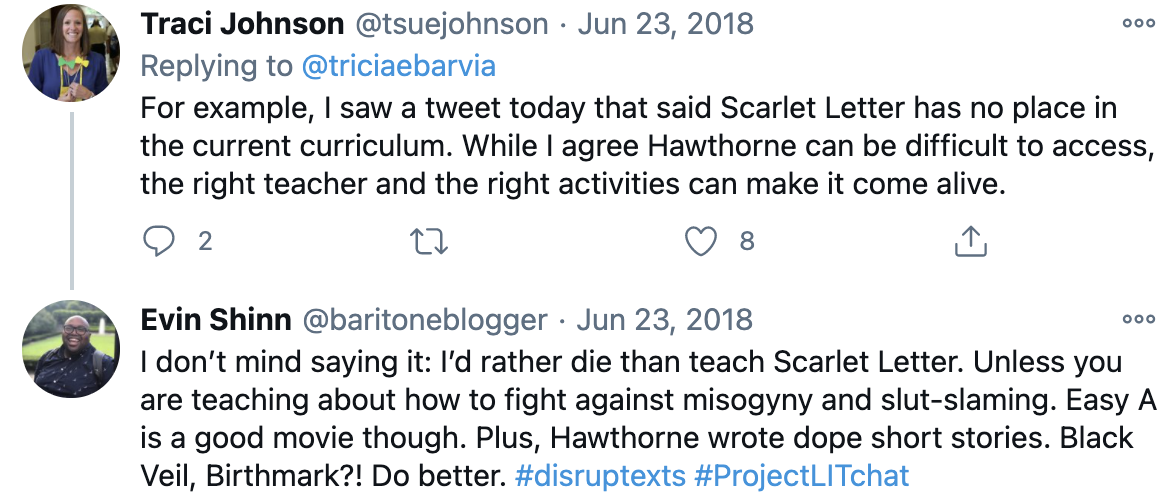 More recently, Lorena Germán, whose bio reads "antiracist teacher," took to Twitter to complain how the classics she is supposed to teach were written over 70 years ago.
"Think of US society before then & the values that shaped this nation afterwards. THAT is what is in those books," she wrote.
The #DisruptTexts movement's intensity became clear when Jessica Cluess, a young-adult writer, opposed Lorena's opinion.
"If you think Hawthorne was on the side of the judgmental Puritans . . . then you are an absolute idiot and should not have the title of educator in your Twitter bio," Clueless replied.
She was blasted and accused of being racist and violent. Some users called on her publisher, Penguin Random House, to cancel her contract. The publisher did not cancel her but her agent, Brooks Sherman, terminated their professional relationship because her remarks were "racist and unacceptable."
The efforts of the movement seem to be bearing fruit. In June, Shea Martin tweeted, "Be like Odysseus and embrace the long haul to liberation (and then take the Odyssey out of your curriculum because it's trash)."
Heather Levine, a teacher of English in Massachusetts, replied, "Hahaha. Very proud to say we got the Odyssey removed from the curriculum this year!" However, we are yet to confirm the truth in her claim.
According to critics of the movement, canceling the classic texts would limit kids from learning literature.
"It's a tragedy that this anti-intellectual movement of canceling the classics is gaining traction among educators and the mainstream publishing industry," says science-fiction writer Jon Del Arroz, one of the few people who defended Cluess. "Erasing the history of great works only limits the ability of children to become literate."
According to Meghan Cox Gurdon, an essayist and children book review at the WSJ, excusing kids from classic texts will make them "suffer a poverty of language and cultural reference."