In a move that raises startling questions about speech limitations, the Justice Department has asked US District Court Judge Tanya Chutkan to implement a protective order in the case against former President Donald Trump. The request came on the heels of Trump's strong-worded post on the Truth Social platform and seeks to cage his public comments concerning the pending legal issues.
The prosecution team is advocating for this protective order citing the necessity to ensure Trump and his legal unit are unable to disseminate case-related information in the public sphere. The legal team, in response, had asked for an extension of time to parley the matter but the request was quickly denied by Judge Chutkan who maintained Monday's deadline.

The prosecution's motion cites a recent post by Trump as the catalyst, signaling a post in which the former President used the phrase, "If you go after me, I'm coming after you!" drawing the line in the sand against those who challenge him. The Government fears the potential of Trump divulging sensitive material related to the case that could lead to an adverse influence on the fair administration of justice.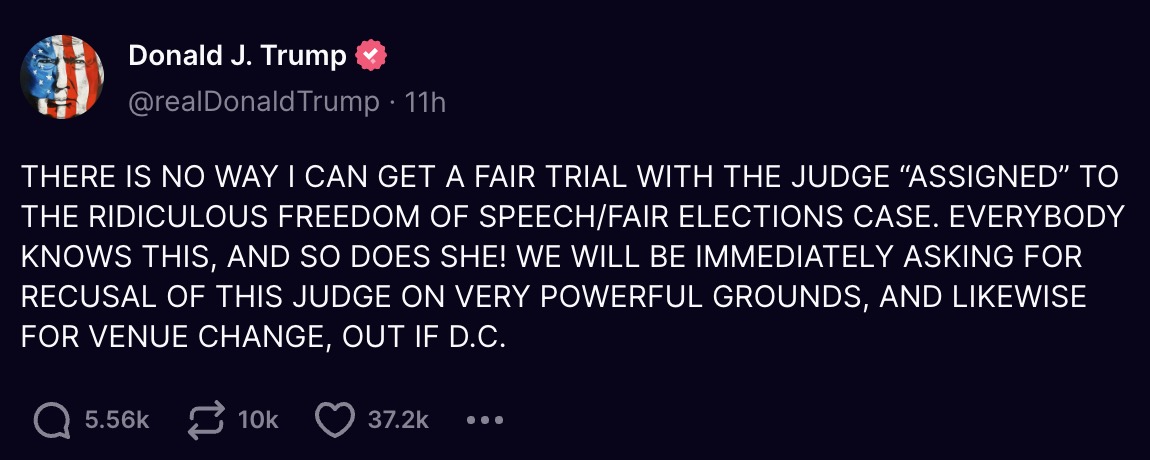 The requested protective order outlines its conditions comprehensively, only allowing case-related materials to be disclosed to specific individuals — namely the legal team, possible witnesses, their lawyers, and others sanctioned by the court. Interestingly, the motion states that stricter regulations should apply to "sensitive materials," including testimony from the grand jury and contents from sealed search warrants.
In an emailed statement, a spokesperson for Trump clarified the aforementioned post as a form of "political speech," fired at "dishonest special interest groups and Super PACS." However, it's no surprise that this move is causing a ripple effect in the anti-censorship and free speech communities; they argue restricting public discourse can set a dangerous precedent.
In the mix, Judge Chutkan, a former public defender who was nominated by President Barack Obama, has become known for meting out stern punishments to Capitol protesters that support Trump. The indictment made public recently, accuses Trump of orchestrating falsehood campaigns intended to overturn his election loss.
Reflecting on this, the lingering question is, will Trump and his legal team continue to combat these accusations, maintaining both his right to free speech and his right to challenge an election he deems unjust? As this trial draws closer, it is evident that the tension will continue to intensify. Judge Chutkan has ordered the government to propose a trial date by Thursday, the first hearing is scheduled for Aug. 28, thus setting the stage for an eventful legal fight.