Dr. Stella Immanuel, a physician in Houston who recently went viral online, was at the receiving end of harsh criticism over her claims of how an anti-malaria drug (hydroxychloroquine) could cure COVID-19.
Back in July, Dr. Immanuel, joined by a group of doctors who called themselves "America's Frontline Doctors," spoke to the media saying that calling hydroxychloroquine ineffective for curing COVID-19 is "fake science" and that Big Tech is "censoring experts and suppressing the cure."
Dr. Immanuel even went on to say that administering the drug would cure COVID-19 in about 30 days. "We have not lost a patient yet," she said, explaining that the drug was used on more than 400 people including elderly, diabetics, and asthmatics with a 100% success rate.
All of this went viral on social media, with even President Donald Trump sharing the video on Twitter. That said, the video was ultimately taken down from all major social media platforms on grounds of promoting "misinformation."
Dr Immanuel is now saying that, after her claims on social media, an investigation has been opened by the Texas Medical Board against her. Moreover, she also tweeted that the medical boards in Washington, D.C., and Louisiana have also opened investigations against her. Dr. Immanuel has a license in Texas and Louisiana and describes herself as an emergency room physician and a paediatrician.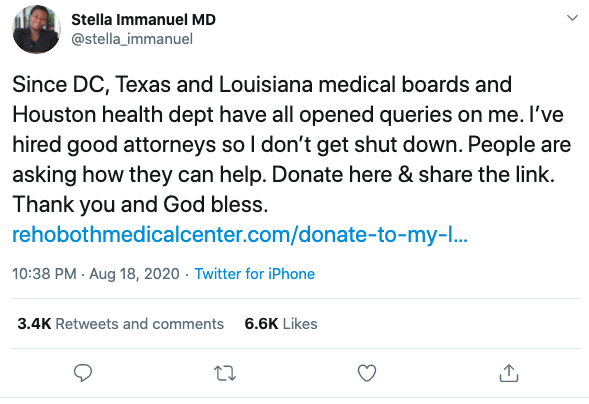 It is worth noting that the Texas Medical Board had already released a statement in the recent past saying that it would take strict legal action against doctors promising a cure for COVID-19. Dr. Immanuel, nonetheless, says that she is fully confident she won't get "shut down" as she has hired "good" attorneys.