The "Red Dead Redemption: Damned Enhancement Project", a modding project aimed at upgrading the original Read Dead Redemption game, has been canceled after a lawsuit from Take-Two Interactive.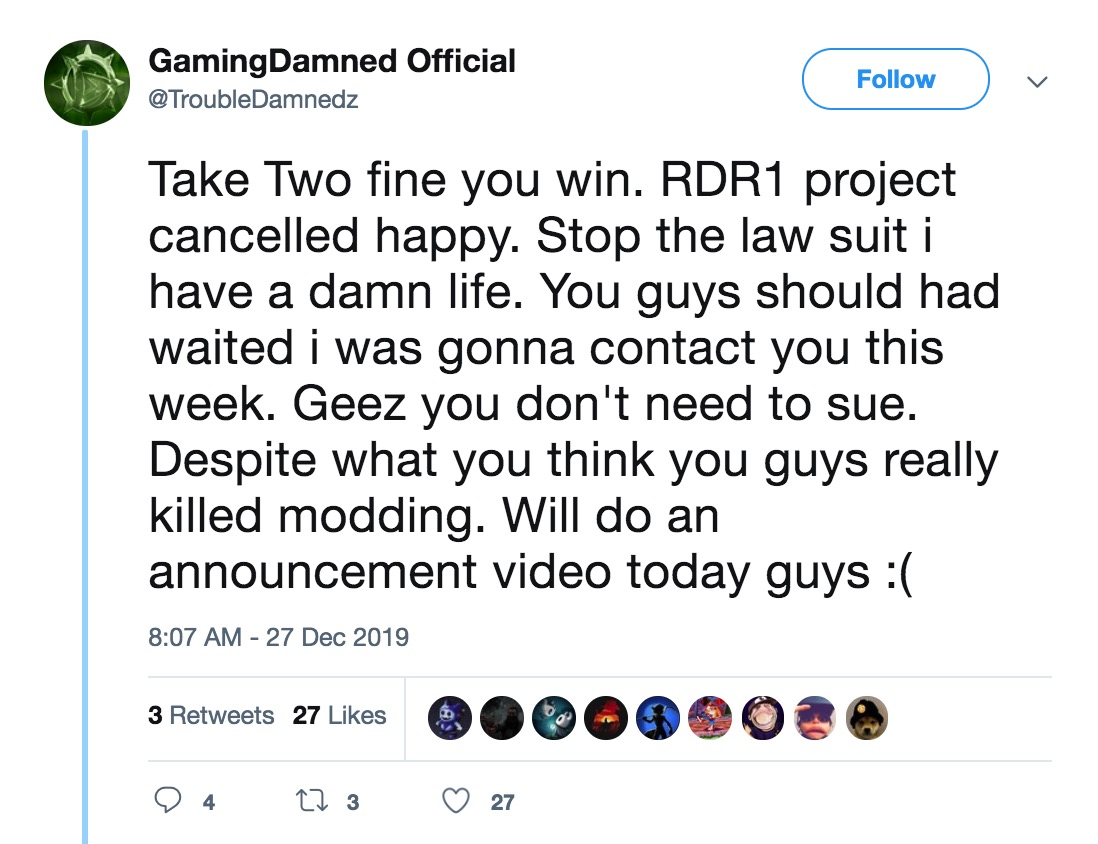 In 2018, Rockstar Games released Red Dead Redemption 2 (RDR2). But the original game itself remained popular and "Red Dead Redemption: Damned Enhancement Project" was announced by GamingDamned as a mod of the original version of the game.
The mod was also going to offer "better graphics and additional features" compared to the first, original console version – something not unexpected in the fullness of time. But then, the publishers threw in a wrench into the process.
Watch the trailer for Red Dead Redemption: Damned Enhancement Project:
According to TorrentFreak, the project lead for the PC mod of the high-in-demand game, who goes by the name DamnedDev, went public on GTAForums to say that development had been stopped.
"They done shady stuff getting my private info and contacted my family. I've been contacting people to spread word. I'm not letting them them bully me and keep my mouth shut. I complied and stopped progress but hopefully I can sort out this," DamnedDev wrote in September.
It was in September it that GamingDamned on YouTube accused Take-Two of hostile behavior towards the modding community, claiming that the company illegally obtained non-public contact information and used it to harass him and his mom.
> Read the full report on the allegations made against Take-Two here <
But some clarity on what's going on here took place on December 26, when Take-Two Interactive filed a lawsuit before a New York court against "Johnathan Wyckoff."
Wyckoff is now formally accused of public intent to create "unauthorized software files that would dramatically change the content of Take-Two's video games."
The game publisher's lawsuit alleges intellectual property and licensing violations, and that the accused allegedly refused to "cease and desist" his game-porting activities even after multiple warnings.
Take-Two's lawsuit comments on the modding practices it's not happy with:
"Those unauthorized changes include but are not limited to importing the entire game map of 2010's Red Dead Redemption into the 2018 game Red Dead Redemption II, enhancing graphics and visuals in Take-Two's Red Dead Redemption game, and allowing players to play an enhanced version of the game on personal computer ("PCs"), a platform for which Take-Two itself has not yet released the Read Dead Redemption game.

"In contravention of Take-Two's intellectual property rights and in breach of its "Limited Software Warranty and License Agreement" ("User Agreement"), Wyckoff has created and intends to publicly release two software projects that create unauthorized versions of the RDR Games. Although Take-Two has repeatedly asked Wyckoff to cease and desist, he has refused to honor Take-Two's requests forcing Take-Two to take action against him."
Take-Two was apparently not impressed by claims that Wyckoff was doing his work as a hobbyist – saying that any donations the developer received were in fact "payments" meant to provide traffic to his social media accounts – apparently a proof of monetary gain.
"Moreover, although Wyckoff portrays himself as a hobbyist who is creating the Infringing Programs for free, he actively solicits "donations" to fund the development of his unauthorized projects, which he then uses to drive followers to his social media and streaming accounts," the lawsuit reads.