Phil "EE" Visu is banned from Twitch for three days. Despite turning on the option in a game to censor nudity, the game failed to censor a character appropriately, resulting in him streaming an instance of nudity in the game.
It was for this reason that Visu thought he received the ban.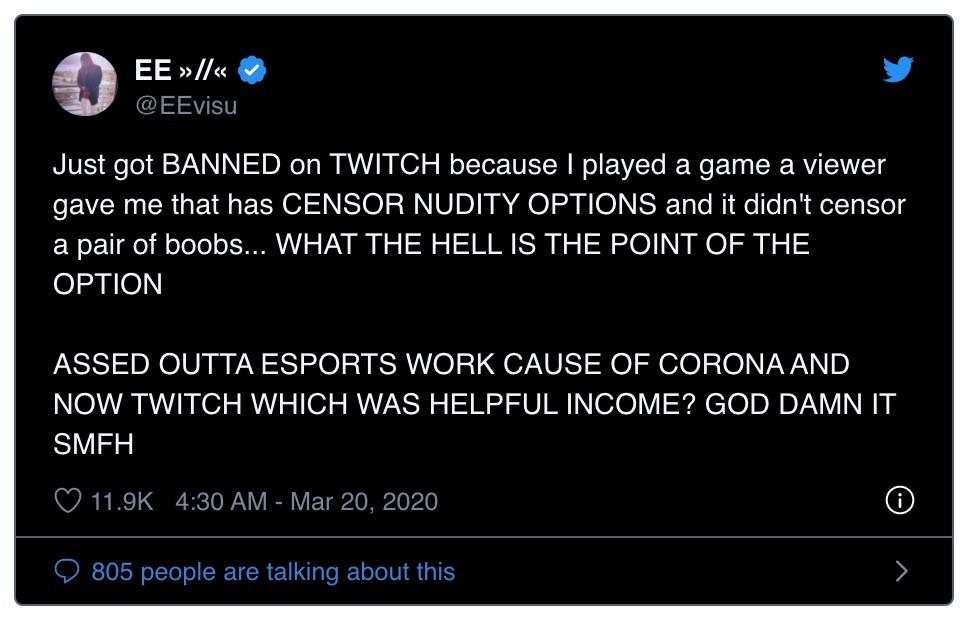 However, the game that Visu was playing – House Party – is on Twitch's banned game streaming list.
Did the player who recommenced he play the game do so on purpose, knowing that it would get him banned?
With coronavirus pandemic around, all streamers, including Visu, do not have any esports events to play at, meaning that online streaming might potentially be their only route to making some money while most of the world is shut down.
"Just got BANNED on TWITCH because I played a game a viewer gave me that has CENSOR NUDITY OPTIONS and it didn't censor a pair of boobs… WHAT THE HELL IS THE POINT OF THE OPTION
ASSED OUTTA ESPORTS WORK CAUSE OF CORONA AND NOW TWITCH WHICH WAS HELPFUL INCOME? GOD DAMN IT SMFH," tweeted the Esports player.