After it was confirmed that entrepreneur Elon Musk would be acquiring Twitter yesterday, the media has been awash with constant speculation about what it would mean for the future of the company and exactly what it was that spurred Musk to want to return the platform to its free speech roots.
Musk has given some indication of this in his most recent comments.
Musk criticized the "extreme antibody reaction" from "those who fear free speech" and said it "says it all" as he began his pushback against some of Twitter's most sensitive employees.

Musk said that whatever speech is legal should be allowed on the platform.
"By 'free speech', I simply mean that which matches the law. I am against censorship that goes far beyond the law," Musk added in a later post. "If people want less free speech, they will ask government to pass laws to that effect. Therefore, going beyond the law is contrary to the will of the people," Musk said.
Today, in comments on Twitter, Musk alluded to the censorship of the Hunter Biden laptop story and said that it was " incredibly inappropriate" for Twitter to have censored it.
In October 2020, just before the US presidential election, the New York Post published a story about Hunter Biden's potentially corrupt dealings when his father, Joe Biden, was vice president. The story was based on damning emails obtained from a laptop Hunter left at a repair shop in Delaware.
Twitter censored the story over the "origins of the material" and suspended the New York Post's account for two weeks. The online platform also prevented users from sharing the story.
Many speculated that the censorship was to protect President Biden's chance of winning the election.
This year, even The New York Times confirmed the authenticity of what the New York Post called the "laptop from hell."
The Breaking Points podcast host Saagar Enjeti took to Twitter to comment on a story from Politico that stated that Twitter's top censor Vijaya Gadde was in tears during meetings about the Musk purchase.
"Vijaya Gadde, the top censorship advocate at Twitter who famously gaslit the world on Joe Rogan's podcast and censored the Hunter Biden laptop story, is very upset about the @elonmusk takeover," Enjeti said.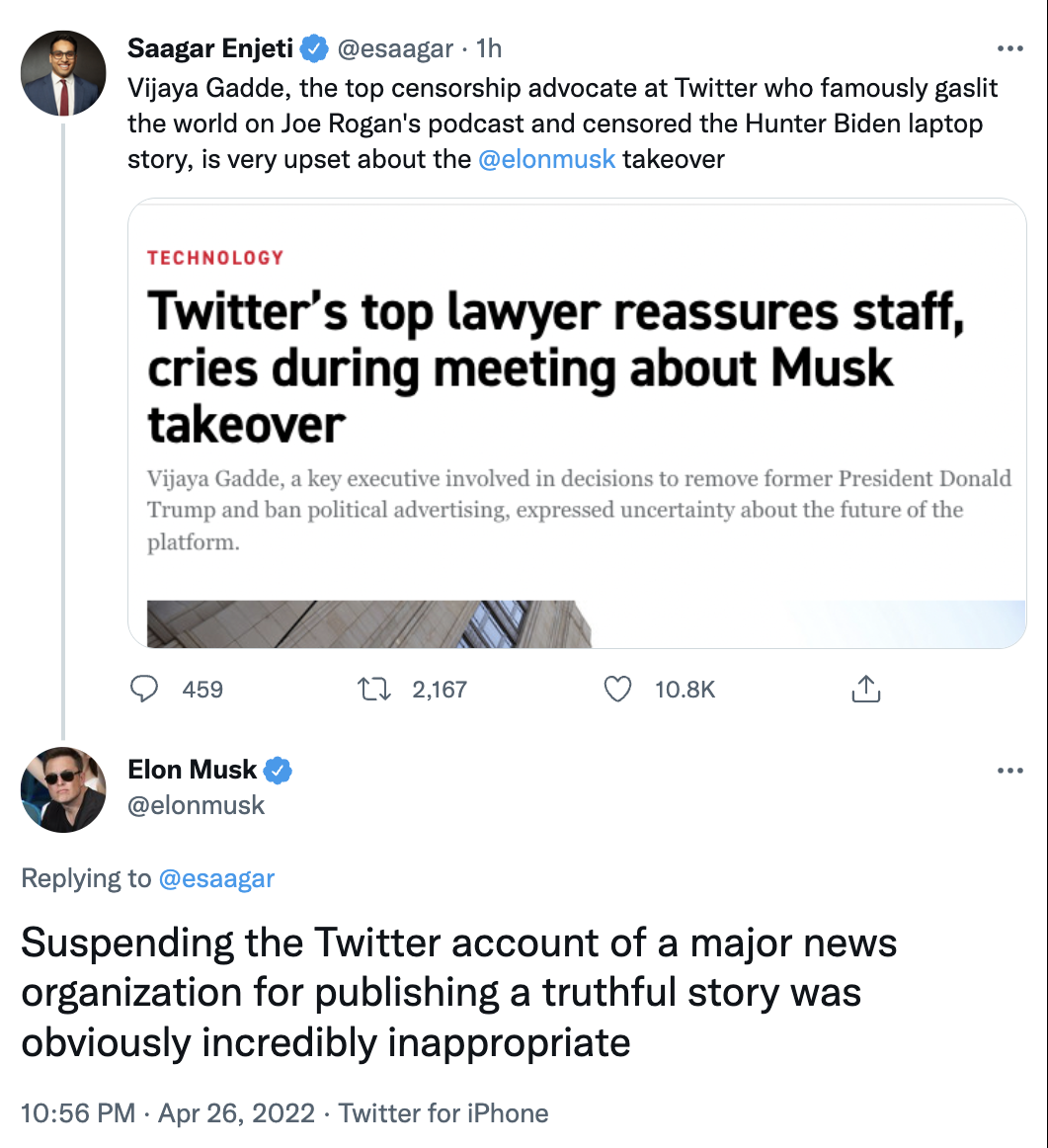 Musk responded to the tweet by saying, "Suspending the Twitter account of a major news organization for publishing a truthful story was obviously incredibly inappropriate."