On Friday, the European Union's Internal Markets Commissioner, Thierry Breton, confirmed that Twitter had ditched the EU's code of practice on disinformation. He warned that the platform cannot "hide" from obligations to censor content.
"You can run but you can't hide," Breton threatened in a tweet.
"Beyond voluntary commitments, fighting disinformation will be a legal obligation under DSA as of August 25," Breton continued. "Our teams will be ready for enforcement."
Breton was referring to the censorship law, the controversial Digital Services Act (DSA), a new set of rules for social media platforms operating in Europe, which require them to actively police content or risk fines of up to 6% of global turnover.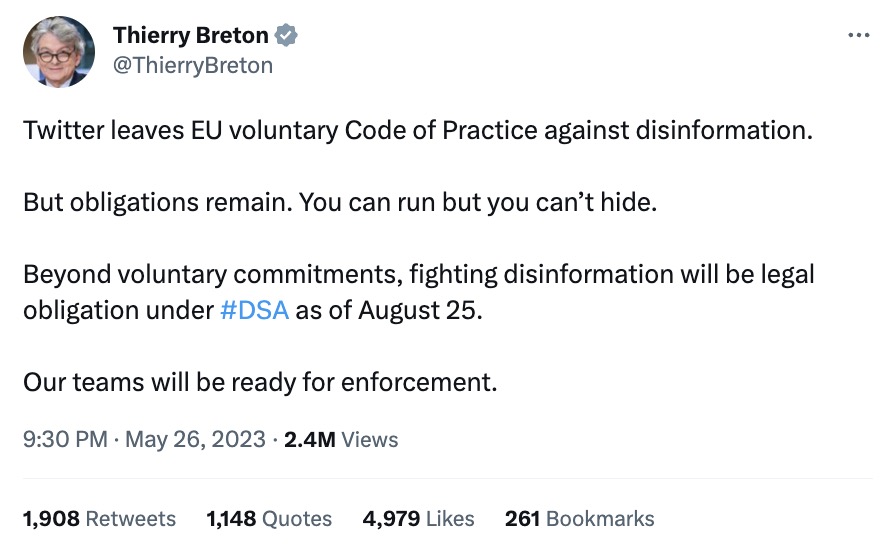 The current code of practice, which is voluntary, includes obligations for social media to stop the monetization of "disinformation," monitor political advertising, and allow third-parties to access their algorithms.
In February, Twitter did not submit a report on its implementation of the code. It was the only major platform to fail to do so.
Unlike the code of practice, the DSA is legally binding, and large platforms, Twitter, Facebook, Instagram, YouTube, TikTok, Pinterest, Snapchat, and LinkedIn, will have to comply with it if they want to operate in Europe.
In previous tweets, Breton has indicated that he will hold Twitter owner Elon Musk to account for the platform's failures to comply with the content rules in the EU.