Amazon and Facebook have been the largest spender in corporate lobbying in Washington over the past two years, surpassing telecom providers and defense contractors. The large spending by Big Tech companies is a response to the increased scrutiny over their moderation policies and violations of antitrust.
According to a new report by Public Citizen, based on data by Center for Responsive Politics, Amazon increased lobbying spending by 30% to reach $18.7 million while Facebook increased by 56% to reach $18.7 million, between 2018 and 2020. The two tech companies were closely followed by telecom provider Comcast and defense contractor Lockheed Martin, which spent $14.4 million and $13 million respectively.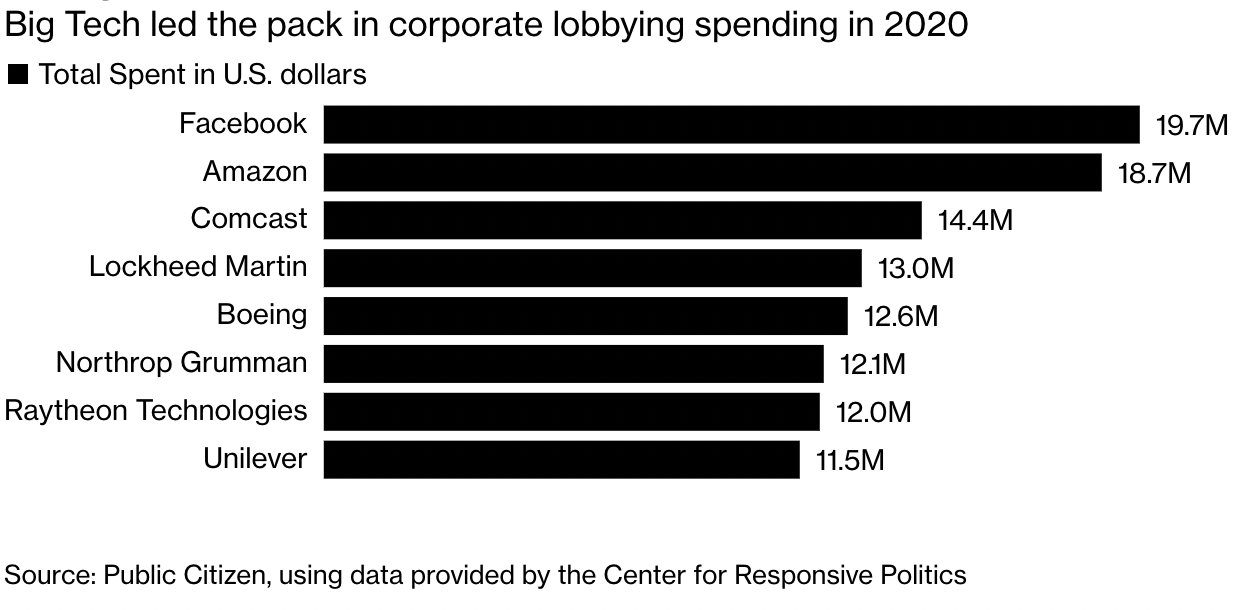 Facebook and Amazon were not among the top eighth largest corporate lobbying spenders in 2017. But over the last two years, they have opened their substantial wallets to lobbying teams in an attempt to influence policy in their favor.
"The foundation of the Big Tech companies' influence are their lobbying teams, which use campaign contributions, existing relationships, and past experience to swing policy in their favor," read the report by Public Citizen. "While not even in the top eight spenders in 2017, Facebook and Amazon are now the two largest individual lobbying spenders."
The large spending by the two Big Tech companies has coincided with increased scrutiny over antitrust practices, privacy concerns, and content censorship policies.
Facebook, as well as Google, was the subject of an antitrust lawsuit brought by the Trump administration. All four Big Tech companies, Amazon, Apple, Google, and Facebook were implicated in a sweeping proposal for antitrust laws brought by House Democrats, that suggested the breaking up of the companies.
The report added that 94% of legislators involved in the oversight of antitrust and privacy issues have received money from corporate lobbyists directly representing a Big Tech company. In 2020 alone, legislators received around $3.2 million. In the 2-year period, the four big tech companies hired at least 40 lobbyists.