Tech giant Facebook is censoring a leaked copy of Nashville transgender school shooter Audrey Hale's manifesto that was obtained and published by conservative commentator Steven Crowder.
The manifesto was collected in the immediate aftermath of the March 27, 2023 mass shooting at Nashville's The Covenant School, which left six people dead. Usually, these types of manifestos are released within days of the shooting. However, local and federal authorities have spent months refusing to release this manifesto, causing lawsuits to be filed with the hope of forcing transparency.
With no sign of the manifesto being released through official channels any time soon, this leaked copy of the manifesto is the first time, after more than seven months of waiting, that the public has been able to see the contents of the manifesto that authorities are seemingly trying to conceal.
The three pages published by Crowder contain Hale's timeline for the day of the shooting and projections for how long the shooting will take. Hale also expresses a desire to "kill all you little crackers…bunch of little faggots w/ your white privileges" in the three pages.
But shortly after Crowder shared the reporting on the manifesto, Facebook flagged a post that linked to the manifesto and claimed that the post may go against Facebook's Community standards on "violence and incitement."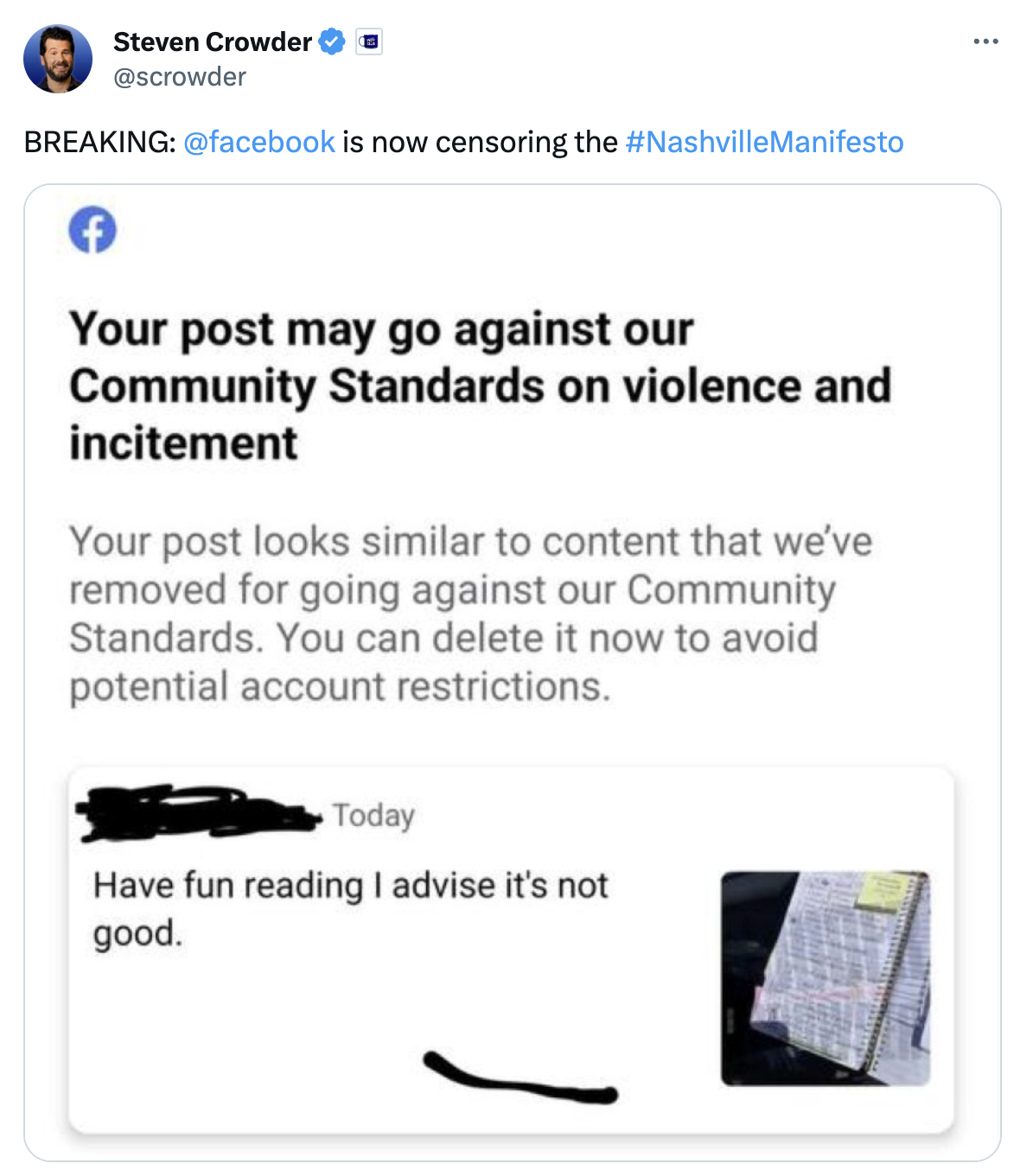 Facebook's censorship means that even though a leaked copy of the manifesto is now public, it's still being hidden from the social network's huge audience of over 3 billion monthly active users.
This isn't the first time Big Tech has censored posts related to the Nashville shooting. In March, politicians and journalists who tweeted about the shooting were locked out of their accounts.