Twitter users, including politicians and journalists, are finding themselves limited or locked out of Twitter for their comments on the recent Nashville shooting that saw a Christian school targeted.
Congresswoman Marjorie Taylor Greene (R-GA) had her congressional Twitter account limited after she tweeted statements connecting the Nashville school shooting to what she called the "Trans Day of Vengeance."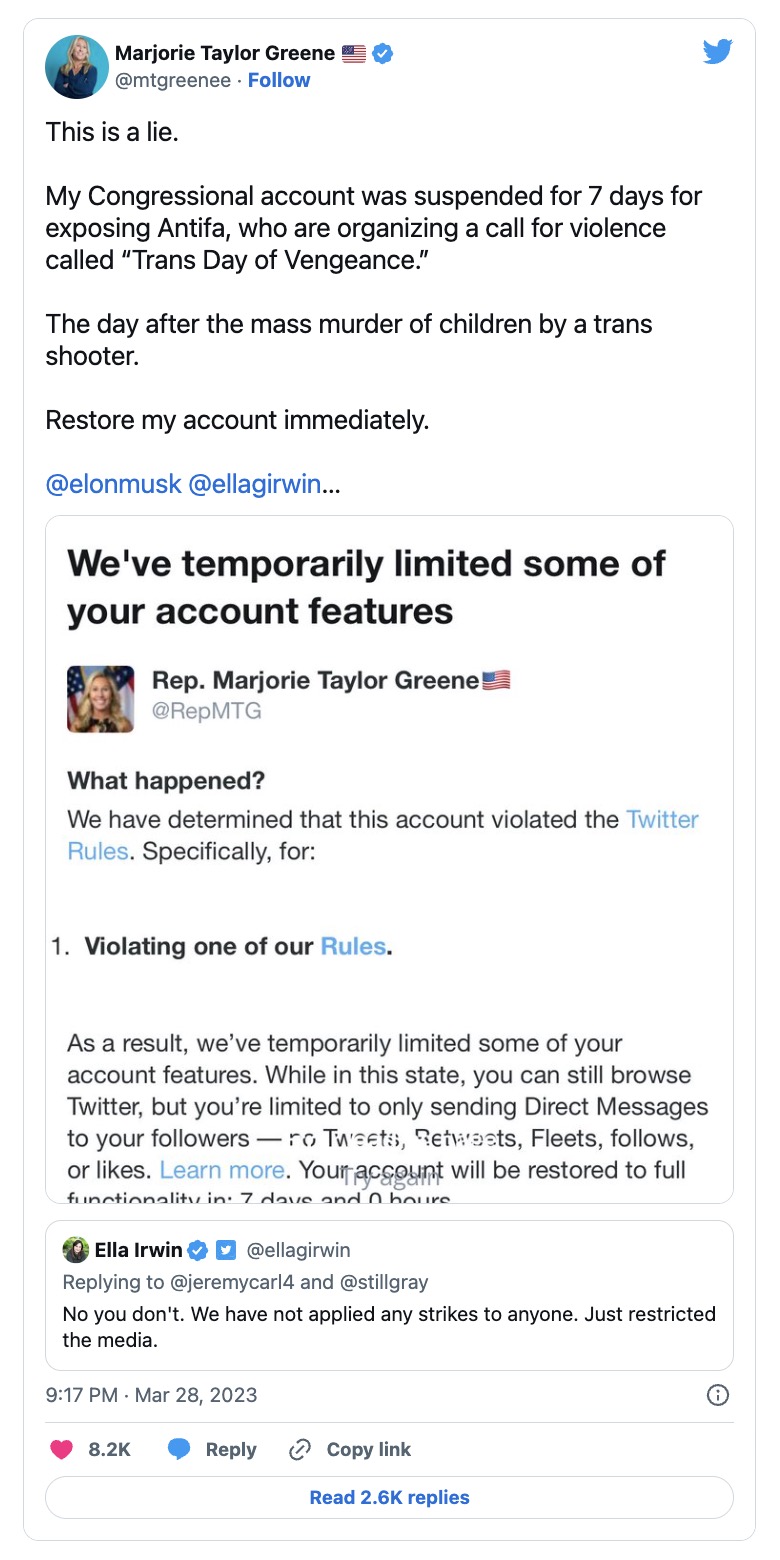 The incident occurred on Monday, when transgender shooter Audrey Hale, 28 entered Covenant Presbyterian School in Nashville and opened fire, leaving six people dead, including three young students and three staff members.
Below are the victims of the Nashville school shooting:
Evelyn Dieckhaus, 9
William Kinney, 9
Hallie Scruggs, 9
Mike Hill, 61
Cynthia Peak, 61
Katherine Koonce, 60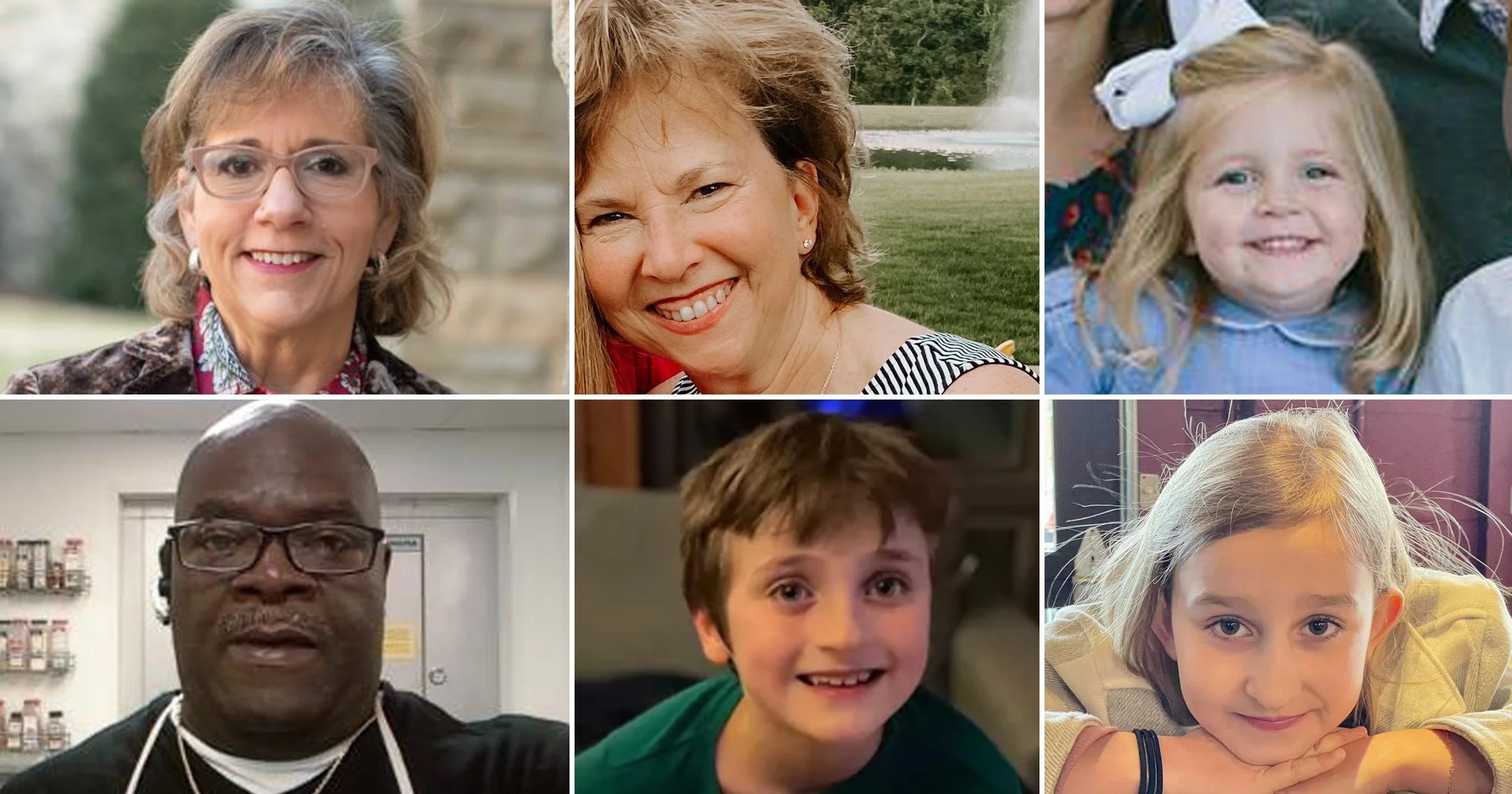 Hale, who identified as a transgender, was taken out by Nashville police during the attack.
In her tweet, Greene mentioned a "Trans Day of Vengeance" and went on to allege a threat of "trans-terrorism" linked to the Nashville shooting.
Following the censorship on Twitter, Congresswoman Greene took to her personal account to reveal that her congressional account had been suspended as a result of her earlier tweets.
Journalist Sean Davis, a co-founder of The Federalist, was also locked out of his Twitter account for tweeting, "The cold-blooded mass murder at a Christian school in Nashville by an apparent transgender person came just days before a planned 'Trans Day of Vengeance' organized by the Trans Radical Activist Network."
The Twitter ban was revealed by The Federalist's Editor-in-Chief Mollie Hemingway.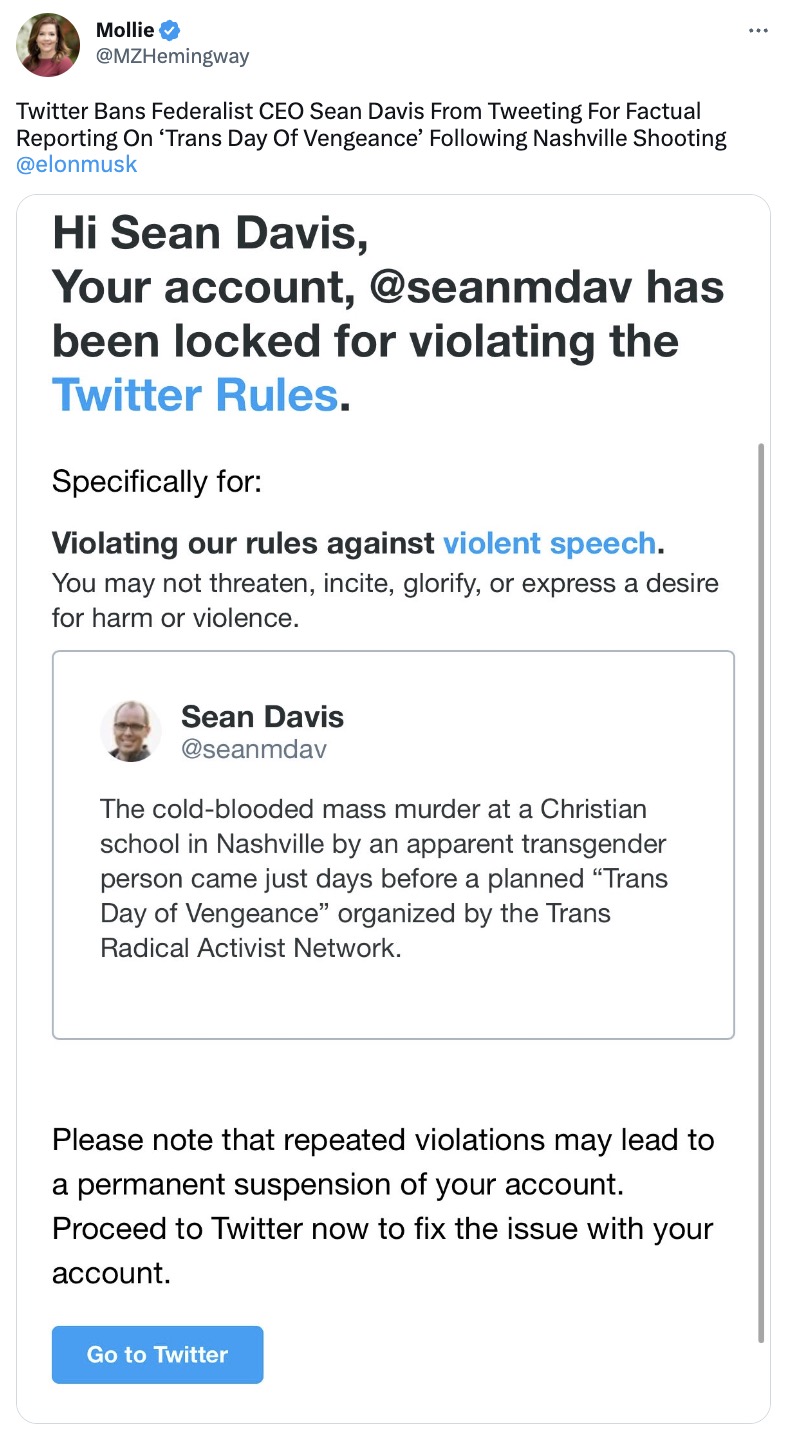 In the email notice that Hemingway shared, Twitter said that the account was locked because the tweet violated the rules against, "violent speech," saying that users aren't allowed to, "threaten, incite, glorify, or express a desire for harm or violence." It's not clear how Twitter interpreted Davis' tweet as doing that.
Investigative journalist Luke Rosiak, who works for The Daily Wire, has also been suspended from Twitter after posting a link to a news story about the transgender "Day of Vengeance" scheduled by activists.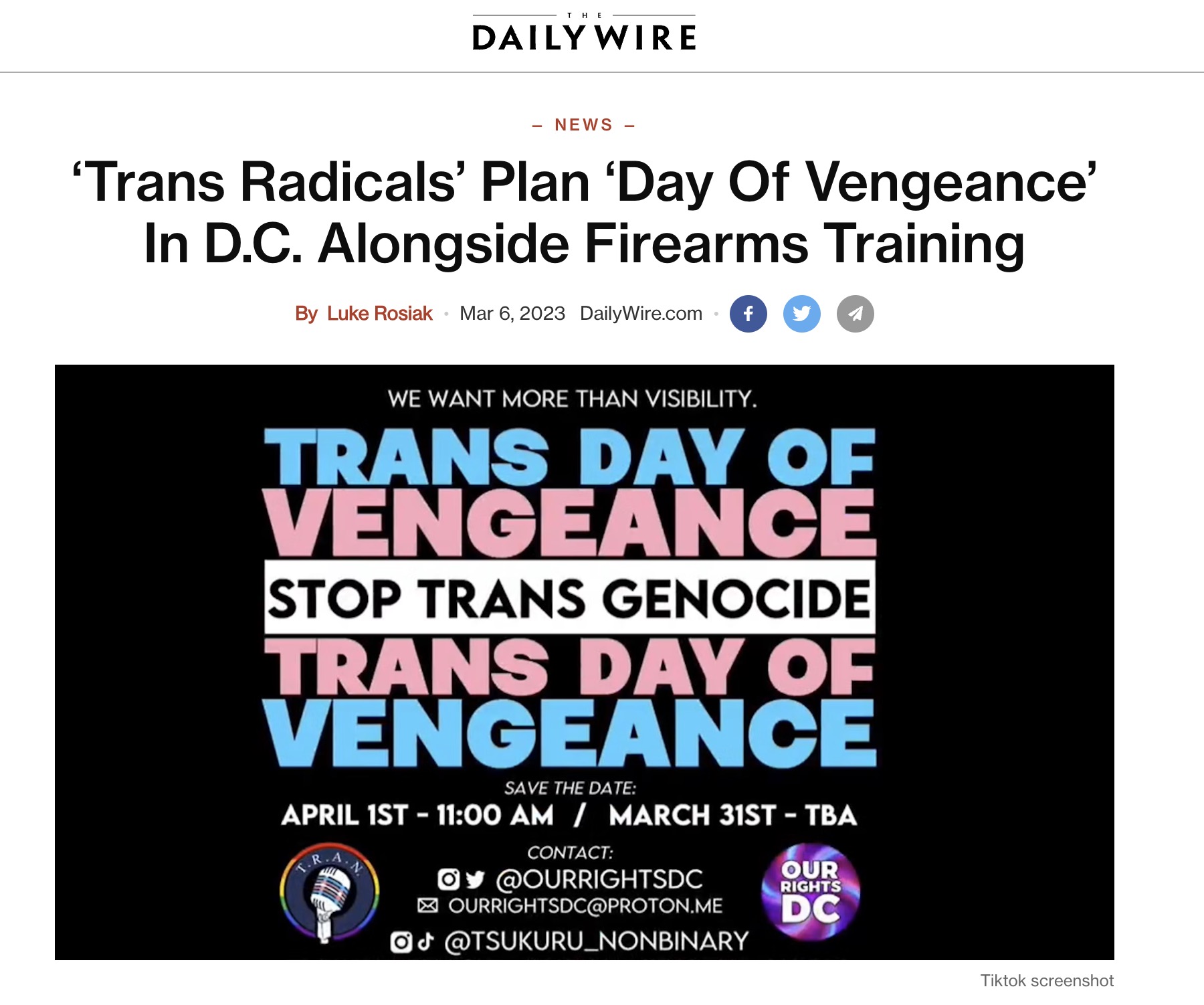 "The shooting of a Christian school by a transgender comes the same week that activists scheduled a 'Trans Day of Vengeance,' with the group also raising money for firearms training," Rosiak had posted.
Rosiak received an email alert saying that the tweet violated "rules against violent speech."
Daily Wire host Michael Knowles was also locked out of Twitter after sharing a Bible verse in response to shooting.
Knowles tweeted a link to a Daily Wire article about the "Day of Vengeance" and included a reference to Romans 12:19. The verse, penned by the apostle Paul, advises Christians against seeking vengeance, instead leaving it to God: "Beloved, never avenge yourselves, but leave it to the wrath of God, for it is written, 'Vengeance is mine, I will repay, says the Lord.'"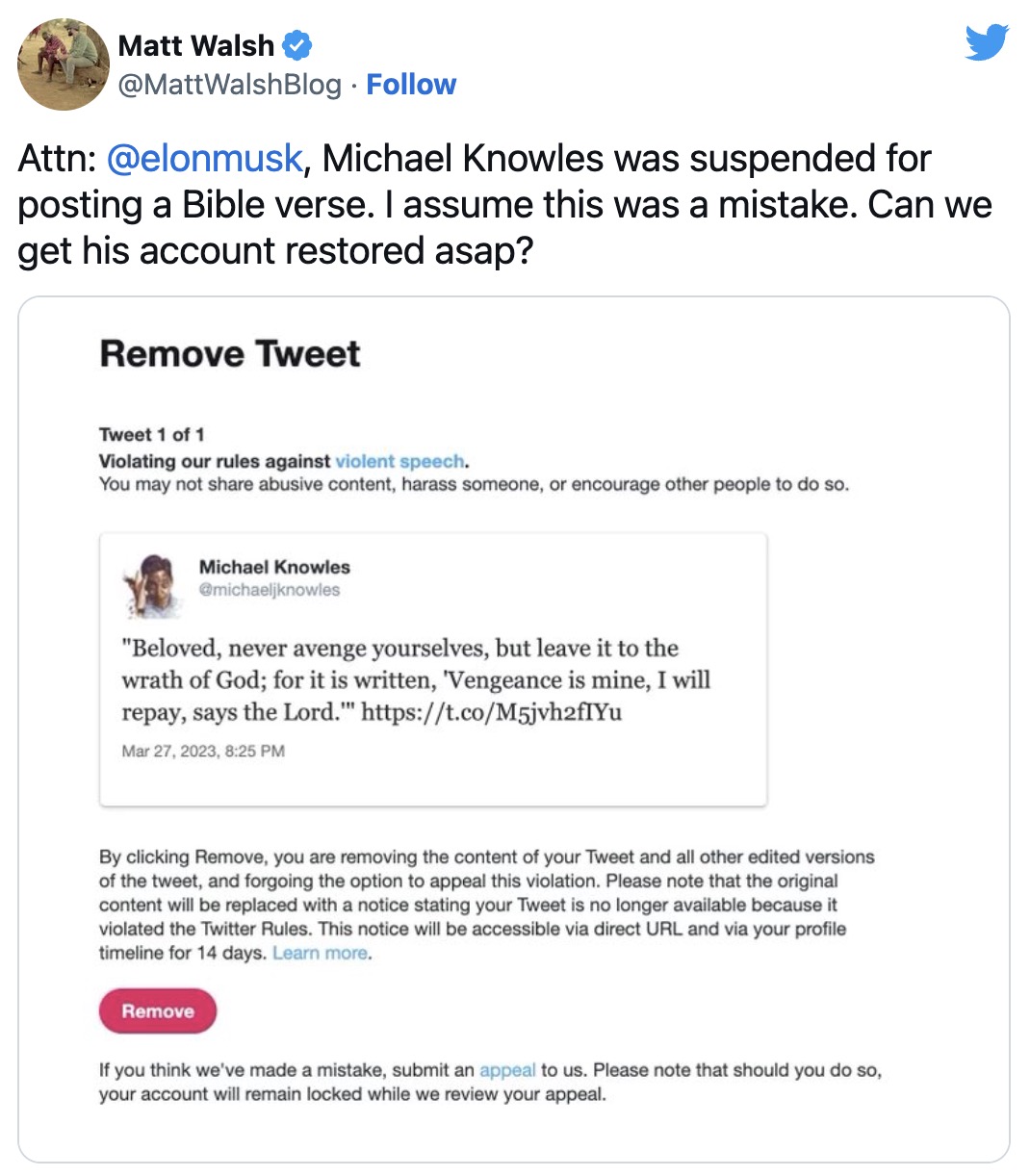 When Elon Musk, the entrepreneur and CEO of Tesla and SpaceX, acquired Twitter in 2022, he promised a renewed commitment to free speech.