Facebook has agreed to the acquisition of CTRL-Labs, a tech startup that is working on software that lets users control digital avatars of themselves with their mind.
The social media giant is rumored to be paying up to $1 billion for the company. Facebook declined to comment on the price of the acquisition.
The announcement was made by Andrew Bosworth, the head of augmented reality at Facebook, on his Facebook page.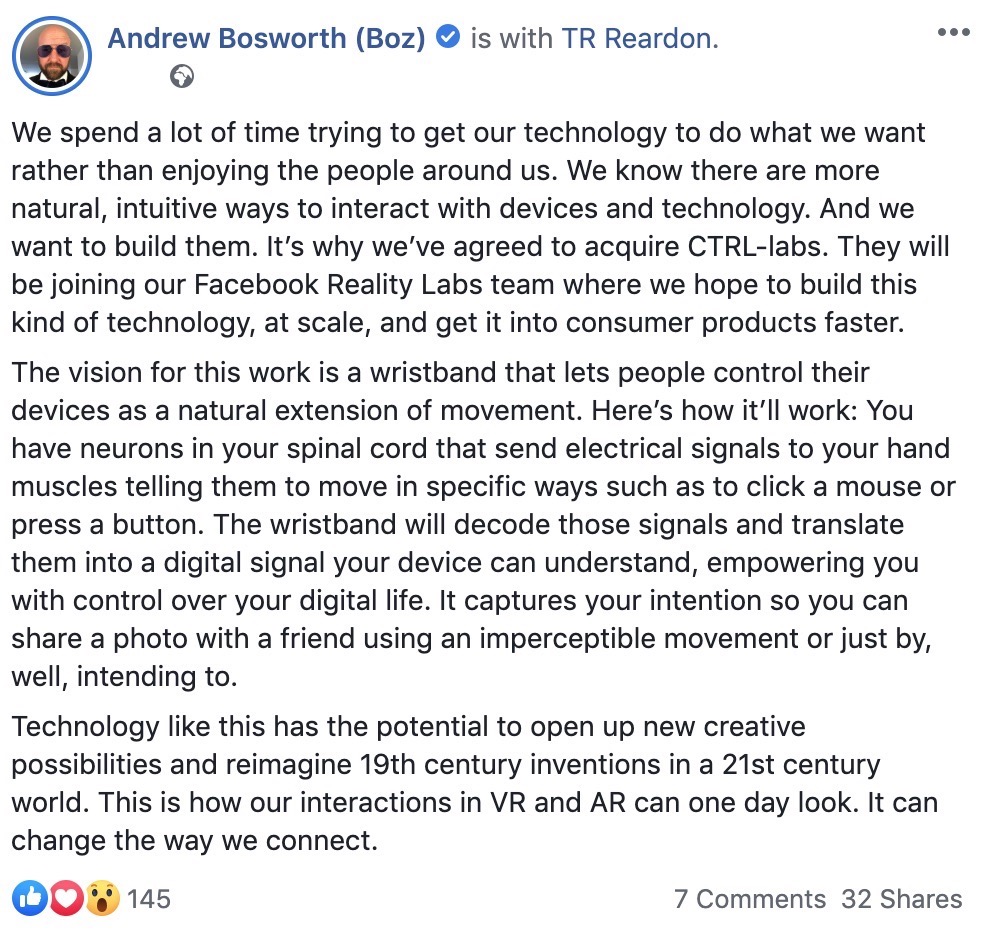 "We spend a lot of time trying to get our technology to do what we want rather than enjoying the people around us. We know there are more natural, intuitive ways to interact with devices and technology. And we want to build them. It's why we've agreed to acquire CTRL-labs. They will be joining our Facebook Reality Labs team where we hope to build this kind of technology, at scale, and get it into consumer products faster.

The vision for this work is a wristband that lets people control their devices as a natural extension of movement. Here's how it'll work: You have neurons in your spinal cord that send electrical signals to your hand muscles telling them to move in specific ways such as to click a mouse or press a button. The wristband will decode those signals and translate them into a digital signal your device can understand, empowering you with control over your digital life. It captures your intention so you can share a photo with a friend using an imperceptible movement or just by, well, intending to.

Technology like this has the potential to open up new creative possibilities and reimagine 19th century inventions in a 21st century world. This is how our interactions in VR and AR can one day look. It can change the way we connect."
CTRL-Labs, that works with biological interface technology, has been in operation for four years and during that time has worked on various pieces of technology – including a wristband that lets the user's brain control a computer with thoughts alone. The wristband can measure neuronal activity in the user's wrist to work out the movement that a person is thinking about making, even though they're not moving.
After raising tens of millions of dollars in venture capital, and also picking up several patents along the way, the company has been primed to make significant advancements in this space.
"Your kids will not type," CEO Thomas Reardon proclaims about the fate of conventional keyboards, suggesting that users will use mind control as their main computer input in the future.
"Your hands could be in your pocket, behind you," Reardon said at an industry conference last December. "It's the intention [to move], not the movement" itself that controls the avatar.
The acquisition by Facebook is going to raise some eyebrows. It's already a testing time for the social media giant as its popularity is dwindling due to its constant privacy scandals and censorship concerns. Antitrust investigations over Facebook's acquisitions are only just warming up and there are two major investigations against the controversial company already – let alone those brewing in Europe.
Facebook is also facing scrutiny over its Libra cryptocurrency project that several EU countries are already considering to block.
It appears governments want Facebook to have less power, not more. And, the fact that Facebook has proven it can't always be trusted with user privacy means that any acquisition the company tries to make will be under incredible scrutiny from regulators.
"CTRL-Labs and Facebook are not competitors. Facebook does not currently have or make this technology," a Facebook spokeswoman said about the deal. "CTRL-Labs's technology is an innovative input that Facebook hopes will be used to significantly improve the upcoming Facebook AR/VR experiences a few years down the road to fundamentally improve the user experience."
Like Elon Musk's company Neuralink, that is also working on ways to interface biology with tech to control devices and machines, it's thought that CTRL-Labs's technology will one day be part of technology such as augmented reality glasses and more.