Facebook now thinks its original decision to flag videos showing the police in Hong Kong storming the Prince Edward MRT station last year was the wrong decision, that is now being reversed.
The incident involved baton-armed Hong Kong police officers storming the venue on August 31, 2019, resulting in dozens of injuries – and also denials from law enforcement of any wrongdoing.
https://www.facebook.com/100006537006870/videos/2839509692943570/
This happened amid multi-month pro-democracy protests in the autonomous territory.
The video appeared on Facebook's Instagram platform, originally showing the incident that played out seven months ago.
To mark the anniversary, last Saturday several users uploaded videos showing the attack, the report said – only to be flagged as false information by Instagram's by now often notorious, or hilarious third-party checkers – depending on the occasion, and the consequences.
The warning means that content is accessible but discouraged by forcing users to jump through some user interface hoops. A classic case of neither banning nor really allowing content – a social media limbo, one might say.
As for Instagram's fact-checker partners, those unhappy with the treatment of the Prince Edward MTR station incident identified then as Boom Life and Fact Crescendo.
The former said the video originally appeared and was shared online with a false claim that the Chinese police were somehow going after "suspected COVID-19 patients."
Boom Life also said subsequently that the fact-checking labels were not used properly when it comes to this incident, and that the company was working to fix the problem.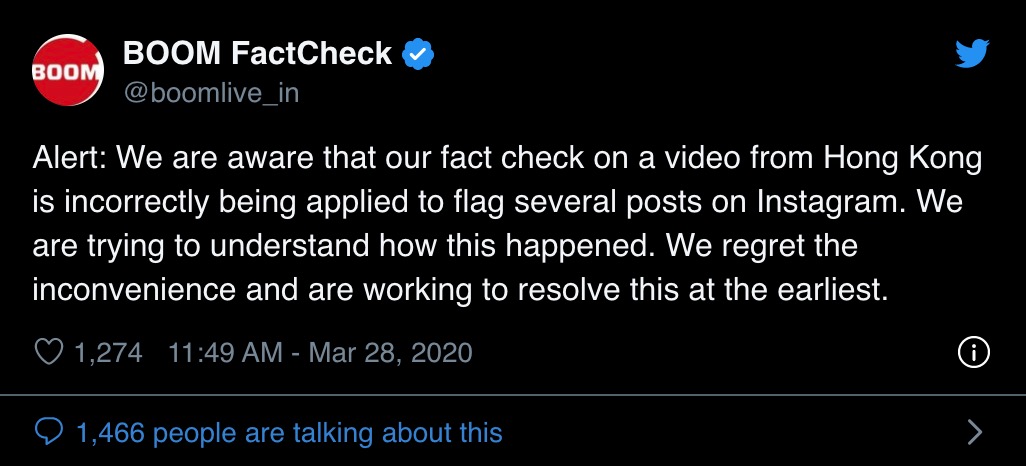 Facebook has now said that the video flagged as false here was a mistake that the giant had corrected – and that the false labeling by the fact-checker was a mistake.
But the decision seems to yet be to reach Instagram accounts, two of which say they are yet to see any changes and the video is still flagged as false.
And many fear that although Instagram had fixed this one issue, if the algorithm that produced it remains the same, the same problem will resurface in the future, resulting in false flagging of other content.