Meta has announced its decision to reinstate former President Donald Trump's Facebook and Instagram accounts.
His accounts on both platforms were indefinitely suspended following the riot at the US Capitol on January 6, 2021.
It had previously been expected that Meta would make its decision by the end of this month.
Meta's Oversight Board, which upheld the original suspension but criticized the indefinite suspension, gave Meta until January 7, 2023, to make a decision.
Meta's president of global affairs Nick Clegg convened a team to make a decision on Trump's reinstatement on Meta's platforms.
"As a general rule, we don't want to get in the way of open debate on our platforms, esp in context of democratic elections," Nick Clegg, Meta's president of global affairs, said today on Twitter.
"Now Trump's 2-year suspension has elapsed, the question is whether the serious risk to public safety that existed in January 2021 has receded enough to allow the suspension to expire," Clegg added.
"To assess the risk, we evaluated current circumstances according to our Crisis Policy Protocol, established in response to [the] Oversight Boards guidance, inc looking at conduct of 2022 midterms & expert assessment of security environment.
"We know any decision we make on this will be fiercely criticised. We tried to make it as best we can consistent with our values and the process established in response to Oversight Board's guidance."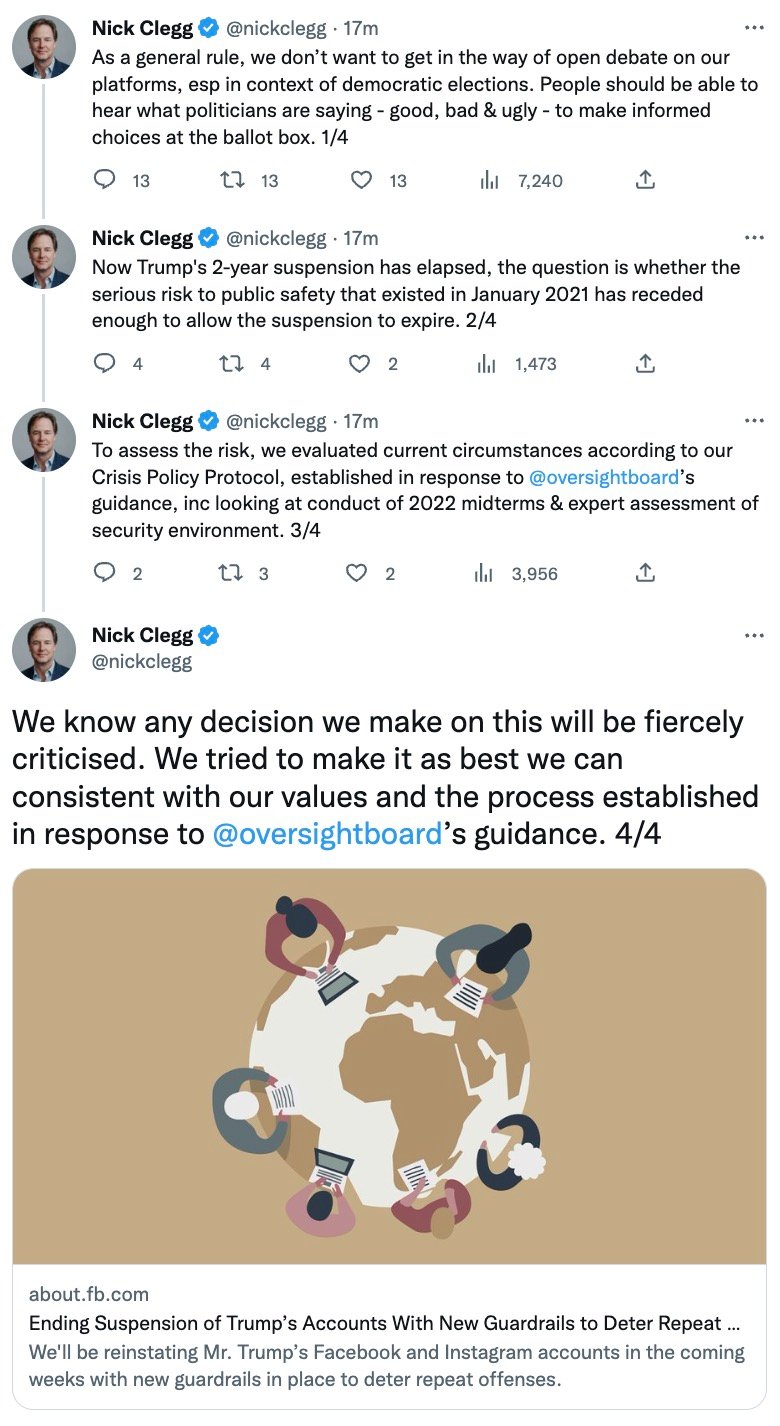 Last October, Clegg hinted that the company might end the suspension.
"We believe that any private company – and this is really regardless of one's personal views about Donald Trump – should tread with great thoughtfulness when seeking to, basically, silence political voices," Clegg said at the time.
In November, after Elon Musk took over Twitter, Trump's Twitter account was restored. However, Trump has yet to tweet since his account was restored, preferring, at least for now, to keep using his own Truth Social.
Before Musk took over the platform, Trump said that he would not go back to Twitter.
"I am not going on Twitter, I am going to stay on Truth," Trump told Fox News at the time. "I hope Elon buys Twitter because he'll make improvements to it and he is a good man, but I am going to be staying on Truth."
In a statement today, on Truth, President Trump said: "FACEBOOK, which has lost Billions of Dollars in value since 'deplatforming' your favorite President, me, has just announced that they are reinstating my account. Such a thing should never again happen to a sitting President, or anybody else who is not deserving of retribution! THANK YOU TO TRUTH SOCIAL FOR DOING SUCH AN INCREDIBLE JOB. YOUR GROWTH IS OUTSTANDING, AND FUTURE UNLIMITED!!!"

In a statement, the Oversight Board said, "As part of the Board's ongoing work on tracking Meta's implementation of the Board's recommendations across all decisions, the Board will publish a fuller analysis of this case in a future quarterly transparency report. The Board will also continue to monitor Meta's application of its civil unrest in relation to public figures policy outside of the United States.