Facebook has removed Rabbi Uriel Vigler's video titled "The ultimate vaccine for Covid-19 is to be found in this week's Torah portion!," branded it "misinformation that could cause physical harm," and claimed that it "can make some people feel unsafe on Facebook."
In addition to taking down the video, Vigler said Facebook also temporarily locked him out of his account.
Vigler wrote in an open letter to Facebook CEO Mark Zuckerberg that to say he was "thoroughly confused" about Facebook's actions would be "an understatement of the highest order."
"In the video, I explained that the Holy Temple in Jerusalem was destroyed because of hatred for one another," Vigler wrote. "I explained that the Talmud equates that hatred to the three cardinal sins: idolatry, adultery, murder, and that to rectify this and rebuild the third and final Temple, we need to love each other more. True, expansive, unconditional love will lead to the Redemption, the rebuilding of the Temple, and the end to all ailments and illnesses, including COVID-19."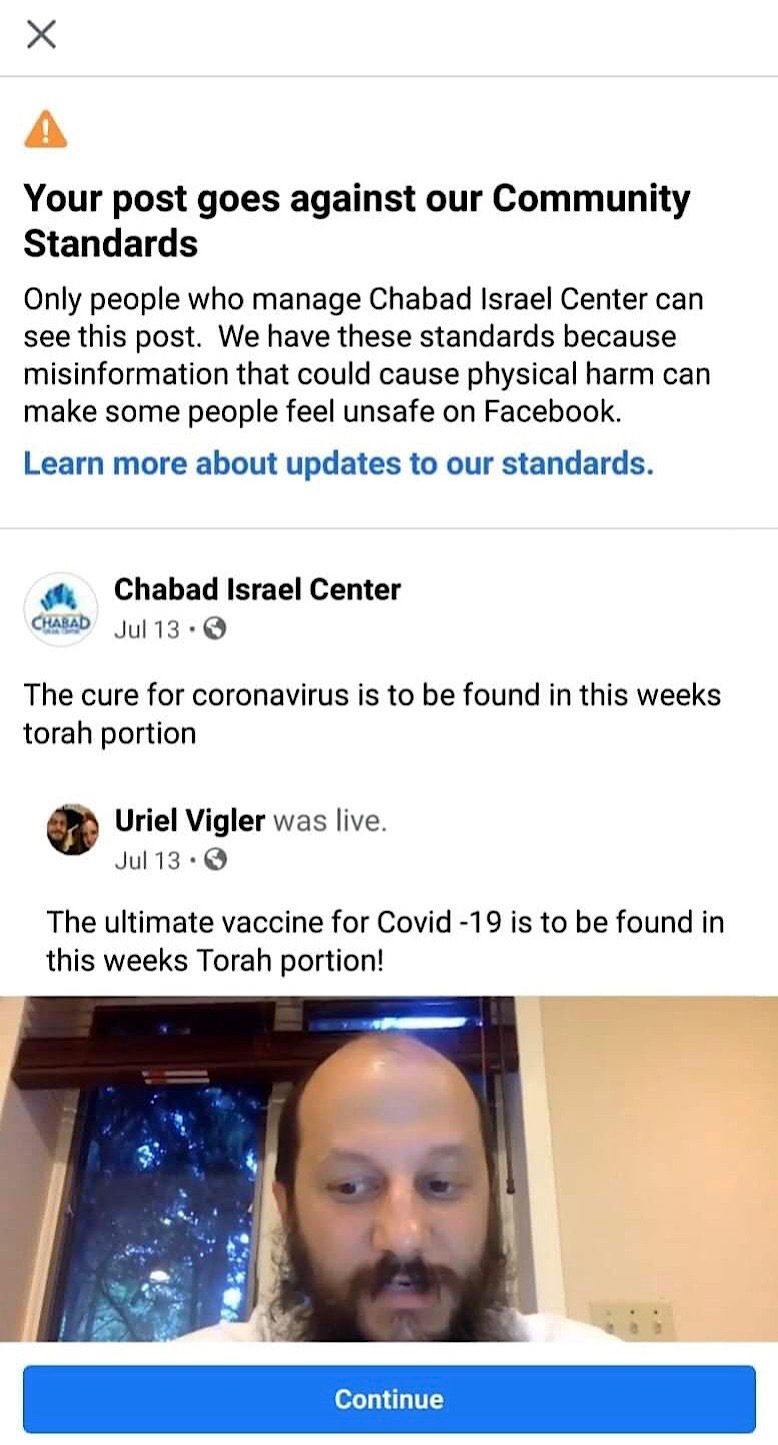 Vigler also challenged Facebook's decision to brand his video as misinformation that could cause physical harm:
"I can assure you that there is no message the inhabitants of this universe need to hear more than what I shared! Unconditional love – it's what we all need, the US more than anyone! Not only can this not possibly lead to physical harm, it can lead to great healing and unification."
The takedown of Vigler's video comes as Facebook and other tech giants are facing increased scrutiny over their censorship of content that they deem to be "coronavirus misinformation."
Related: ? How the term "misinformation" has been weaponized as an online censorship tool amid the coronavirus pandemic
Numerous doctors have been censored over the last couple of weeks after the Big Tech platforms deemed their support of the drug hydroxychloroquine to be misinformation.
When challenged on this censorship, the CEOs of Facebook and Google defended their positions that if they decide something could be harmful, it will be removed from their platforms.
Despite doctors, religious teachings, and more being censored in the name of protecting people from coronavirus misinformation that the tech giants claim could cause harm, these Big Tech platforms are still facing external pressure to ramp up their censorship of content that is deemed to be misinformation.
Investor and philanthropist Bill Gates recently took aim at the end-to-end encryption in Facebook-owned messaging app WhatsApp and said that this encryption prevents Facebook from taking responsibility for potential misinformation in the messages.
Meanwhile, Senator Mazie Hirono has proposed stripping Facebook and other Big Tech platforms of their Section 230 immunity if they don't remove misinformation in private groups.