Facebook has announced a new terms of service clause that will be effective from October 1, 2020 and will allow the social media platform to ban any user and censor any piece content if it determines that doing so will protect it from legal or regulatory impacts.
The full text of this new terms of service update states under section 3.2:
"We also can remove or restrict access to your content, services or information if we determine that doing so is reasonably necessary to avoid or mitigate adverse legal or regulatory impacts to Facebook."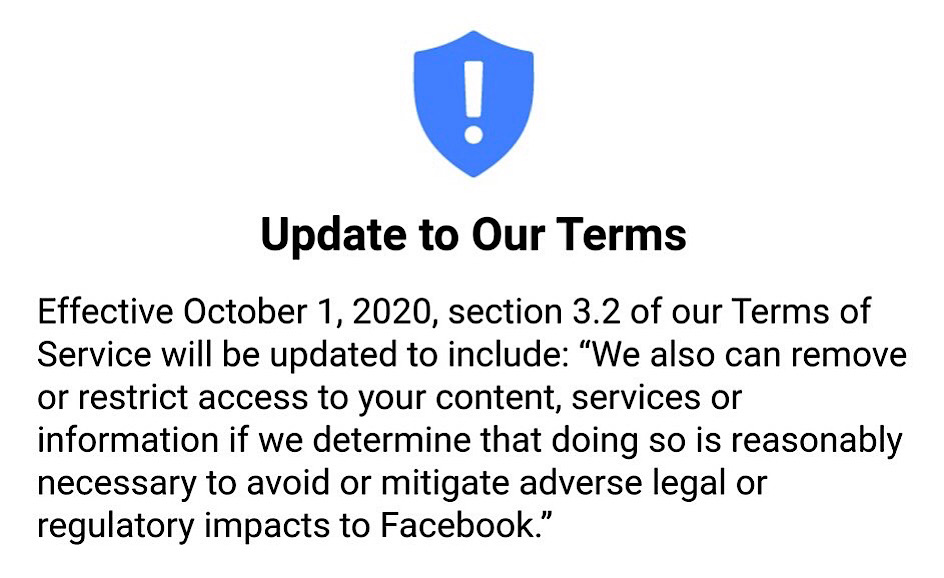 While at first glance, these new terms may seem like a standard corporate legal liability protection waiver, the wide scope means that Facebook could use these terms against almost any user and content type.
Facebook alone is deciding when it's "reasonably necessary" to remove content or restrict user access to Facebook's services and the only limit is Facebook's subjective determination of when a user or piece of content could cause "adverse legal or regulatory impacts."
The new terms of service seem counter to the statements of Facebook CEO Mark Zuckerberg from earlier this year when he called for Western governments to create a "clear regulatory framework" for the internet that would "become a standard around the world."
Facebook censorship has already reached unprecedented levels with over 22 million posts per quarter being censored for "hate speech" and over 100 million posts per quarter being censored for coronavirus "misinformation."
Over the last month, the company has also been discussing how it plans to automate this censorship with deep learning systems that automatically detect "misinformation" and systems that automatically halt viral coronavirus content.
These developments are reflective of a larger trend that's been highlighted by Facebook in a number of its previous community standards enforcement reports – that both the scale of the censorship and the level of automated censorship on the platform is increasing.
This latest terms of service update suggests that in addition to the growing scale and automation, the scope of future censorship is also going to be much wider from October 1.