Project Veritas has continued to publish documents from the latest batch of leaks obtained from Facebook whistleblowers, that detail the way the giant is suppressing comments skeptical of coronavirus vaccines.
According to the leaked documents, Facebook has developed a finely-grained definition of moderation and censorship of dissenting opinions expressed on this topic in the comments, where "vaccine hesitancy" is suppressed through demotion, while comments are also divided into a total of five tiers.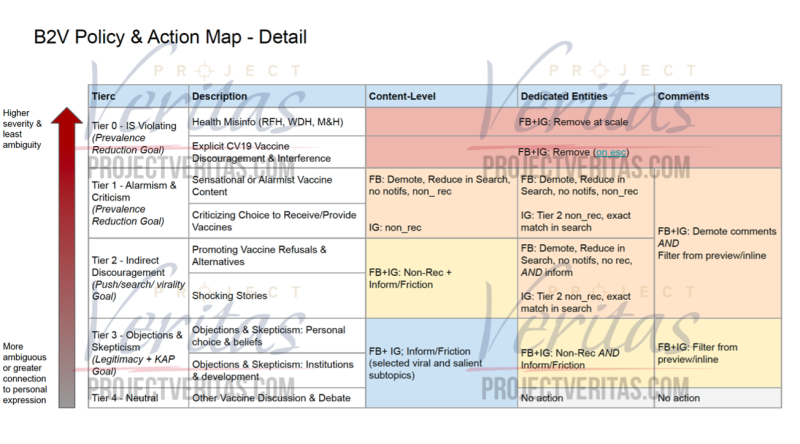 Facebook's stated goal is to eradicate what it calls vaccine alarmism and criticism, and indirect discouragement of vaccination on the platform – which is what Tier 1 and 2 rules are supposed to achieve, while Tier 3 deals with expression or advocacy of objections or skepticism of coronavirus vaccines that is based on personal beliefs, choice, or opinions.
These are further subdivided into objections or skepticism that can be liberty or religious-based, as well as personal, political and institutional, and development-based.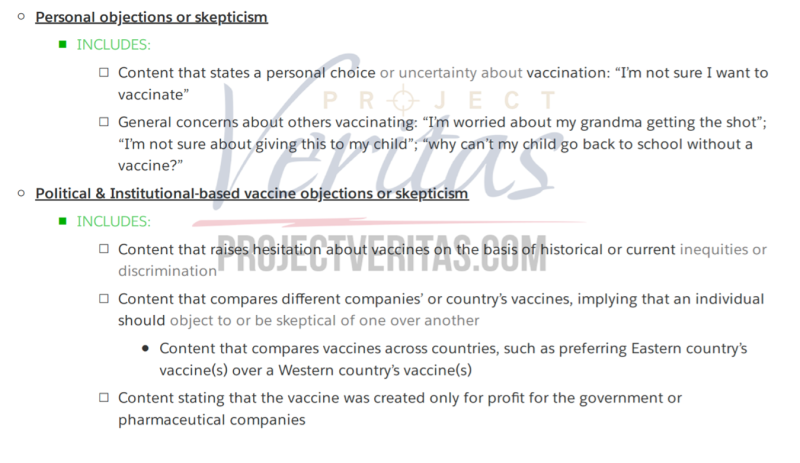 The leaks reveal that each of these categories is defined by Facebook, in what looks like a "Covid censorship bible."
Once identified, Tier 3 comments are next slated to be "filtered" according to yet more rules that separate them from Tier 1 and 2 comments, which are to be demoted and reduced in search, and demoted (without notification), respectively. Many of the rules also apply to Instagram.
An example of what would be considered a Tier 3 censorship-worthy comment is a Facebook user posting that they are not sure they want to get the jab. The same applies to comments that show "general concerns about others vaccinating," the leaked information shows.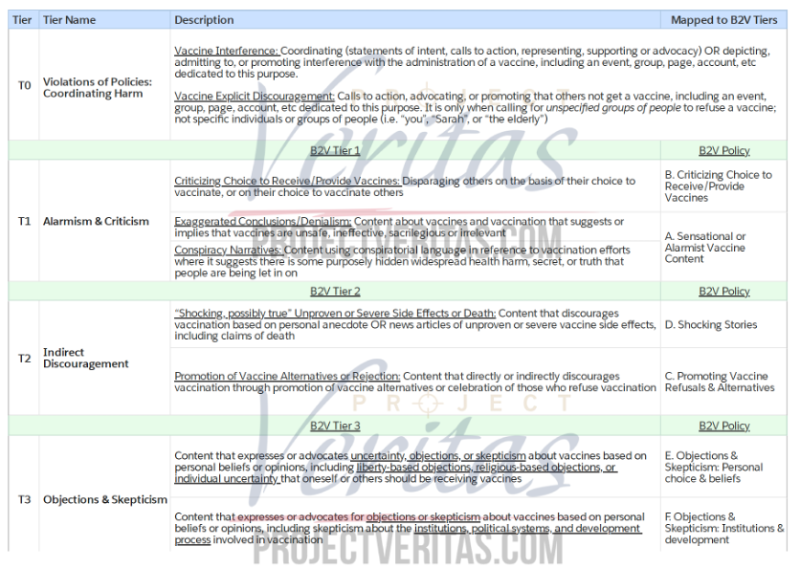 Tier 3 is also designed to deal with comments that reveal a user is worried about being pressured to get vaccinated by a vaccine registry, or has misgivings about so-called vaccine passports.
Action that Facebook takes is to "filter from preview/inline" which means these comments will be prevented from appearing conspicuously under posts.
There is yet another, fourth tier, described as "neutral" – the only one where comments about coronavirus vaccines would be posted and surfaced on the two platforms without Facebook's intervention.
Project Veritas said that in the wake of the leaks, Facebook issued a statement saying the policy described in the documents had been "proactively announced on our company blog and also updated our help center with this information."

Defend free speech and individual liberty online.
Push back against big tech and media gatekeepers…