There have already been some rumblings of "fact-checking" third-party organizations that Big Tech hires not being happy with the possibility that some social media giants are looking for ways to fact-check content natively.
Twitter and its experiment called Birdwatch is one such initiative, and – rhetoric about democracy and truth aside – it's easy to see why the fact checking industry would dislike it: it takes away their business, and potentially waters down control over content that is exercised through them.
Now we're seeing Poynter Institute, which is far from an impartial actor here, as it runs the fact-checking site PolitiFact and owns the International Fact-Checking Network, "intervene" to shape Birdwatch more after its own image.
This "fact-checking skirmish" involves journalist and YouTuber Tim Pool, and he called the way Poynter presented its criticism as an "absolutely incredible cultural moment."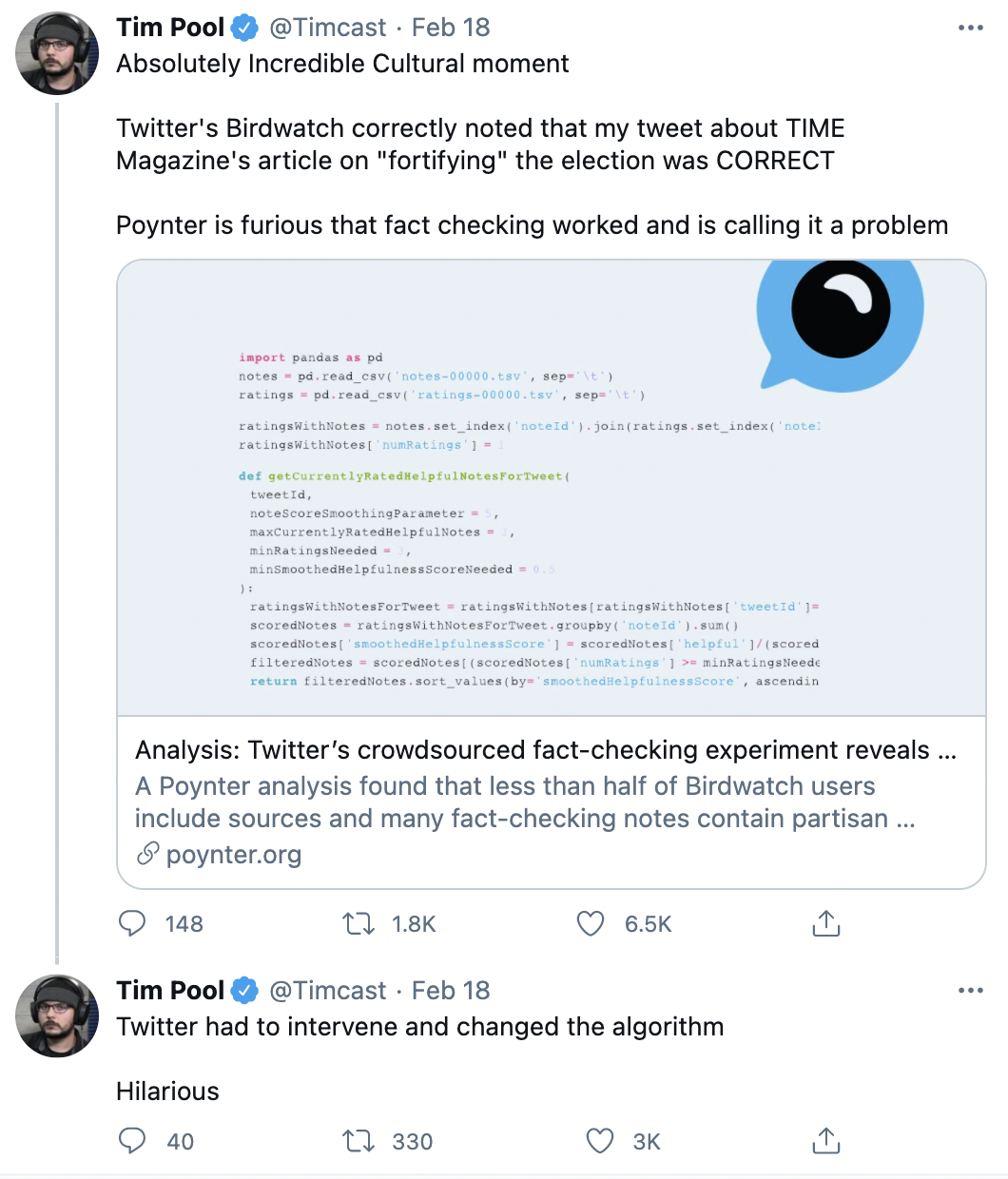 Twitter's Birdwatch "correctly noted that my tweet about TIME Magazine's article on 'fortifying' the election was CORRECT," Pool writes on Twitter, linking to a "furious" Poynter article that he says is calling fact-checking that works – a problem.
His tweet that was first "fact-checked" (by third parties), and then stripped of retweet and reply buttons for "risk of violence" had Pool commenting on the Time article to say, "I don't think this even matters at this point. Time magazine just came out said that a cabal of elites rigged the election," and add, "I'm sorry they said they didn't rig the election they 'fortified' it, by changing the rules and laws as well as manipulating the flow of information."
But Birdwatch's crowdsourced fact-checkers, i.e., other Twitter users, begged to disagree with "professional" fact-checkers, as a huge majority of Birdwatch participants did not find Pool's tweet to be misleading, while most notes said it was helpful and informative.
Poynter's "analysis" of the case then nitpicked whether Pool's tweet took context sufficiently into account. Namely, the article suggested this "fortifying" was done for a good cause – "protecting election integrity." But Twitter users overwhelmingly understood Pool's commentary as not trying to obscure Time's editorial "contexts" – but as using the piece to speak out against manipulation of information ahead of an election as rigging by any other name.
In the end, Twitter's reaction has been to change its algorithm, making sure that notes left on Pool's original tweet are no longer marked as helpful.
Poynter's previous controversial articles included an opinion piece criticizing the new social network Clubhouse while at the same time seeking to normalize censorship in the vein of the Chinese state apparatus.