Internal Twitter emails that were published by journalist Michael Shellenberger as part of the Twitter Files show Federal Bureau of Investigation (FBI) Supervisory Special Agent Elvis Chan attempting to get Twitter's then-Head of Trust and Safety Yoel Roth to hand over information to the agency without legal process.
The term "legal process" describes information requests made in compliance with existing laws. Generally, these types of requests require a court order, subpoena, or warrant which means that a judge or court would need to review and approve information requests before a company is ordered to hand over the data. This legal process ensures that an independent judge or court can review law enforcement data requests and ensure that they're legal and proportionate.
Yet Chan and the FBI tried to get data from Twitter without a warrant multiple times.
In a December 20, 2019 email, Chan asked Roth whether Twitter would be willing to change its policy of not providing a data feed to the United States (US) intelligence community (IC). Roth rejected the request and told Chan that government requests for Twitter information should be made "in accordance with valid legal process."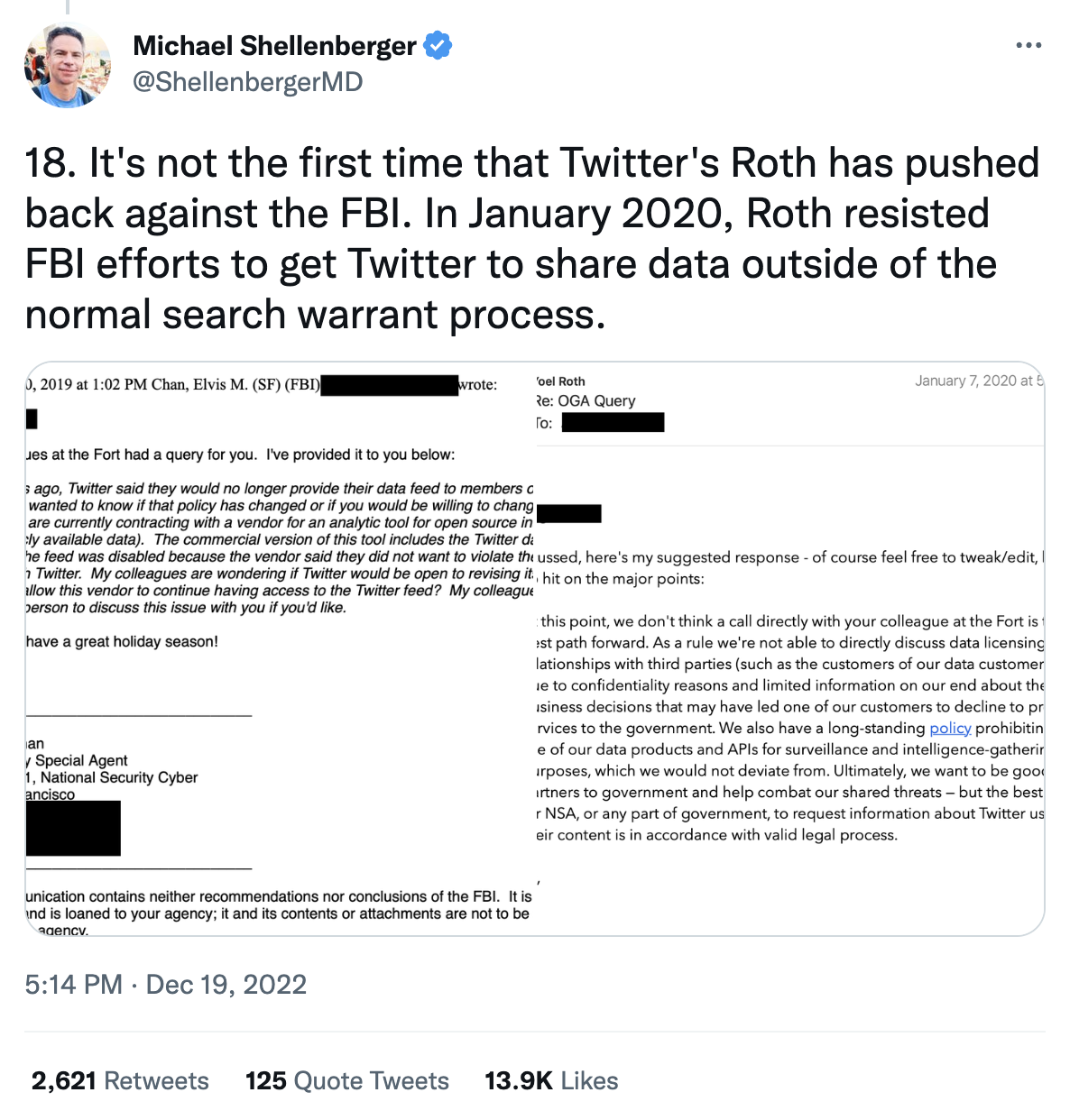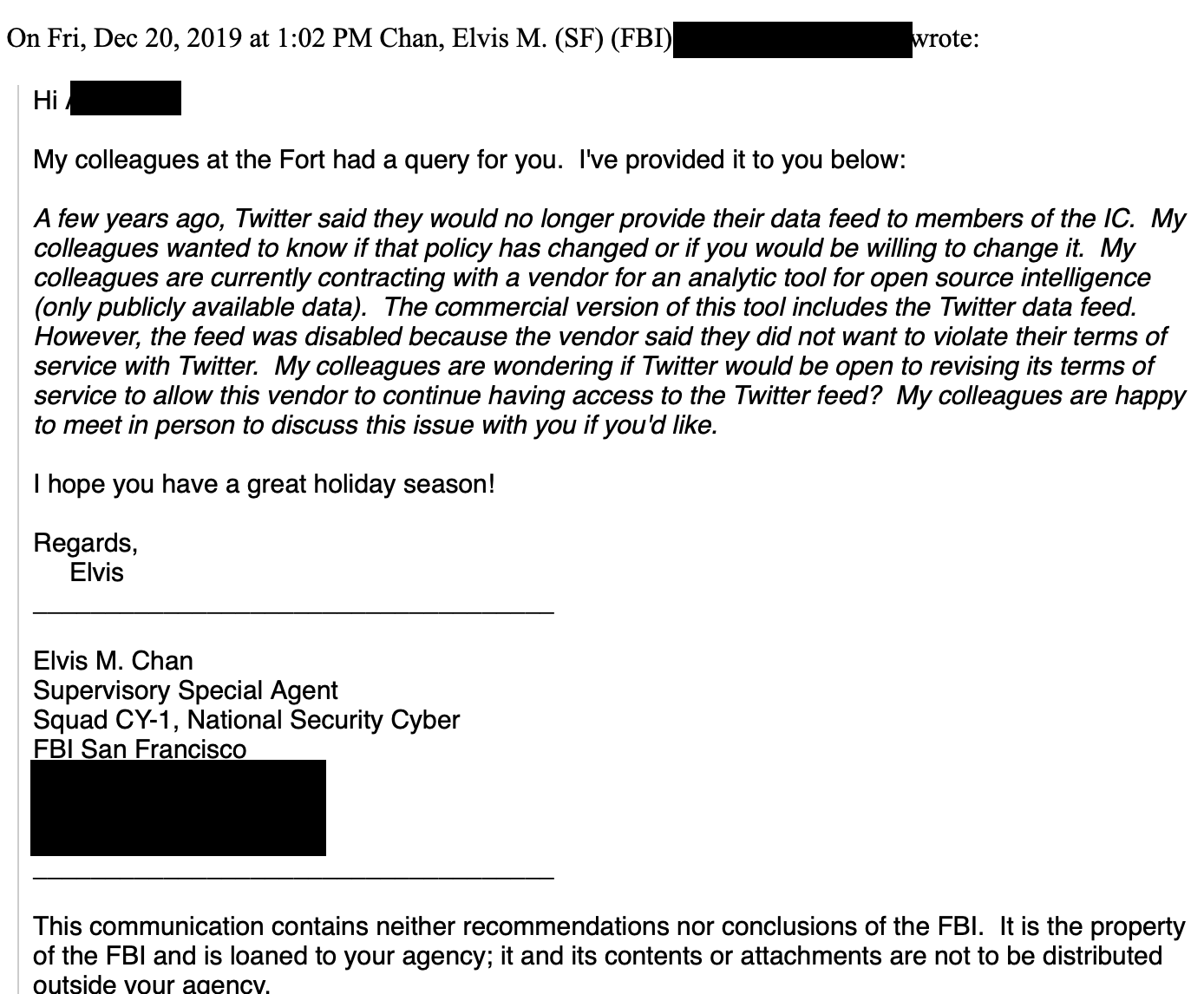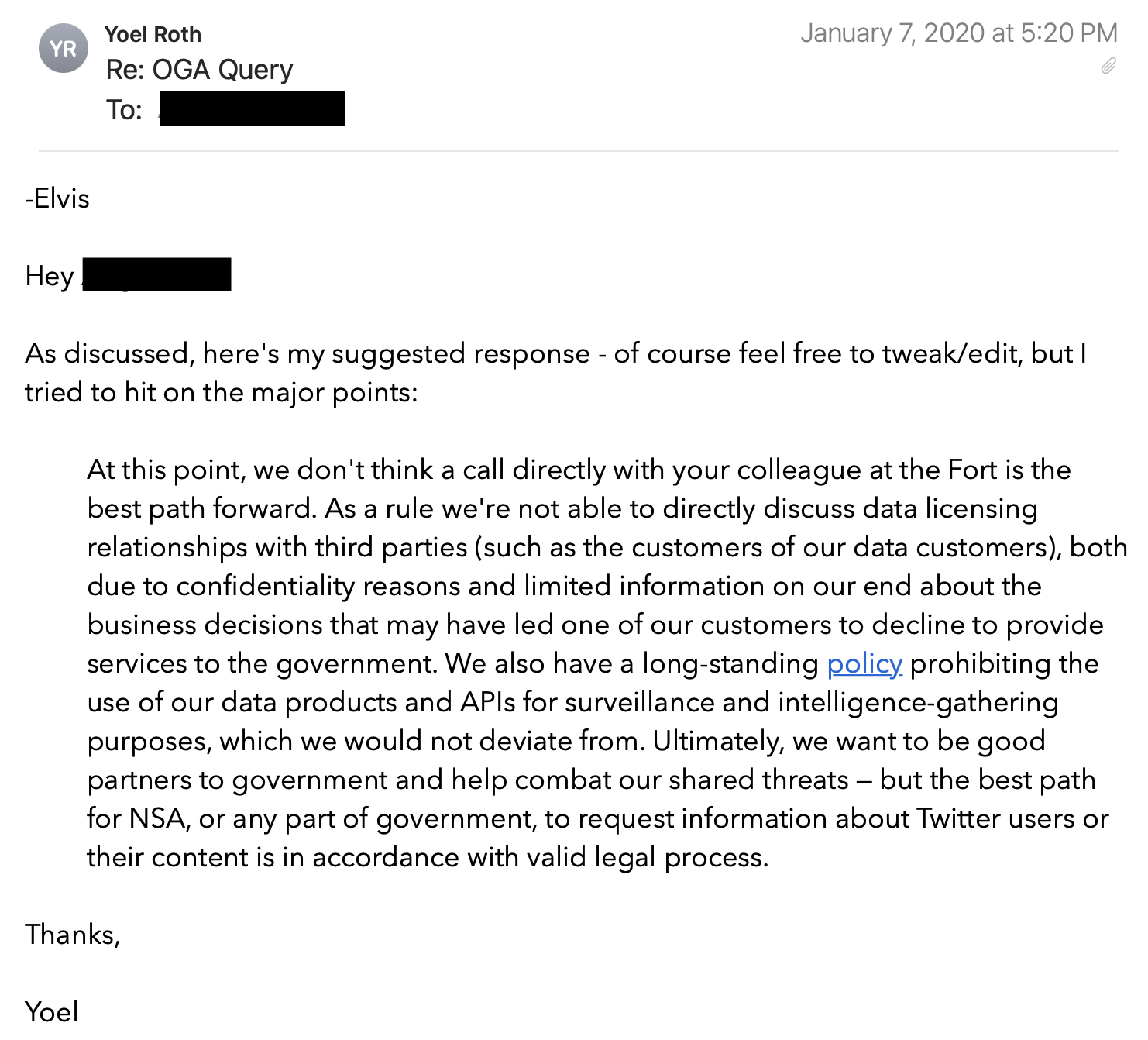 In a January 2, 2020 email to Roth, then-Twitter Director of Public Policy and Philanthropy Carlos Monje Jr. noted: "We have seen a sustained (If uncoordinated) effort by the IC [intelligence community] to push us to share more info & change our API policies. They are probing & pushing everywhere they can (including by whispering to congressional staff)."
Monje Jr. recommended keeping "a solid front against these efforts."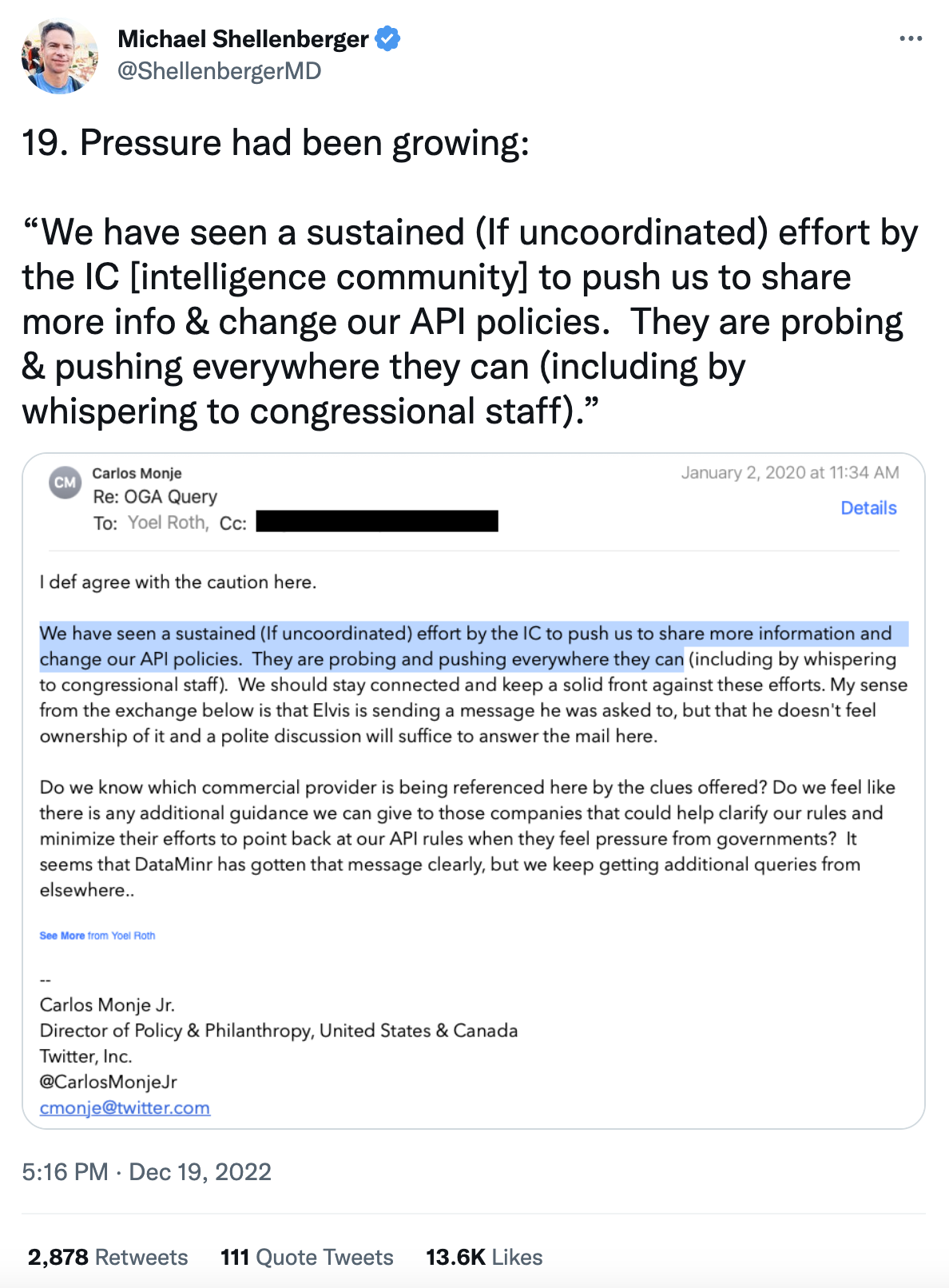 In a July 9, 2020 email, Chan asked Roth to hand over information related to accounts that had used Voice over Internet Protocol (VoIP) to verify their account or used virtual private networks (VPNs) without legal process.
"While I understand obtaining the actual VPN IP addresses associated with the respective accounts would likely require legal process, would Twitter be open to sharing which service provider(s) those VPN IP addresses resolved to?" Chan asked.
Roth again pushed back on the request and told Chan that Twitter would need legal process before handing over the VPN information to the FBI.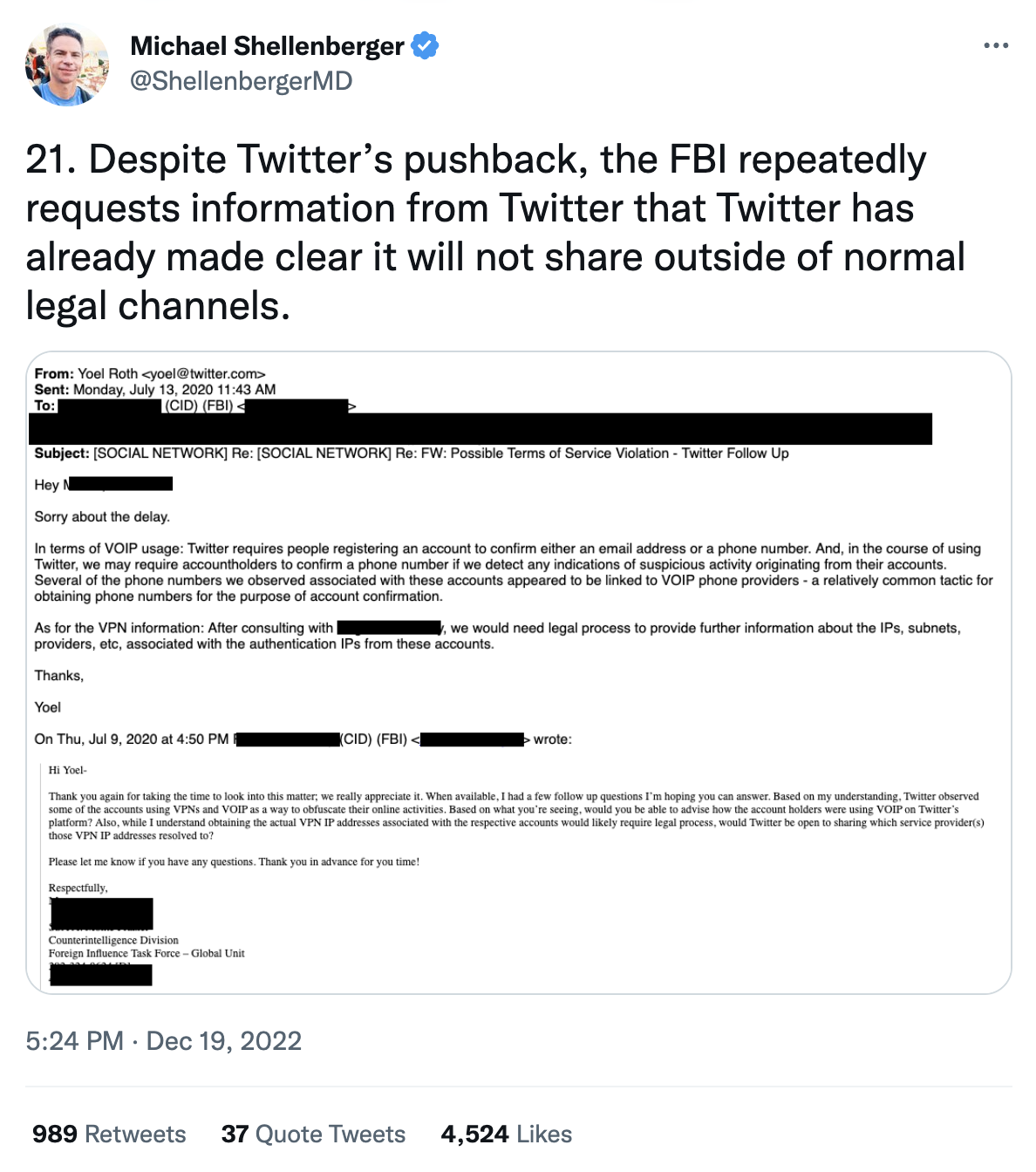 Over two years later, in August 2022, Twitter executives said the FBI was still trying to convince the company to "produce on more FBI EDRs [emergency disclosure requests]." EDRs are warrantless data requests.
The executives outlined the various pressure tactics the FBI would use to attempt to get Twitter to hand over this data including describing "situations where in the FBI view there is no reason why we would not have complied" and repeatedly emphasizing "Twitter's lower level of compliance in comparison with other platforms."
Additionally, the Twitter executives shared their assumption that the FBI has "far and away a greater rate of production than anyone else."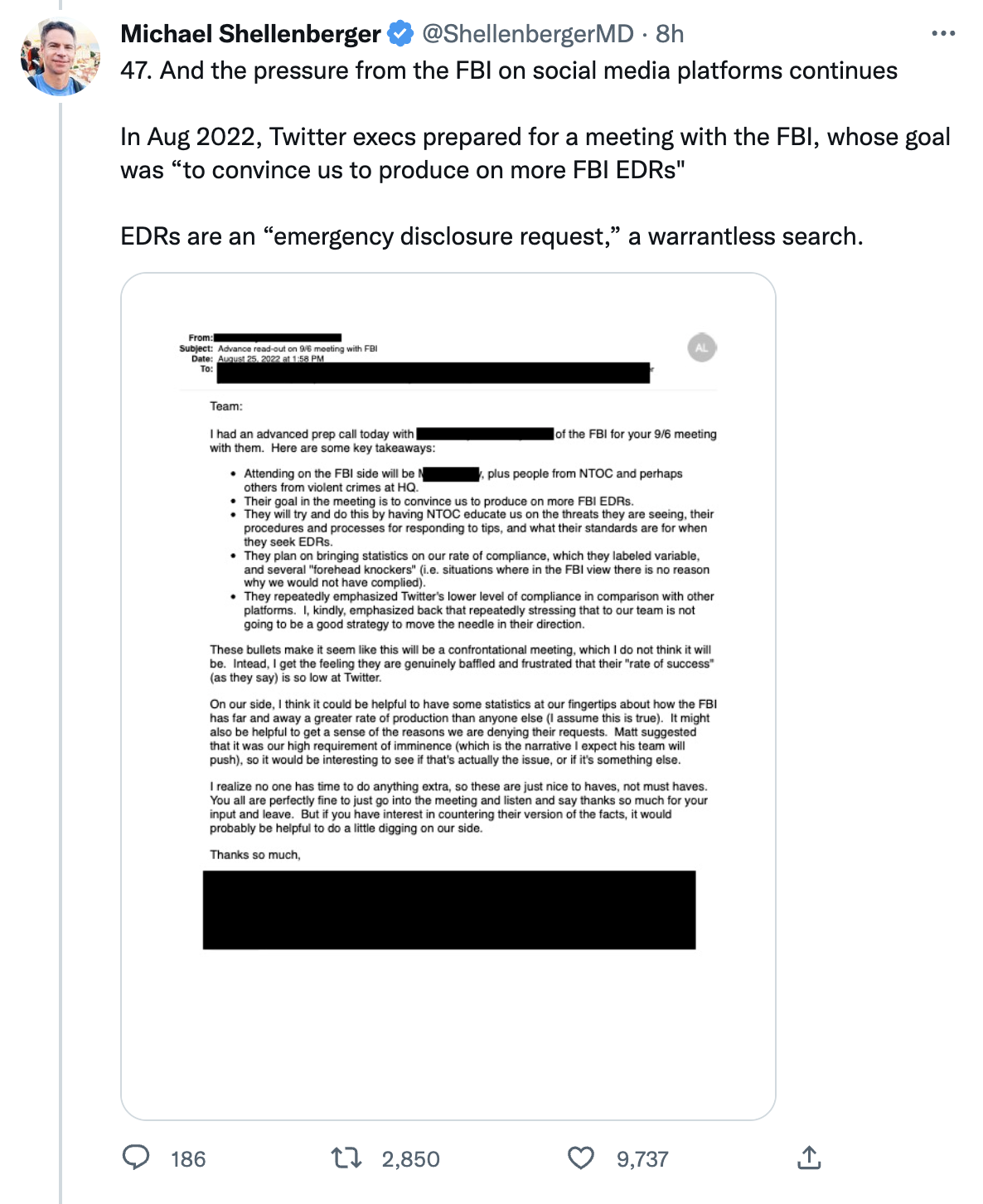 These examples of the FBI attempting to get Twitter data without a warrant follow a previously released internal email showing an FBI agent requesting that Chan extract "any location information" associated with a list of flagged accounts that "Twitter will voluntarily provide to aid the FBI."