Forbes removed an article that alleges psychological damage of mask-wearing in kids after it was shared on Twitter and started to get traction. The ideas shared in the article contradict the public health bodies and government advisories on the importance of mask-wearing.
The article discouraging mask-wearing in kids went viral after it was shared by Twitter user NYC Angry Mom. They encouraged people to read the article, adding: "I'm just speechless that someone finally understands that masks on children are not benign."
The tweet had been shared at least 400 times.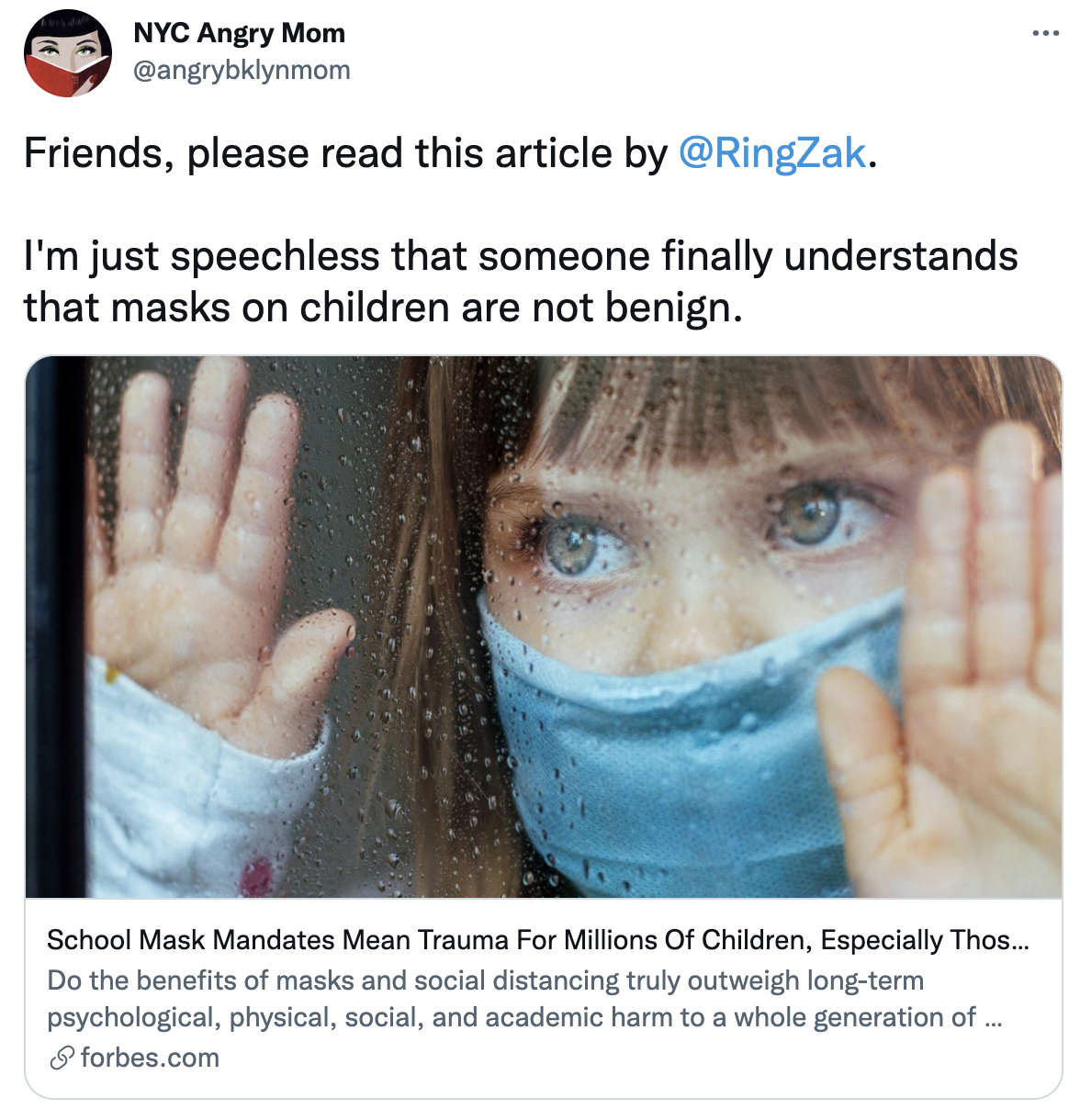 The deleted article (archive) was written by Zak Ringelstein, a PhD holder in Education at Columbia university and founder of Zigadoo, an educational and developmental app for kids.
Ringelstein begins the article by describing how he has spent his career advocating for the removal of standardized testing because of "the havoc it has wreaked on the mental health and well-being of American schoolchildren, especially kids from low-income families."
Ringelstein explains that the campaign to remove standardized testing was going well until the pandemic hit "America's shores and overnight transformed the American public education system into something unrecognizable: a system of restrictions and mandates far more repressive than standardized testing ever was."
Ringelstein adds: "Students in most American classrooms now must wear a covering over their face and stay distanced from their peers the entire school day. In many schools, students are forced to play by themselves during recess. Even for the youngest of school children, desks are in rows. Kids can't see each other's smiles or learn critically important social and verbal skills."
As an expert in elementary education, with experience in trauma-informed instruction, Ringelstein described the statement as "overly simplistic and misleading."
He suggested replacing the statement with the alternative, which is that "masks and social distancing induce trauma and trauma at a young age is developmentally dangerous, especially for children who are experiencing trauma in other parts of their lives."
"But we must ask ourselves: do the benefits of masks and social distancing truly outweigh the long-term psychological, physical, social, and academic harm we are inflicting on a whole generation of American schoolchildren? If we care about equity and the most vulnerable members of our society, we at least can't be afraid to ask."
Forbes is yet to comment on why it removed the article.