Free speech social platform Gab has revealed a new tactic in fighting off attempts of researchers (presumably tasked with discrediting it) to scrape content posted by users.
Gab is considered by many who have been on the receiving end of the censorship-driven mainstream social sites as a solid alternative and the company's CEO Andrew Torba announced users will now be further empowered by being given full control of their own data on the network, and deciding if it is accessible by others.
The feature that will help with that is the ability to activate the self-destructing posts, which, in theory, turns every Gab user into a "chaos agent" throwing a wrench into the efforts of those who are poring through their posts.
Since freedom of speech and privacy are Gab's pledge, it's not surprising that the company behind it already tried to take some steps to limit access to nosy researchers; but blocking IP addresses, as ever, has proven to be a futile endeavor.
"So what we are going to do instead is give you the power to create chaos in their data sets and thus call the validity of the data in their 'studies' into question," the announcement post said.
Gab is handing its users the ability to undermine those snooping on them by releasing the self-destructing posts feature to everyone for free. Previously, this option was available only to those on GabPRO.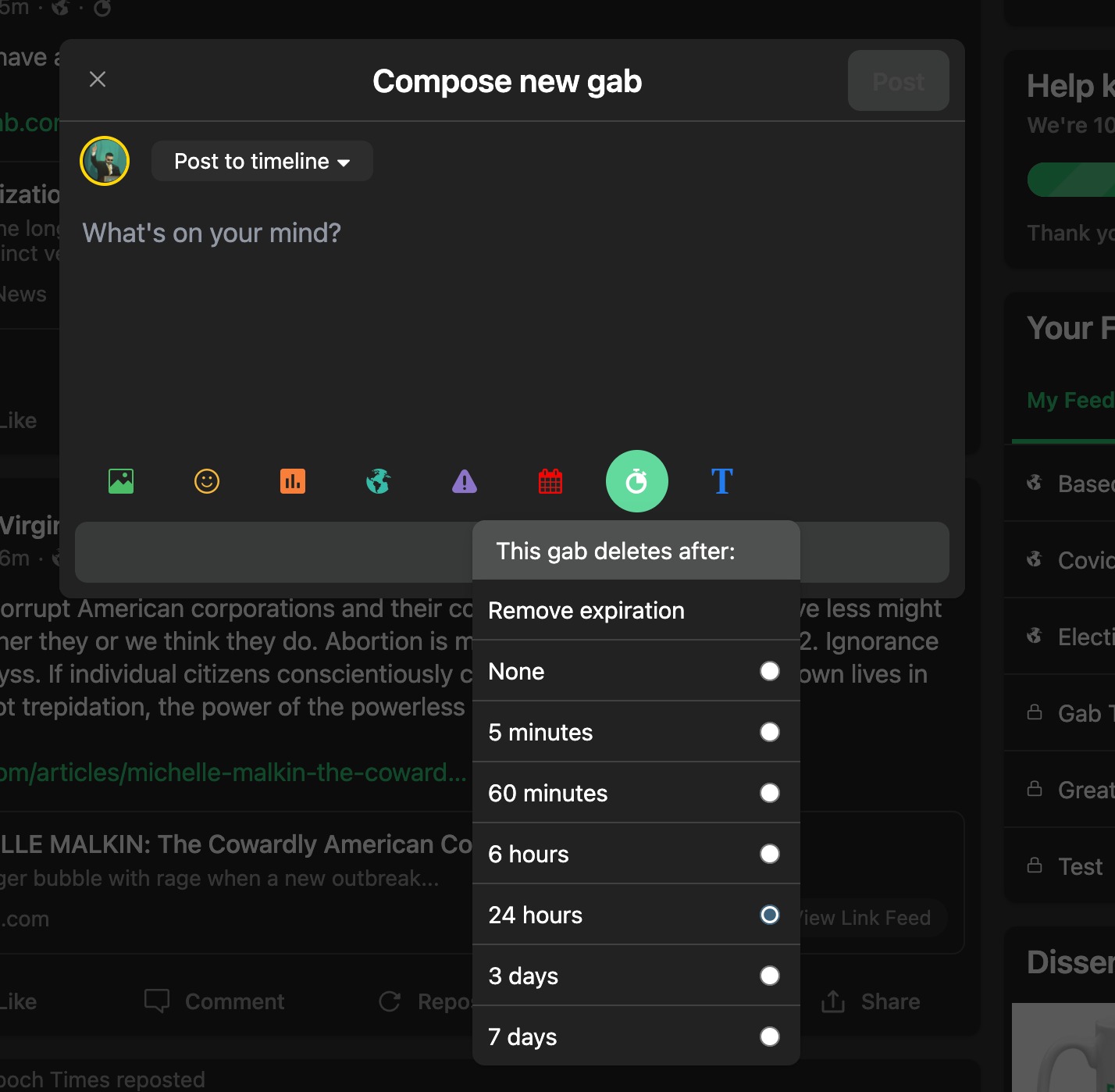 The feature is in the Gab composer, can be turned off there, or permanently turned on in the settings.
But that's not all: users can also search and filter their own posts by keyword, media type, date, etc., and then decide to delete all of them at once. Normally, to achieve this on mainstream social platforms, a user would have to delete their entire account – and trust those platforms to actually remove that data.
But, there's also the issue of spending time and energy posting on a site, only to see that content gone – either by having it removed by Big Tech social media in an act of censorship, or by "self-destructing" it, as on Gab.
For those who want to save their posts before "nuking" them there's the Data Export feature.
Chats can also be completely deleted and made unavailable to you, those you were messaging, and Gab's database.