Billionaire Bill Gates met with the United Kingdom (UK) Prime Minister (PM) Rishi Sunak, Health & Social Care Secretary Steve Barclay, and Secretary of State for the Department for Energy Security & Net Zero Grant Shapps to provide a "helping hand" and discuss tech, AI, pandemic response, clean energy transition, and more.
A UK government press release said Sunak discussed "the United Kingdom's innovation leadership in low-carbon technology and life sciences."
The press release also revealed that Sunak and Gates discussed "the opportunity for the UK to lead a global push for innovative solutions across energy security, food supply, and global public health."
The press release added that Sunak and Gates attended the launch of Cleantech for UK — a coalition of business leaders and investors that are "committed to working together to supercharge the UK's green economy."
Gates' sustainable energy investment company, Breakthrough Energy, is a founding member of Cleantech for UK and is providing venture capital investment. Breakthrough Energy's board members include several other American billionaires including Amazon founder Jeff Bezos and LinkedIn co-founder Reid Hoffman.
Not only is Gates' venture capital company investing in Cleantech for UK but the organizer of the Coalition, Cleantech Group, also lists Microsoft — a Gates-founded company that Gates is the largest individual shareholder of — as one of its clients.
UK Health & Social Care Secretary Steve Barclay said that he discussed "global health and better pandemic response, as well as how tech & AI are shaping our future."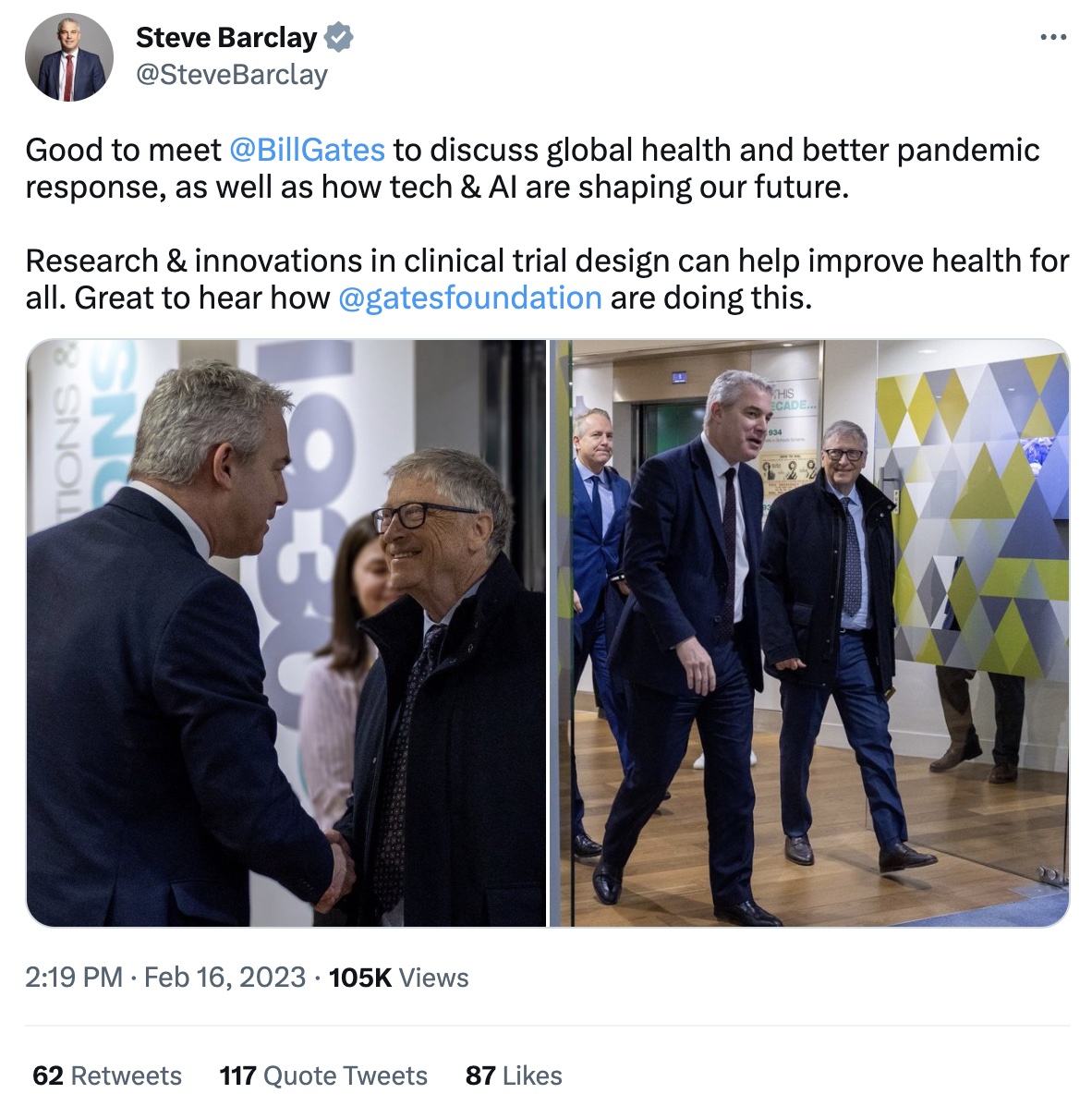 And UK Secretary of State for the Department for Energy Security & Net Zero Grant Shapps said Gates would be providing a "helping hand" to "transition the entire world to net zero."
While the press release and social media posts provided little detail on the specifics of what these UK government representatives discussed with Gates, the billionaire has previously shared his views on how tech should be used to censor what people can say about health topics and during pandemics.
Gates supports the idea of "fact-checkers" acting as arbiters of truth on topics such as masks and vaccines and partnering with social media platforms to restrict the sharing of content that is branded "misinformation."
His nonprofit, The Bill and Melinda Gates Foundation, has also provided hundreds of millions of dollars in funding to some Facebook fact-checkers.
Additionally, the Microsoft founder has advocated for the creation of 3,000-person social media units that quash "vaccine misinformation", called for Big Tech to censor misinformation, and even advocated for stopping end-to-end encryption to tackle "misinformation."
Gates was also a big fan of China's censorship and surveillance-driven response to the coronavirus.