In the United States, people who are used to speaking their mind freely still appear so comfortable doing it online – so much so, that they are sometimes left unable to recognize that their circumstances have changed, sometimes dramatically. Both for them, and for their idea of freedom of expression.
And that, essentially, means that if they want to continue to be present on some of the largest social networks, these days they increasingly feel they must filter and censor themselves and their true thoughts very carefully – not least out of fear of being ostracized by their media-fueled communities and even losing their jobs.
(This is not a story about long-gone Soviet Russia, or present-day China – this is the reality of social networks owned and operated these days by Big Tech.)
Carol Doemel, director of orchestras at Lassiter High School in Marietta, Georgia, appears to be one of those people still confused about their new circumstances, and still perceiving herself as a citizen free to express her thoughts online.
But this teacher is now under investigation by her school board for racial insensitivity.
Doemel – like 2.4 billion people around the world – thought it was a good and safe idea to take to Facebook to express her thoughts. It so happened that her overwhelming sentiment when it comes to the August 23 police shooting of Jacob Blake – who is black – was that Blake is reportedly an accused sexual offender.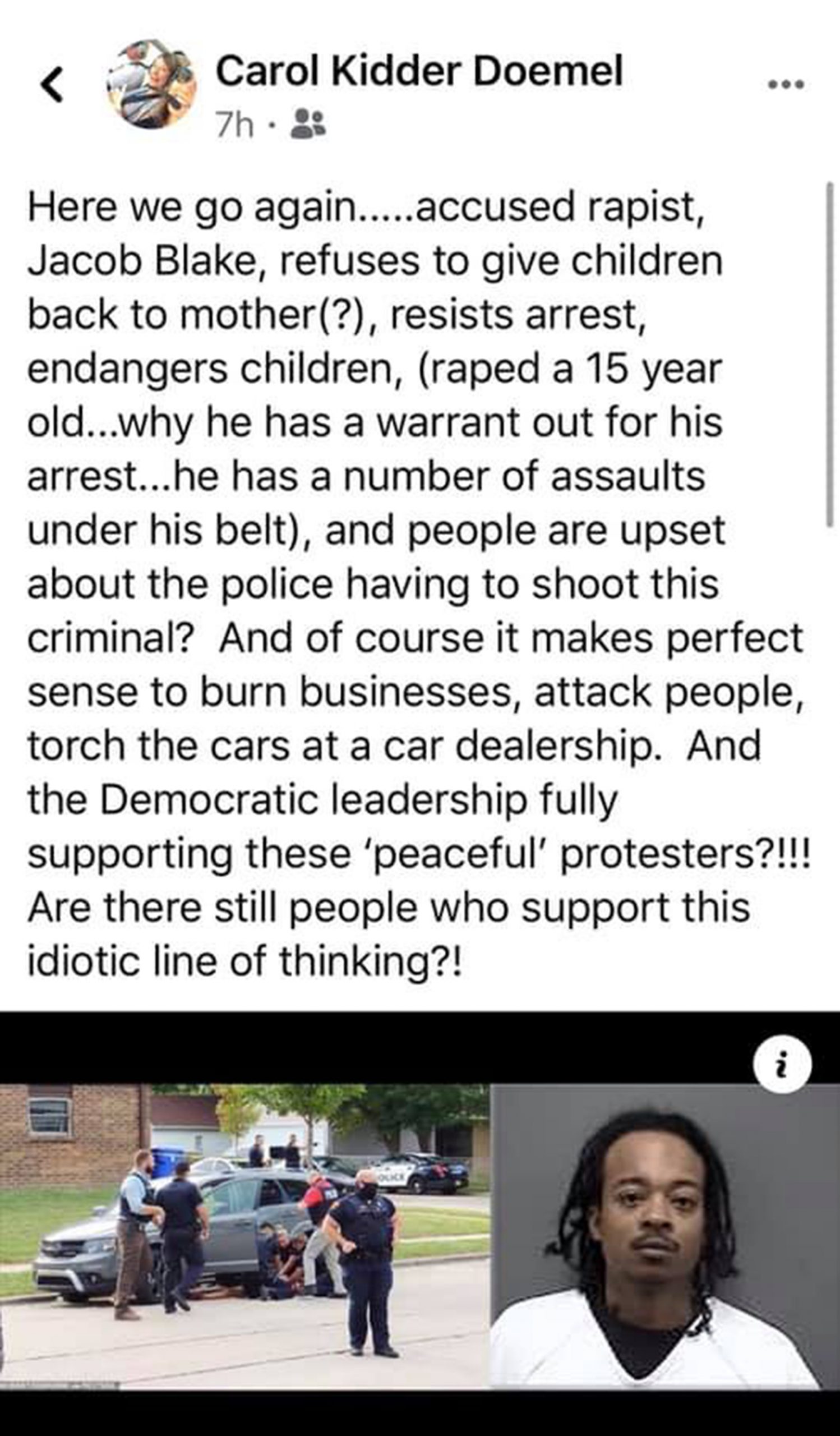 The Cobb County School District is reviewing whether a Lassiter High School teacher violated district policies with a social media post she made about Jacob Blake, a Black man who was shot in the back by police in Kenosha, Wisconsin.
The district's Human Resources Department has been made aware of the post made last week by Carol Doemel, the orchestra director at Lassiter High School, a system spokesperson said.
Yet none of the context seems to be working in favor of Doemel, a teacher who joined her high school in 1993 – as her former colleague branded her social media posts as "racist."
Doemel's post, as it so often happens, is no longer available in the wake of the controversy. And the school district's spokesperson told the Atlanta Journal-Constitution that they "expect every employee to treat everyone with dignity, respect and empathy, both in person and online."
Still, the teacher has not been terminated, either. "While we are not aware of any policy violations, we do ask our team members to consider whether words spoken or posted are true, necessary, and kind," the school said in a statement.