China's ByteDance has seen a massive surge in popularity of its already hugely popular viral video platform TikTok during coronavirus lockdowns in the West.
Despite scrutiny and criticism by US authorities over the parent company's ties to its own country's authorities – and therefore its suitability in security and other terms for western, specifically American tech/app markets – TikTok continued its march toward almost unprecedented popularity and profitability in its category, capturing over 2 billion downloads on Android and iOS combined since 2017.
Such seems to be the pull of massive monetary success in today's tech market – regardless of where it's coming from or what's behind it – that all other considerations fall by the wayside.
Google – who would like the world to believe it is on the right side of history and societal debates – has decided to prop up TikTok's Play Store rating when those took a huge nosedive.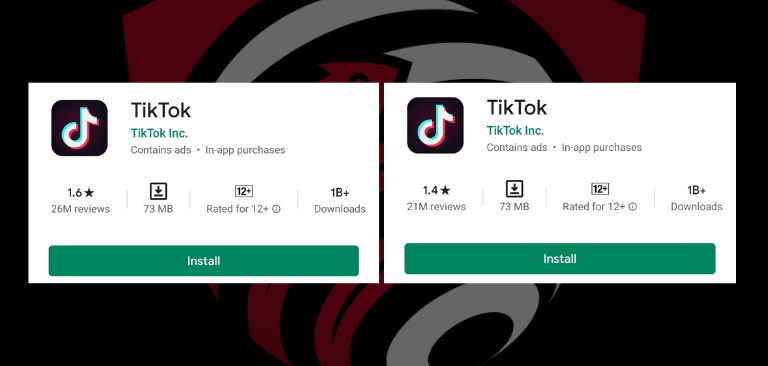 What prompted the rage one-starring backlash was India-based TikTok Star Faizal Siddiqui making "a spoof video" of what's known as "acid attacks" – a form of extreme real-world violence.
Of course, Siddiqui apologized, and TikTok eventually deleted the video. This type of content is not exactly what TikTok has in the past described as its brand – keeping it "light and fun," that is – all the way to censoring any attempt to post content much milder in comparison like political and social protests.
Meanwhile, social – especially viral – media simply breeds the need for controversy and drama to keep creators relevant to their huge but fickle and quickly bored audiences. Yet, you might think that Siddiqui pretending to throw acid into a woman's face and then showing it appropriately disfigured in makeup might have been a bridge too far for what most people consider to be entertainment.
And according to the way TikTok's reviews plummeted on Google's Play Store – that's exactly what happened.
But in the next act of this drama, it was Google to the rescue.
The US giant intervened after it "determined that critics had set up fake accounts to amplify their protests." Google basically branded millions of negative reviewers as spammers.
In Google's opinion, millions of people went to the trouble of setting up more than 8 million fake accounts just to hurt TikTok's rating on the store.
A spokesman for Google said it had taken "corrective action."
"When we learn of incidents of spam abuse, we review and take corrective action to remove inappropriate ratings and comments," he added.