From adopting an increasingly anti-privacy and competition-stifling business model and behavior, to engaging in brazen anti-transparency in the murky world where big tech, politics, lobbying, and media intersect – accusations keep piling up against Google.
In the context of Big Tech coming under increasing regulatory scrutiny and suspicion at home and abroad, the Mountain View, California-based behemoth is now confronting allegations of turning to anonymous articles in the conservative press in an attempt to help its case and smear competition.
The competitor in question is Yelp – a San Francisco headquartered local search and reviews service – and one that is, in the words of its Vice President of Public Policy Luther Lowe, "1/250th of Google's size."
In a Twitter storm on Wednesday, Lowe accuses Google of paying for fake news about him to be published under a pseudonym on the conservative website Red State, an then have an in-house lobbyist promote the article to a congressional staff member – with the goal of undermining Lowe's "critiques of Google's antitrust violations."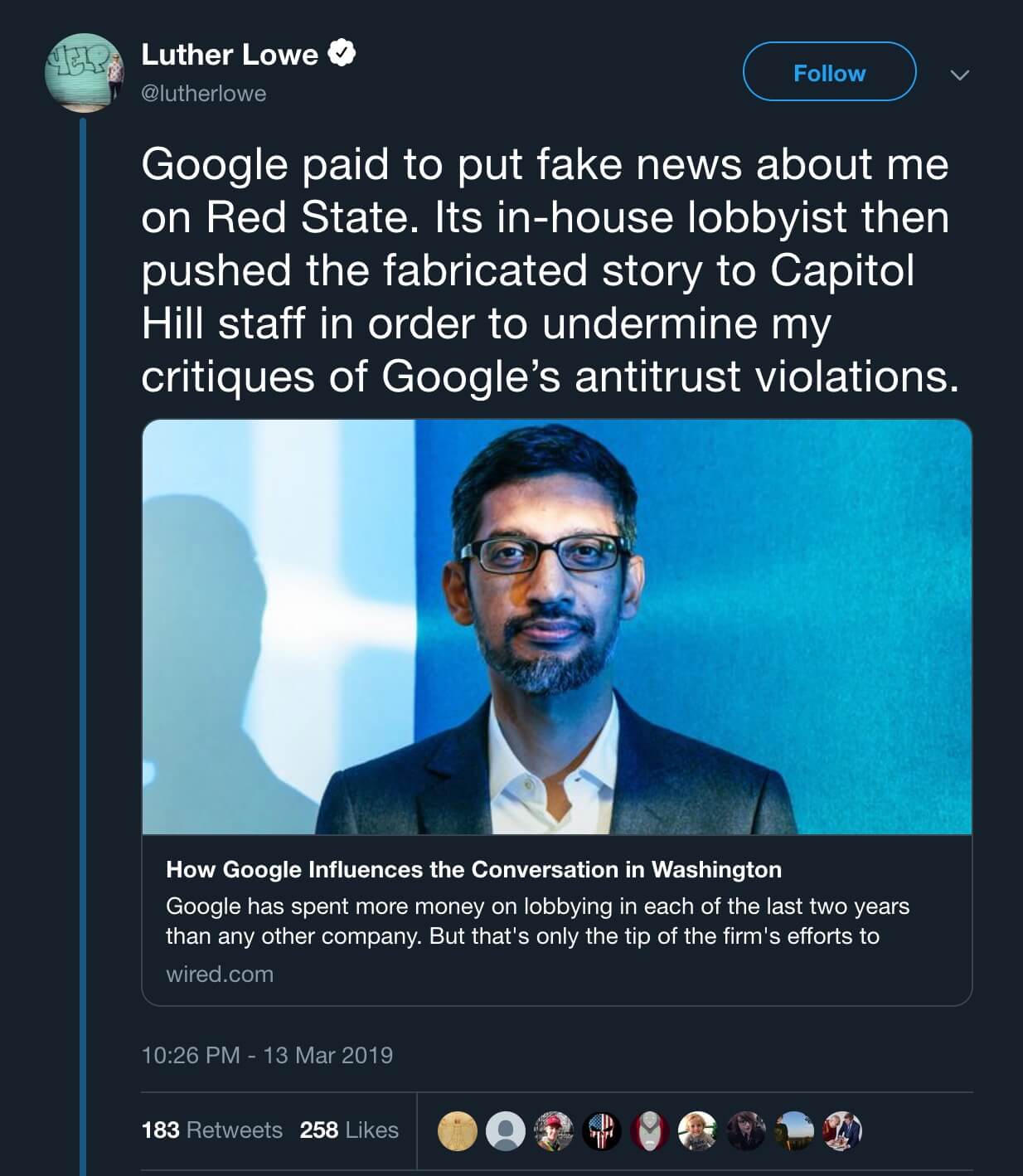 Lowe's reaction came after a report was published by Wired, stating that the controversy took place shortly after the 2018 midterm elections, and adding that the congressional staffer received a link to the Red State article in an email sent by Google policy manager and lobbyist Ed An.
The Red State article itself, authored by "TheRealDC", alleges that Yelp encouraged President Donald Trump to tweet a video about Google serving up biased search results to its users. But the anonymous author said this represented a case of fake news, and claimed the video was produced in a way that was reminiscent of Yelp's content standards.
The article, posted in November 2018 and entitled, "Did Yelp tweet fake news from President Trump's phone? It certainly appears that way" – has since been removed from the Red State website, but its cached version can still be found on the web.
"Google claims to take the problem of 'fake news' on their platforms seriously but Wired reports that they are actually paying for fake news to be written about competitors 1/250th their size," Lowe said in one of his tweets, having previously denied any involvement in either the video or Trump's tweet.
In a statement, Google denied placing the anonymous article, as Red State and its publishers maintained radio silence.
Google said:
"We are transparent about our policy work—we disclose all significant affiliations and grants on our transparency page and we require all people whose work or research we fund to disclose that fact," the spokesperson said in a statement.
But the case raises deeper questions of how tech giants choose to put to use their immense power and influence when faced with a threat from regulators, politicians, and competition, including the latest and growing calls to spin parts of their businesses off, in order to contain their sway.
Democratic presidential hopeful Elizabeth Warren last week named Google and other corporations earning more than $25 billion a year in revenues as candidates to be broken up, specifically calling for Waze, Nest, and DoubleClick, all previously acquired by Google, to be spun off, and noting that under her plan, Google would not be allowed to promote its own products in Google Search.
Meanwhile, a regulatory inquiry launched by the Australian Competition and Consumer Commission heard from News Corp. Australia that Google Search has unparalleled power that it exerts over news publishers and advertisers, and should therefore be a separate company.
Against this backdrop, the issue of Google's lobbying efforts becomes even more significant. For the past two years the company has been America's biggest lobbying spender, with a record $21 million used towards this end last year alone.
This has been a trend for years, with federal disclosure records for 2017 showing that the company used over $18 million of its money lobbying politicians – followed by Facebook with $11.5 million, and Amazon with over $12.8 million.
And it has been reported in the past that both Republican and Democratic senators and congressmen had been receiving donations worth hundreds of thousands of dollars from the Silicon Valley giant.
This quest to achieve political balance in Washington started around 2013 when the company became concerned that its close relationship with the Congress and the presidency of Barack Obama might prove to be harmful to its interests.
In addition to these overt lobbying efforts, Google is said to be spending money funding various trade and advocacy groups, non-governmental organizations, members of academia, as well as think tanks.
This is seen as a more subtle attempt to influence public policy and steer the conversation away from the mounting criticism and in a direction more favorable to its business, and more sympathetic to its policies – only to raise yet more concerns, this time of possible conflicts of interest.