Several stories from the news outlet Breitbart News are not appearing on the first page of Google Search, even when users search for the exact headline.
Most of the time, an exact search for a news headline in Google Search will display a story from the news outlet that first published a story with that headline at the top of the search results. It's unusual for an outlet that first published a story with the headline that's being searched for to not occupy this top slot. And it's very uncommon for an outlet that first published a story with the headline to not even feature on the first page of Google Search results.
But this is happening for multiple stories from Breitbart News such as "Maskless Nancy Pelosi Goes to San Francisco Hair Salon Despite Coronavirus Restrictions", "Candace Owens Will Sue Facebook over 'Blatant Censorship'", and "Exclusive – President Trump: 'Last Thing I'm Thinking About' After Coronavirus Is a Phase Two China Deal."
Copying the exact headline of these article into Google Search when not signed in returns articles from other websites with different headlines, articles from curation sites that link to the full version of the Breitbart News articles, articles from sites that have plagiarized the Breitbart News articles, and links to social media posts discussing the articles.
Yet the original articles from Breitbart News are nowhere to be found among these first page Google Search results.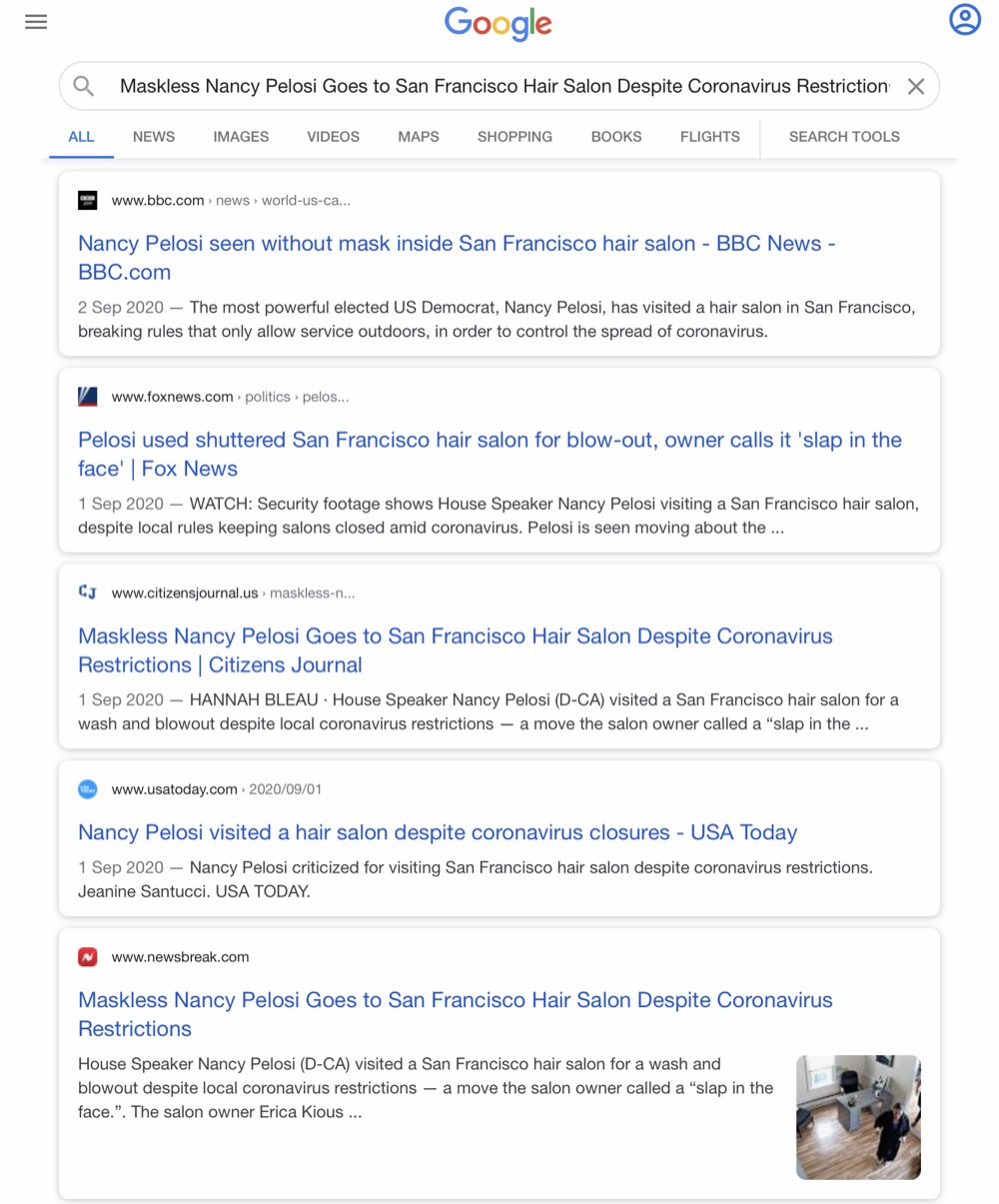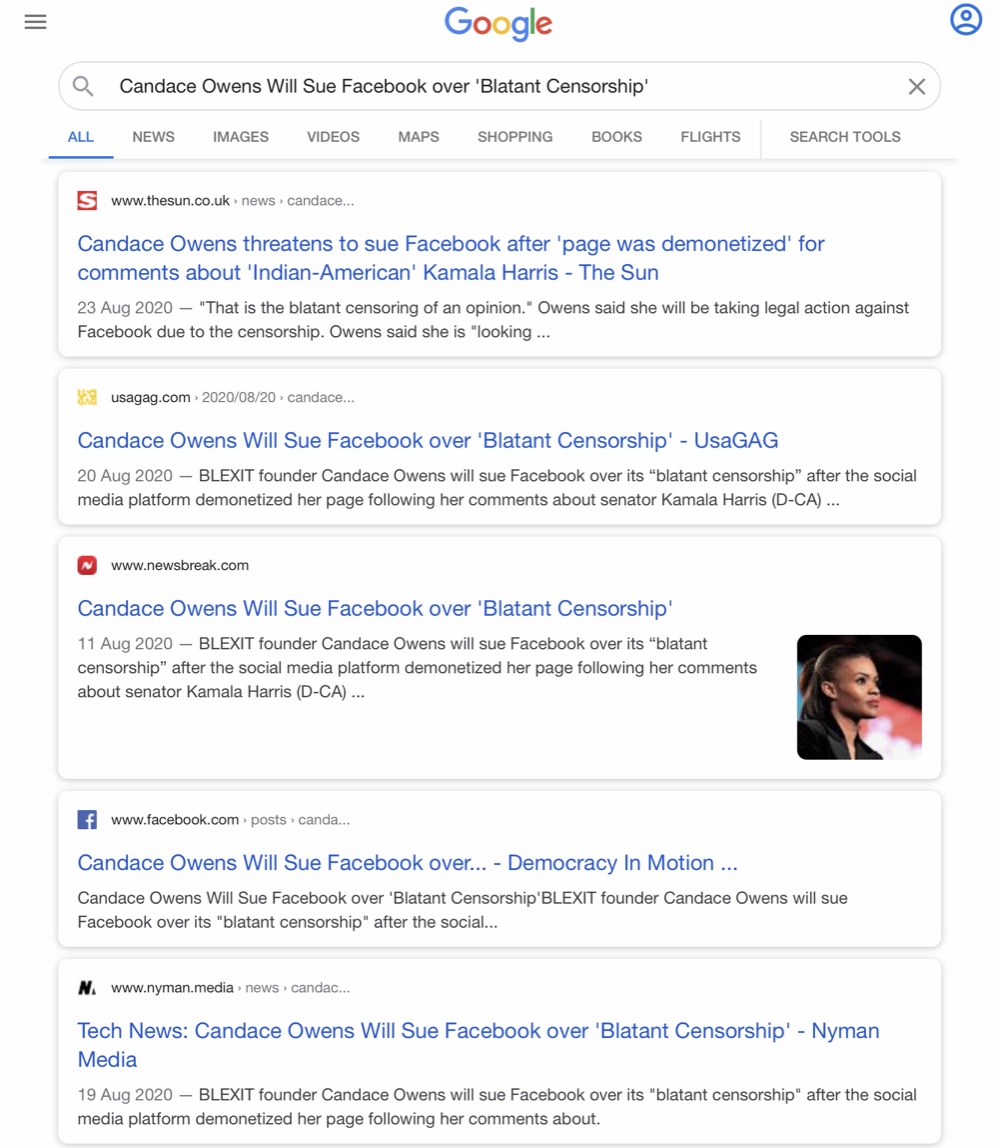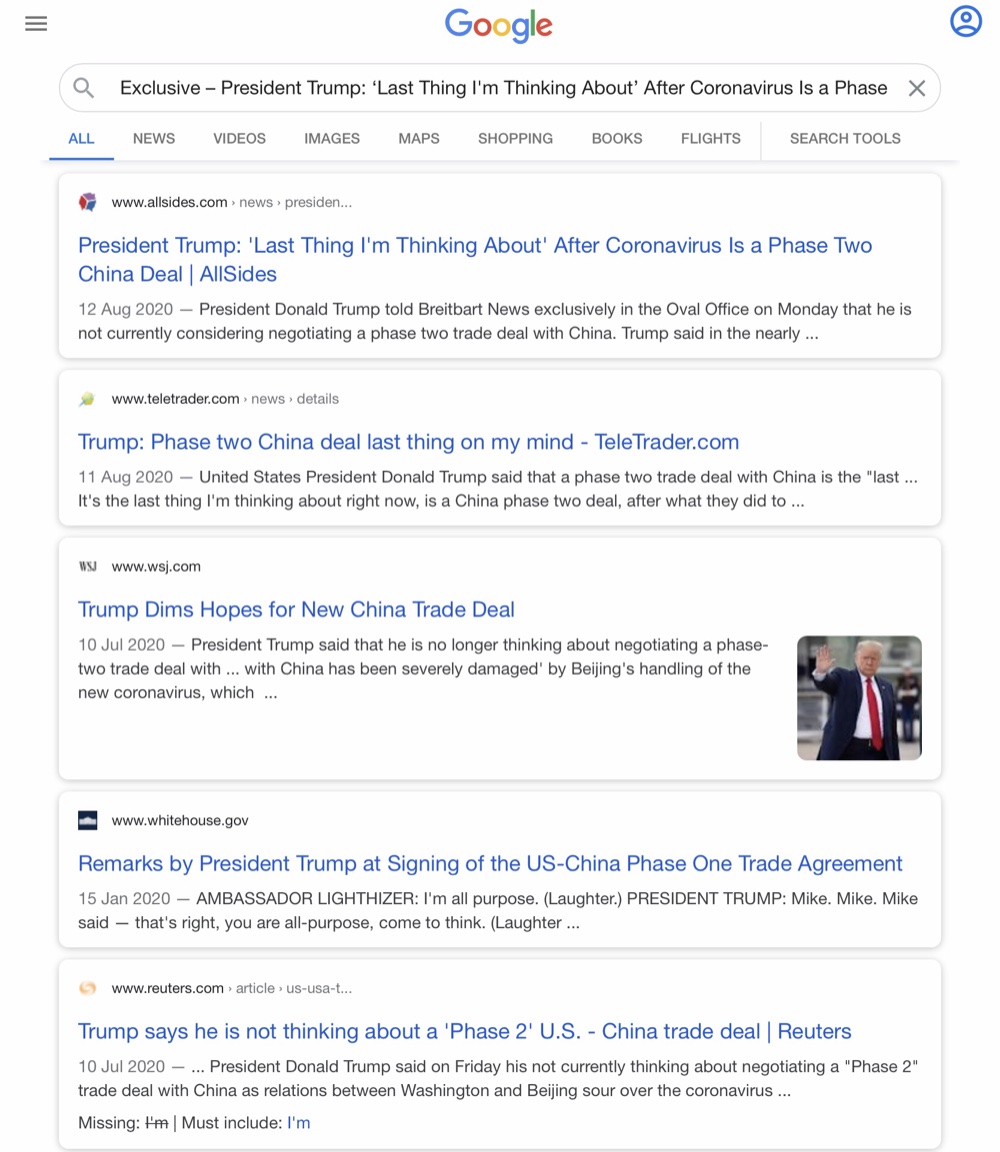 Even when users perform an exact match Google Search for the headline (a type of search that's only meant to return the exact phrase that's typed), by placing quotation marks before and after the headline, the stories from Breitbart News still don't appear on the first page.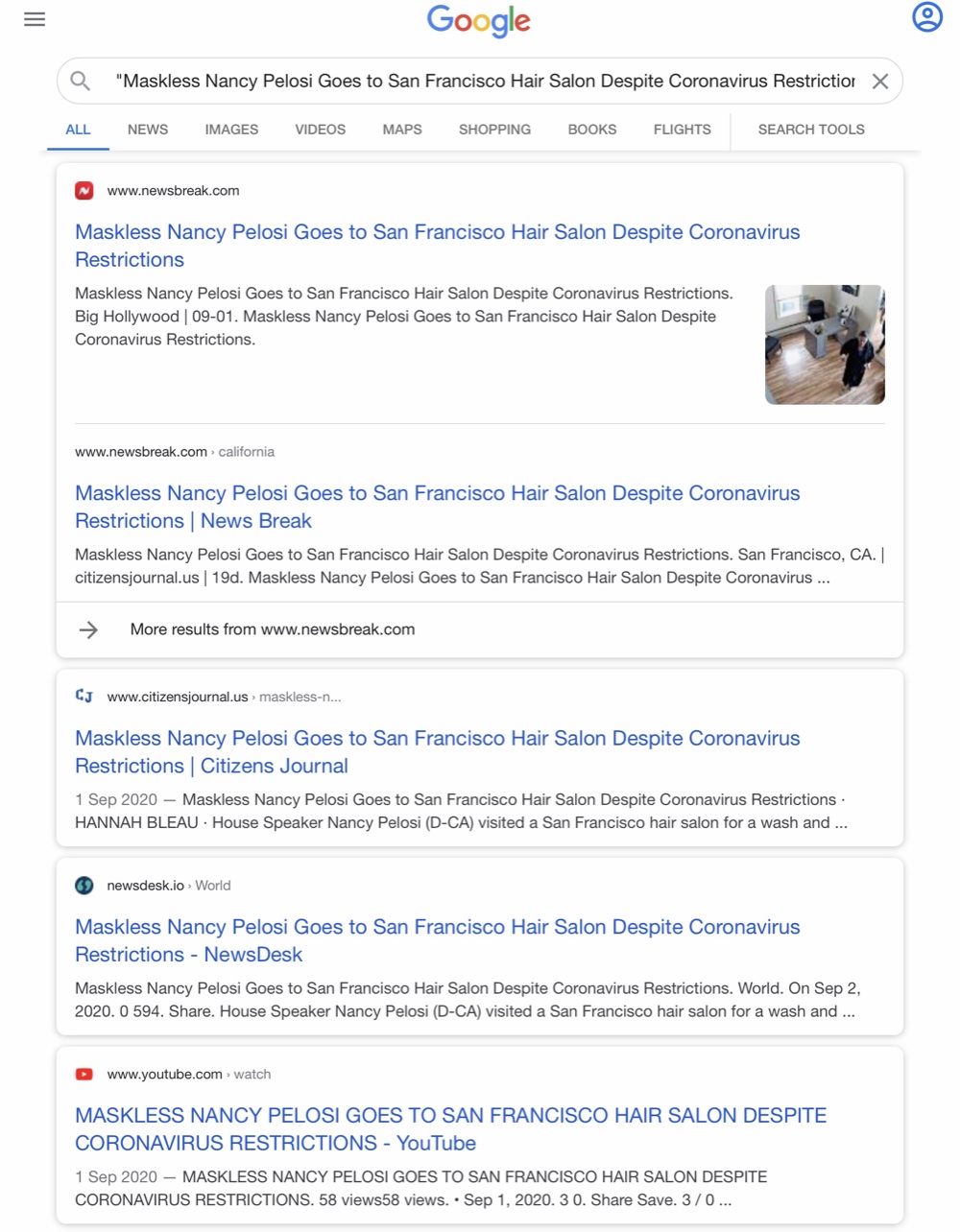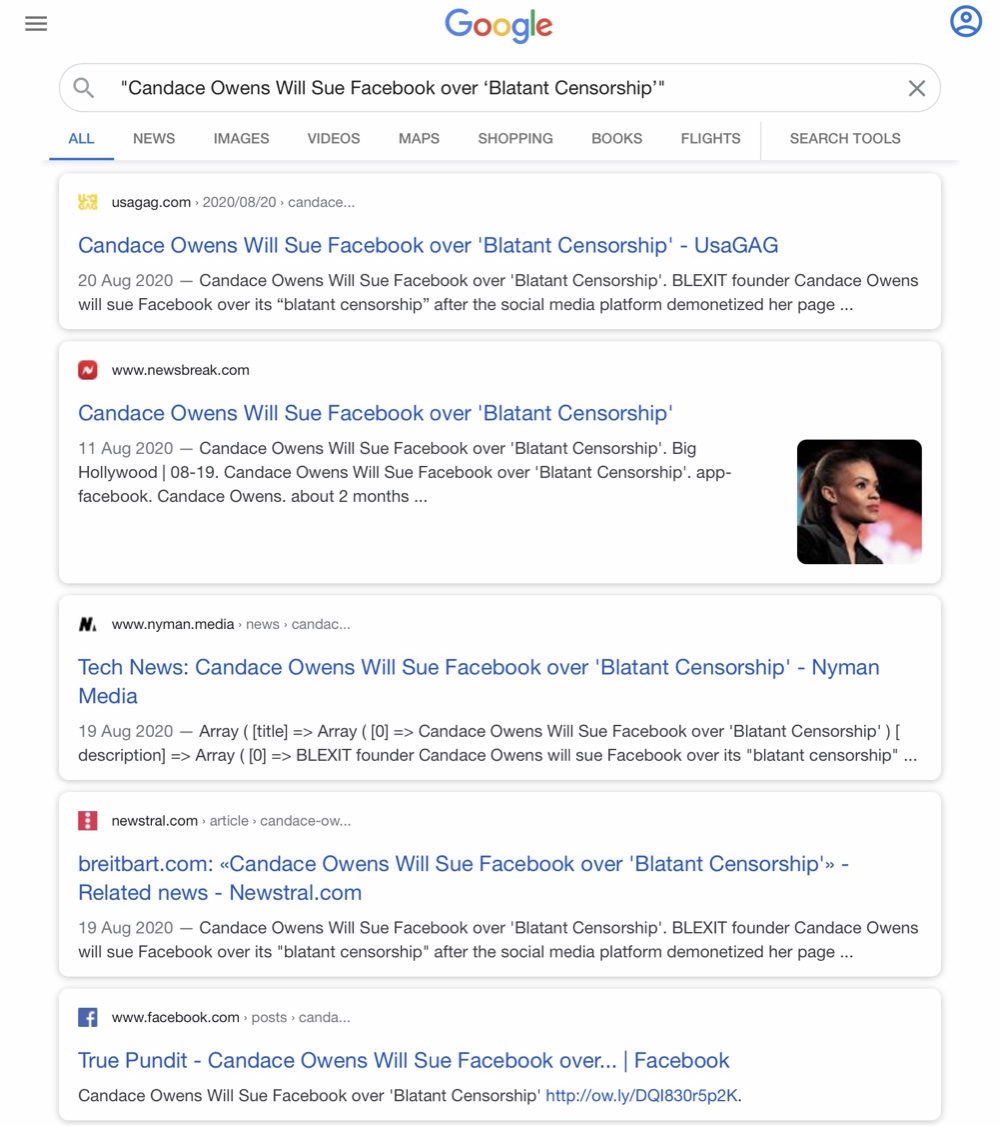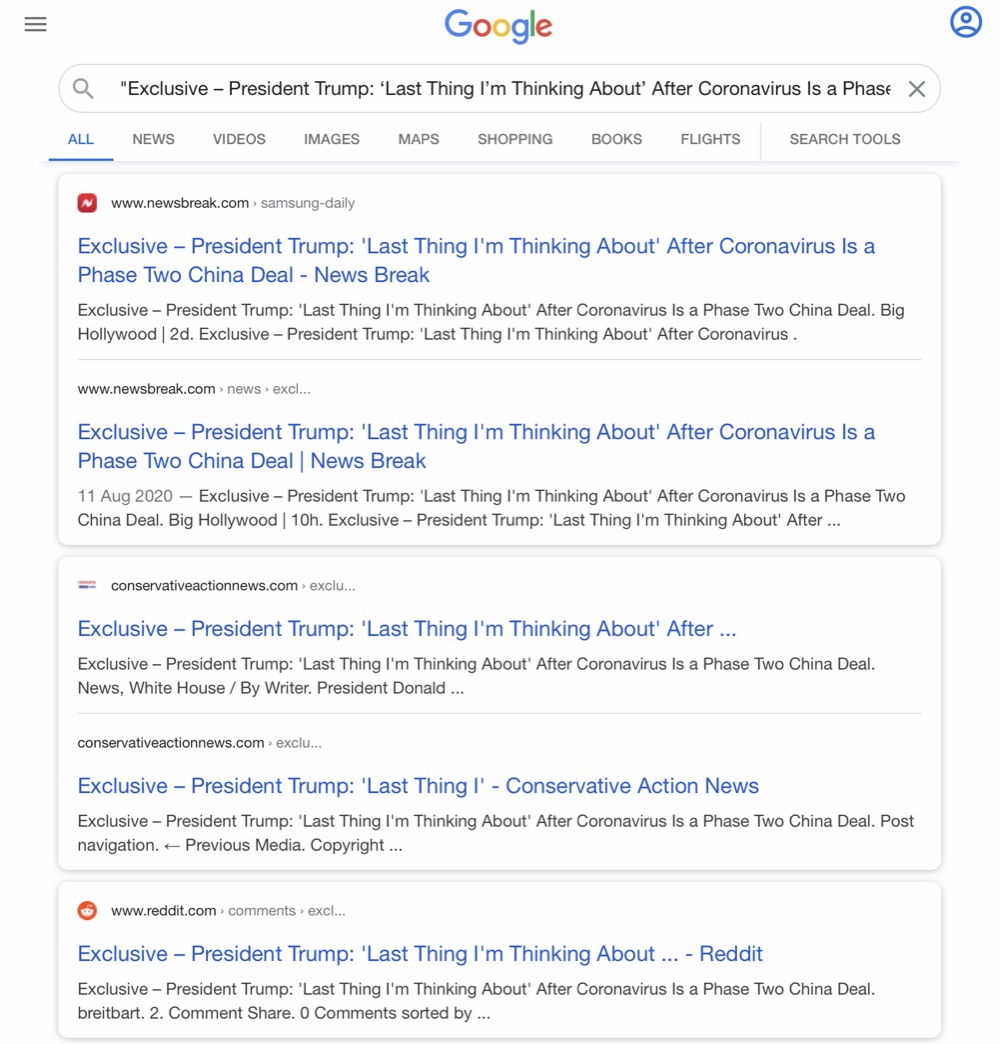 This is in stark contrast to the search results in most non-Google search engines.
Searching for the headlines in Microsoft's Bing search engine returns Breitbart News as the top search result on the first page.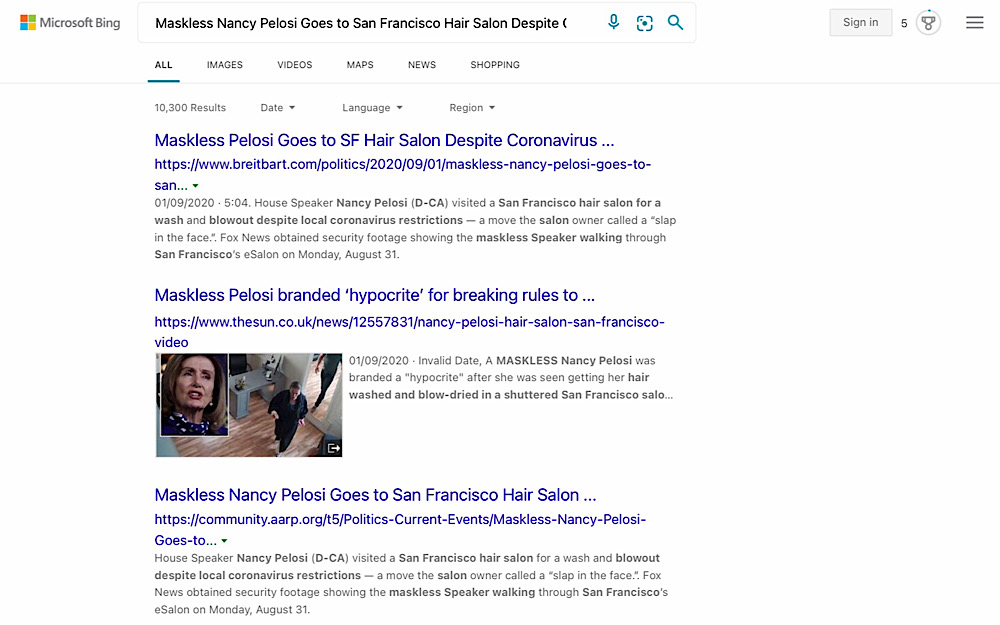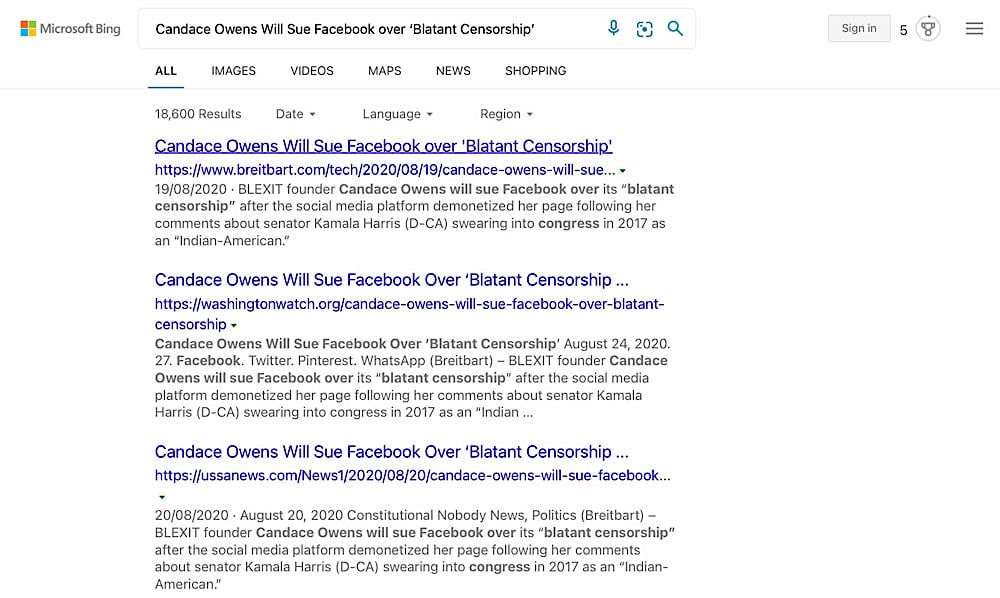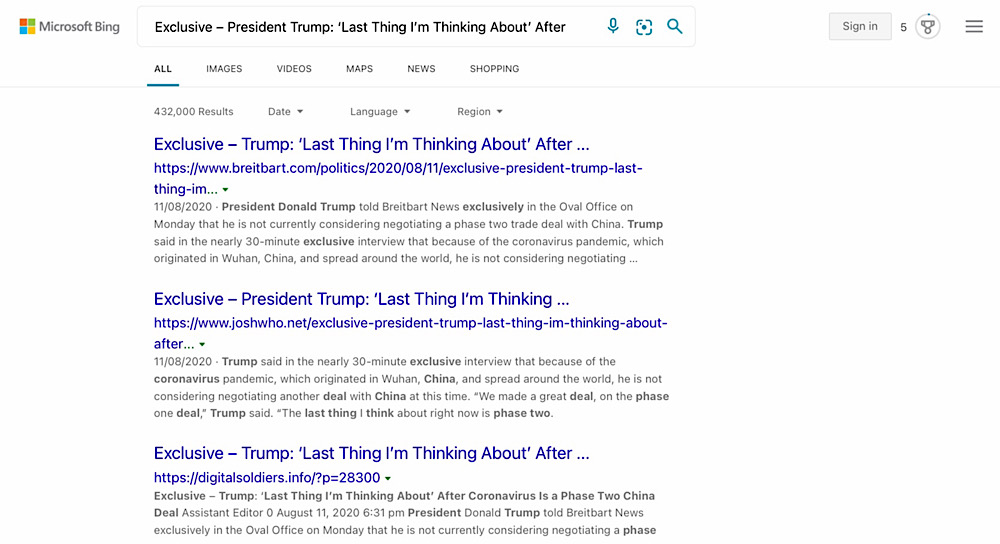 Breitbart News is also the top result when doing an exact match Bing search for the headlines.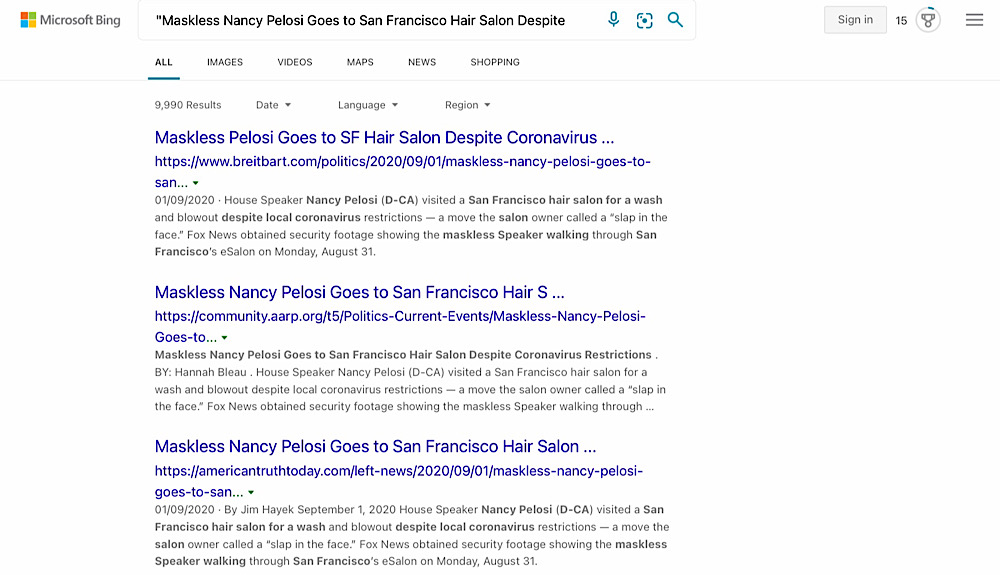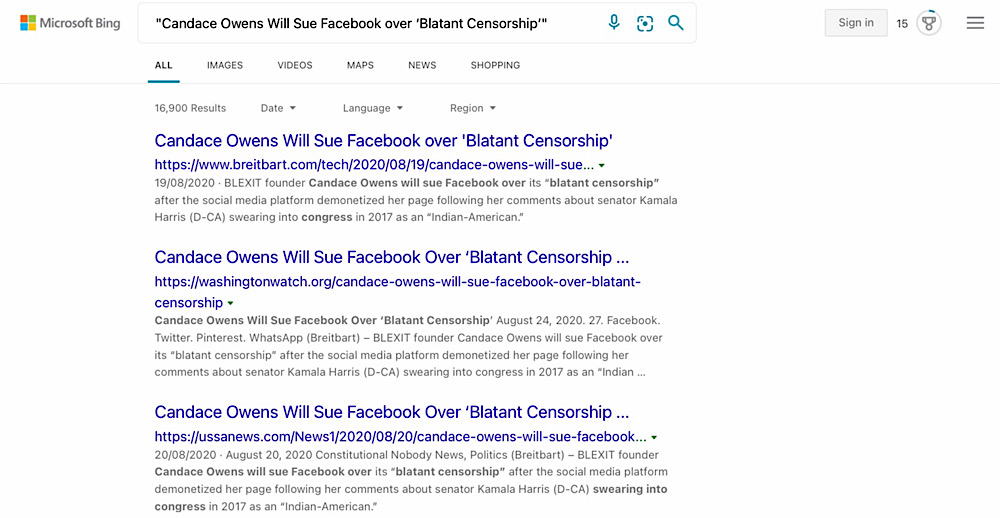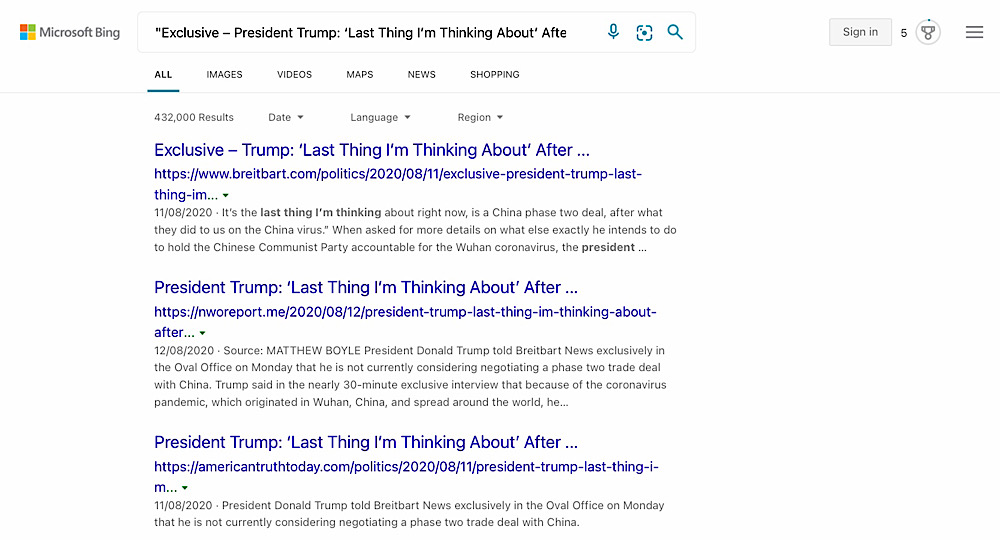 In another non-Google search engine, DuckDuckGo, Breitbart News also tops the search results when searching for the headlines.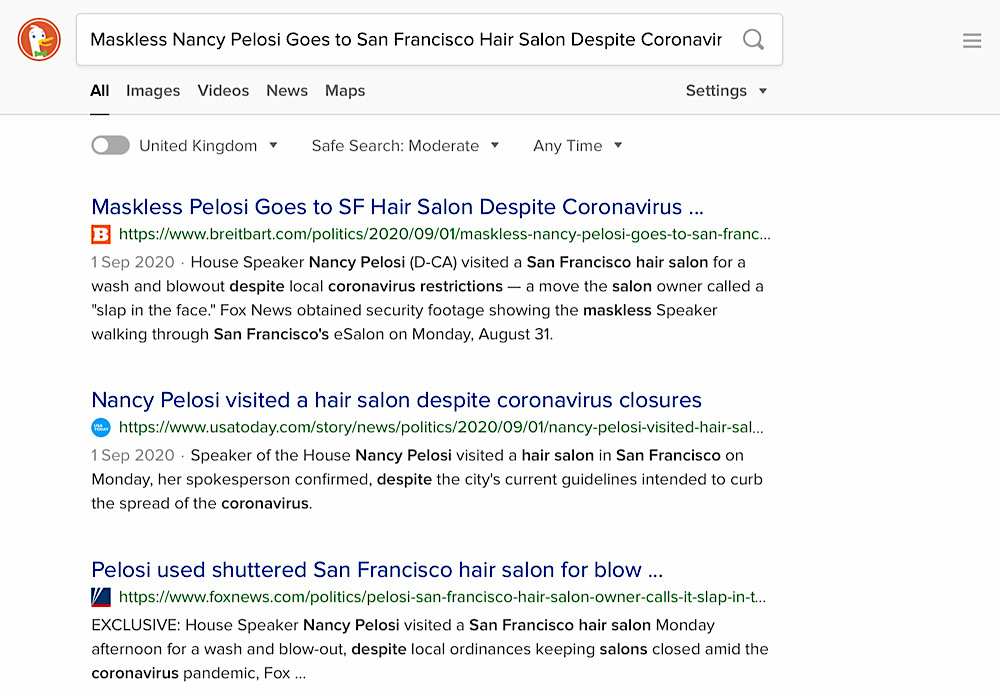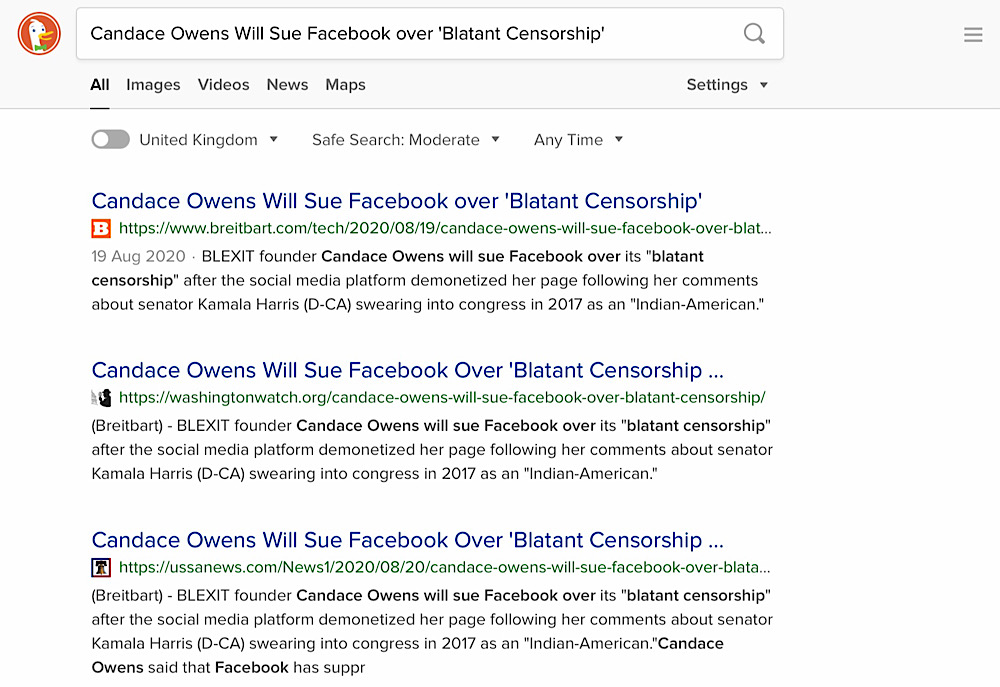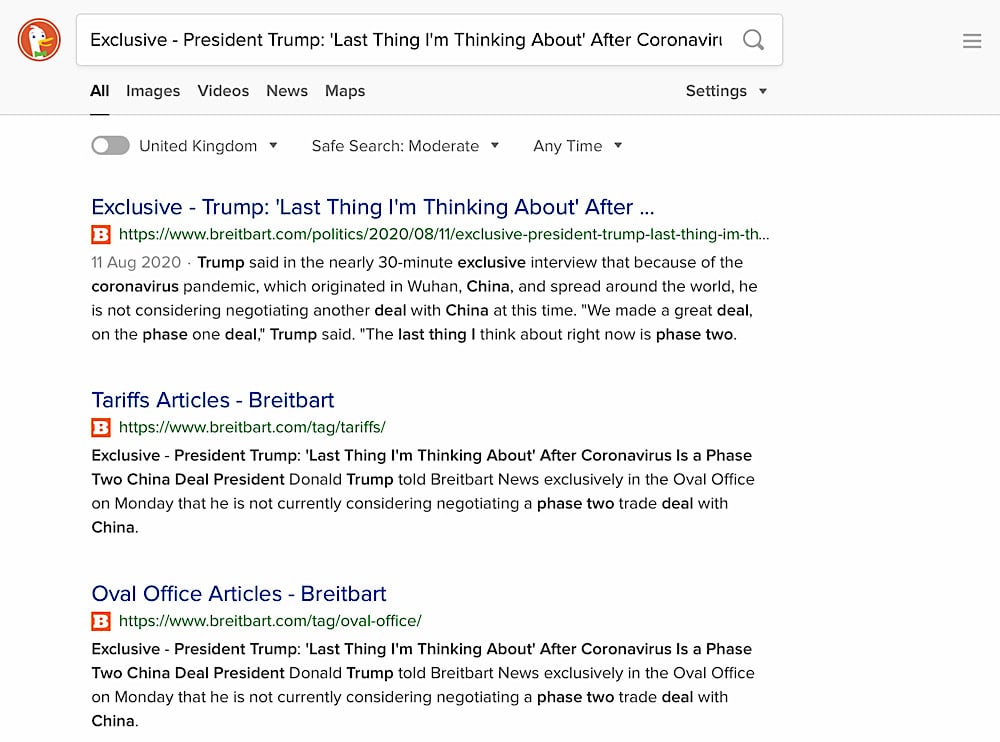 And exact match searches for the headlines in DuckDuckGo also display Breitbart News as the top search result.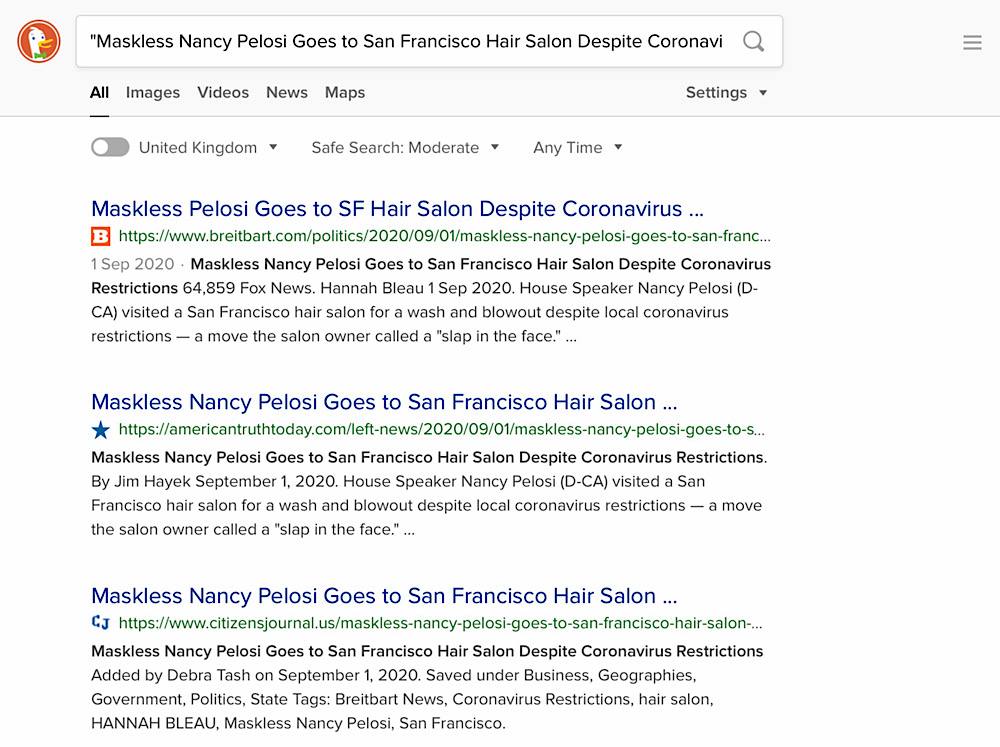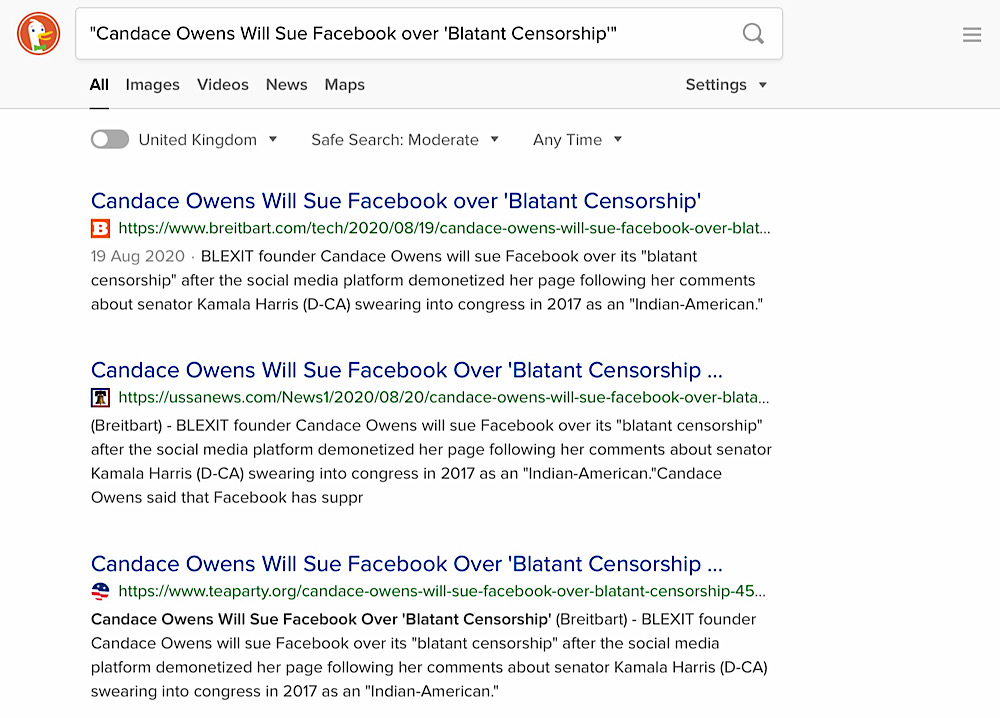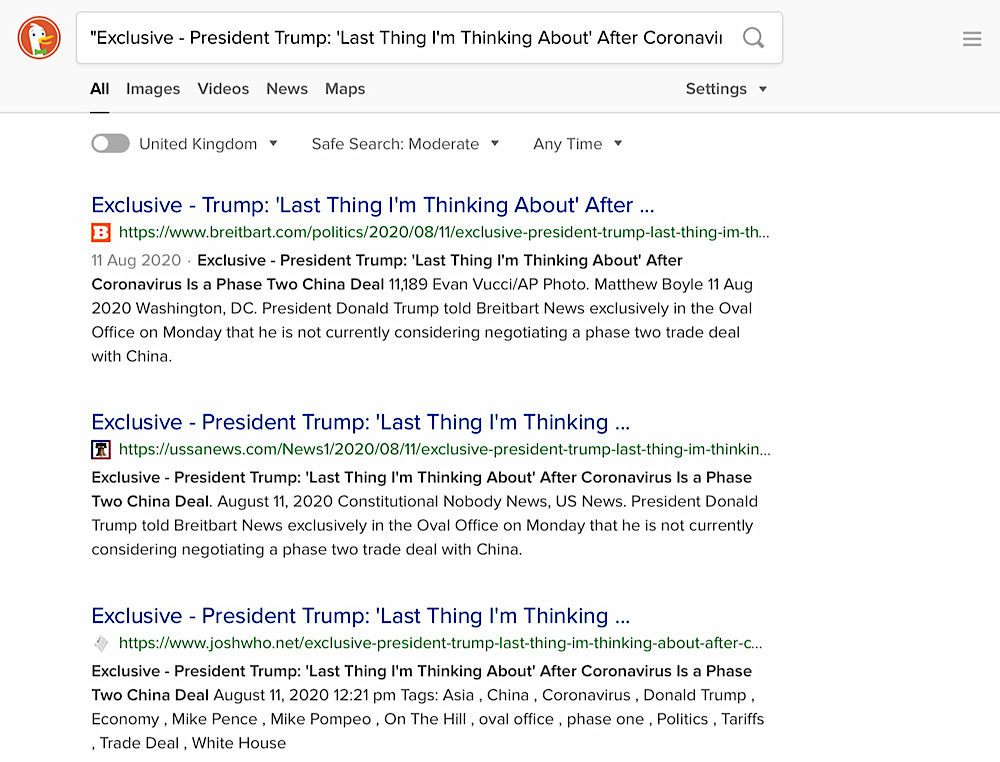 This pattern is persistent across many non-Google search engines with Breitbart News topping the search results for general and exact match searches for these headlines.
Yet on Google Search, the stories don't even appear on the first page of search results.
Breitbart News' senior technology correspondent Allum Bokhari pointed to the impact this suppression could have on the US presidential election which is just seven days away.
"Google, the world's most powerful technology company, is actively interfering in the coming election by burying links to Breitbart News in its search results," Bokhari wrote.
The suppression of these stories follows Breitbart News revealing earlier this year that Google was preventing it from getting any clicks for the search term "Joe Biden" – a term that the outlet was previously getting thousand of daily impressions for.
It also comes one week after Google program manager Ritesh Lakhkar said that Google Search results are "skewed by the owners and drivers of the algorithm." Lakhkar also slammed the selective censorship that's deployed by Google and other corporations.
"I disagree with the corporations playing God and taking away freedom of speech on both sides," Lakhkar added.
As the election draws closer, Big Tech's censorship of election-related content has continued to rise with Twitter censoring the President again this week, multiple social media platforms censoring a bombshell New York Post story alleging that presidential candidate Joe Biden engaged in a corruption scandal, and Twitter consistently censoring users that post about mail-in voter fraud.