The search engine monopolist Google is increasing the way it inserts itself between people and information.
The company has begun testing a new prompt on trending topics, notifying users that there are not enough "reliable sources" on the topic. The new prompt appears to be an effort by the platform to reduce the spread of "misinformation."
The prompt reads:
"It looks like these results are changing quickly
"If this topic is new, it can sometimes take time for results to be added by reliable sources"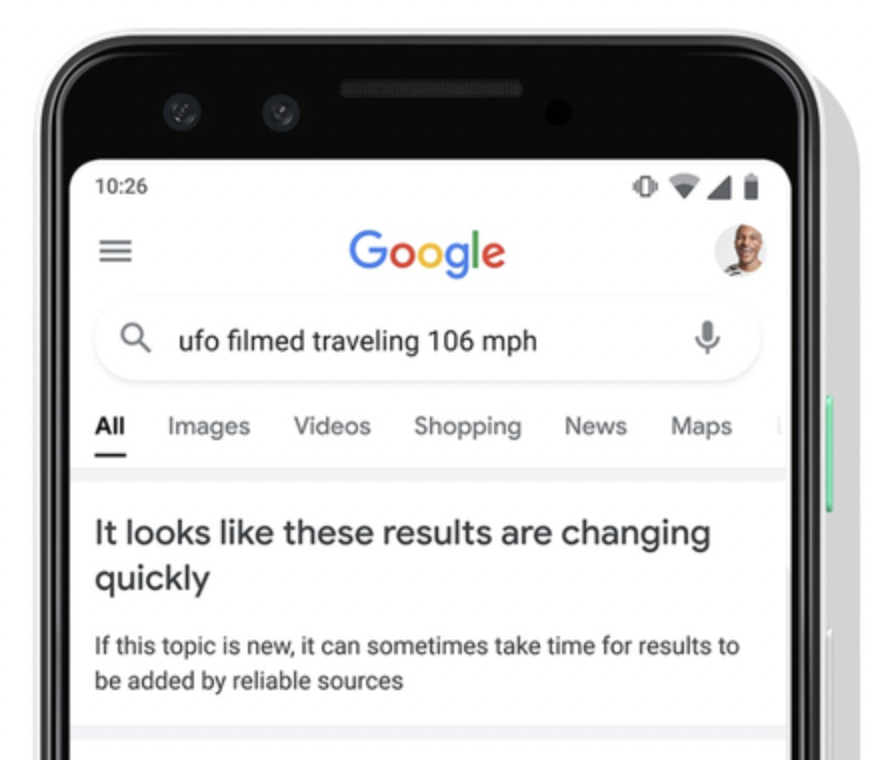 While announcing the new prompt, via a blog on its website, Google said: "…sometimes the reliable information you're searching for just isn't online yet. This can be particularly true for breaking news or emerging topics, when the information that's published first may not be the most reliable.
"To help with this, we've trained our systems to detect when a topic is rapidly evolving and a range of sources hasn't yet weighed in.
"We'll now show a notice indicating that it may be best to check back later when more information from a wider range of sources might be available."
According to a report on Search Engine Journal, someone noticed the new prompt when they searched "black triangle ufo ocean." The topic is trending, after it was reported by a single news outlet, The US Sun, which claimed that the pentagon has evidence of a black triangle UFO, captured by a pilot as it was "rising out of the ocean."
Google appears to be showing the prompt on the search query because it does not think there are enough of its favorable sources to verify the credibility of the report by The US Sun.
Google's public Search Liaison Danny Sullivan said: "…we get a lot of things that are entirely new …people are probably searching for it… we can tell it's starting to trend. And we can also tell that there's not a lot of necessarily great stuff that's out there."
According to Search Engine Journal, this new feature might be related to a recent study by researchers at Alphabet (Google's parent company) and MIT that found out that simple prompts could inspire users to be more critical about the information they see or share.
The authors of the study wrote: "Recent research suggests that shifting users' attention to accuracy increases the quality of news they subsequently share online.
"…we identify a variety of different accuracy prompts that successfully increase sharing discernment across a wide range of demographic subgroups while maintaining user autonomy."
The new feature will roll out in the US first, and only in the English language.