New Delhi and Twitter continue to clash over content moderation: this time the Indian government is objecting to the "manipulated media" label put on some tweets by Indian politicians about COVID-19. The government wants the label removed.
The complaint by the Indian government came a few days after Sambit Patra, a member of India's ruling party BJP, tweeted about the opposition party Congress publishing a "toolkit" aimed at undermining the government's handling of the pandemic. According to the Indian news outlet The News Minute, Parta's tweet, which is no longer available, read:
"Friends look at the #CongressToolKit in extending help to the needy during the Pandemic! More of a PR exercise with the help of Friendly Journalists & Influencers than a soulful endeavor. Read for yourselves the agenda of the Congress."
According to the Congress Party, the version of the toolkit published by Patra was faked. An Indian-based fact-checker, Alt News, claimed falsified information on the version of the toolkit Patra and others in the BJP were spreading.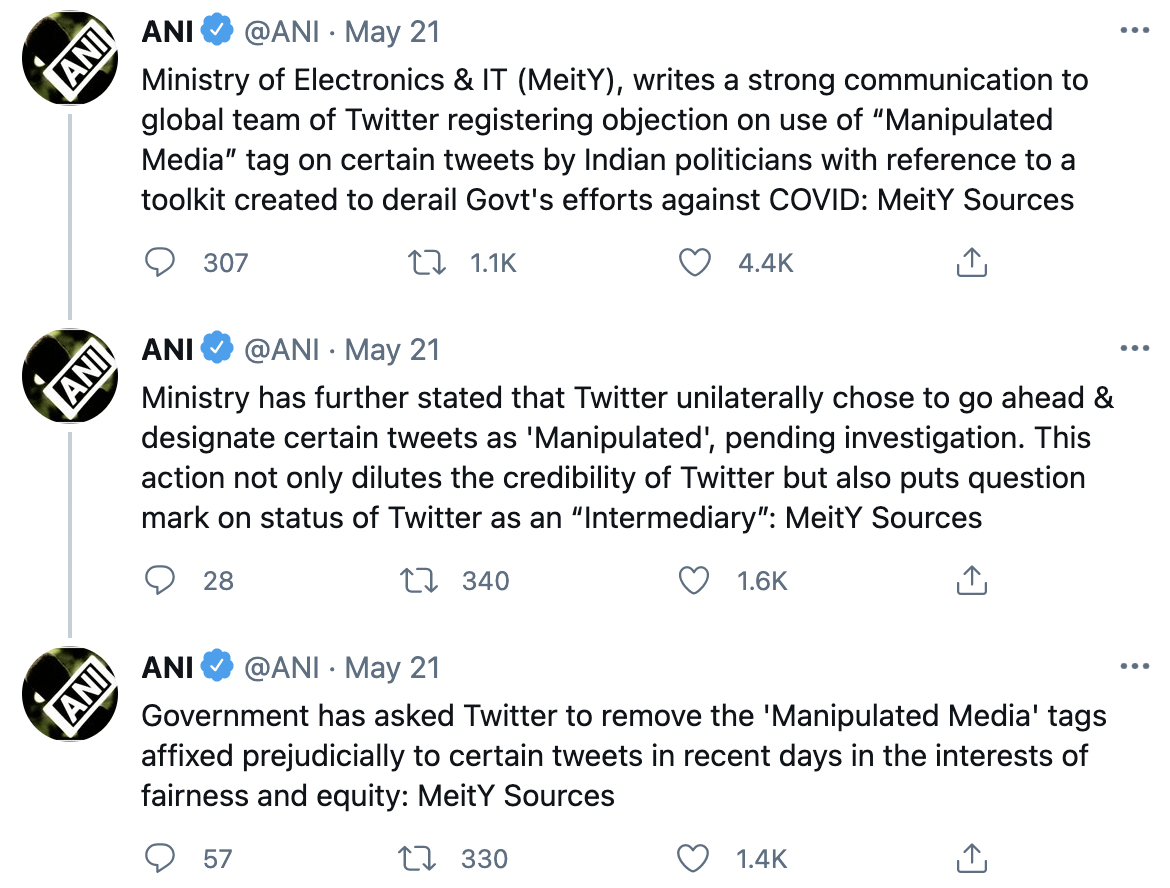 The Indian government wants the "manipulated media" labels on the tweets removed to maintain "fairness and equity," adding that the labels contradicts Twitter's image as a "neutral and unbiased" platform.
Twitter introduced the manipulated media policy in February 2020. It applies to content "significantly and deceptively altered or fabricated." In the case of media that has been manipulated to change the meaning or context, Twitter applies the "manipulated media" label. However, when the manipulated media is false and presented as true, or the content is found "likely to impact public safety or cause serious harm," Twitter could remove the post entirely.
This story marks yet another clash between India and Twitter over content moderation. Towards the end of April, the platform removed over 50 tweets critical of Prime Minister Narendra Modi's handling of the pandemic, at the request of the government. In February, during the farmers' protest, Twitter had to comply with an order from New Delhi to censor more than 500 accounts and tweets.