Instagram has started to deploy its Orwellian artificial intelligence (AI) powered offensive comment warning that it unveiled in May. The feature warns users when the Instagram AI feels their comment "may be considered offensive" before posting and asks them if they're sure they want to post it.
Instagram said the feature started to roll out over the last few days and that early tests of the feature have shown that it's effective at preventing people from posting comments that "may be considered offensive":
"This intervention gives people a chance to reflect and undo their comment and prevents the recipient from receiving the harmful comment notification. From early tests of this feature, we have found that it encourages some people to undo their comment and share something less hurtful once they have had a chance to reflect."
This new feature means that when people post a comment that Instagram's AI deems to be potentially offensive, they'll now see a message that says: "Are you sure you want to post this? Learn More."
The "Learn More" link then directs them to a message that says:
"Keeping Instagram a Supportive Place

We're asking people to rethink comments that seem similar to others that have been reported.

If we made a mistake, let us know."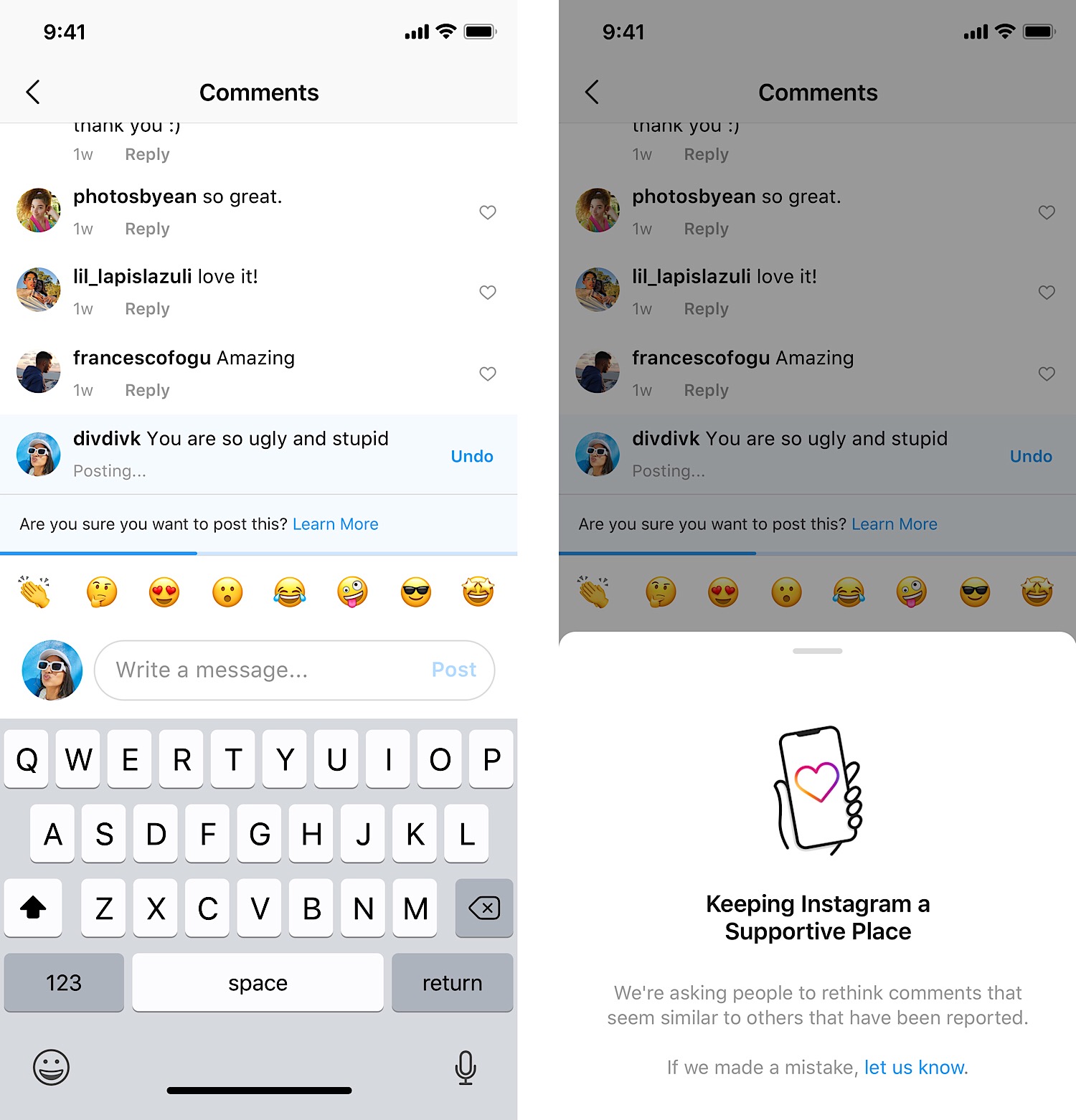 Instagram is positioning this new feature as a way to "prevent bullying from happening on Instagram." However, as with most changes like this, Instagram hasn't defined what qualifies as a comment that "may be considered offensive" so this feature can and probably will be used to deter people from posting any comments that don't fit with Instagram's preferred narrative or ideology.
This is the latest in a series of creepy changes Instagram and its parent company Facebook have made in relation to content that it deems to be "hateful" or "offensive."
Earlier this year, Facebook said it was hiring someone to decide what users see on Instagram. Leaked documents also showed that Facebook maintains an Orwellian "hate agents" list that it uses to keep tabs on users that it's considering banning from the platform.